Clarissa Tossin: White Marble Everyday September 30–November 6, 2022
---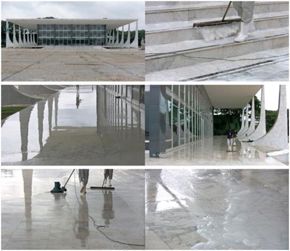 With White Marble Everyday, artist Clarissa Tossin explores and deconstructs the utopian ideals embodied in high Modernism and the history of Brasília, the federal capital of Brazil. Constructed to displace the historic capital of Rio de Janeiro in 1960, Brasília has been celebrated internationally for its radical conception of a utopian city, following the master plan of Lúcio Costa and shaped by the visionary architecture of Oscar Niemeyer.
The video White Marble Everyday focuses on the soaring, sculptural forms of Niemeyer's Federal Supreme Court building, while tracking the anonymous laborers tasked with keeping the marble pristine. Tossin (born in Brazil in 1973) finds grace in the elaborate choreography of this arduous and repetitive task, compressing the daily four-hour ritual to less than six minutes. A champion of Brazil's Communist Party, Niemeyer declared his architecture was "for the people," but as Tossin demonstrates, his creations can be sustained only by the people Niemeyer claimed to serve.
Clarissa Tossin: White Marble Everyday / September 30–November 6, 2022
• Included with general admission. Get tickets here.
---
This exhibition is organized by the Museum of Fine Arts, Houston.