Carlos Cruz-Diez: Color in Space and Time February 6–July 4, 2011
---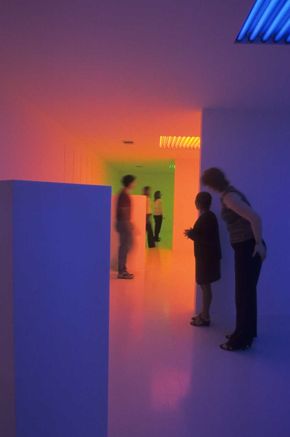 For more than five decades, Carlos Cruz-Diez (born 1923) has experimented intensively with the origins and optics of color. His wide-ranging body of work includes unconventional color structures, light environments, street interventions, architectural integration projects, and experimental works that engage the response of the human eye while insisting on the participatory nature of color. The MFAH and the Cruz-Diez Foundation, Houston, present the first large-scale retrospective of this pioneering Franco-Venezuelan artist.
Carlos Cruz-Diez: Color in Space and Time features more than 150 works created from the 1940s to today, including paintings, silk-screen prints, and innovative chromatic structures; room-size chromatic environments, architectural models, and videos; and a virtual re-creation of the artist´s studio. The exhibition introduces international audiences to Cruz-Diez´s extensive production and places his theoretical and artistic contributions to 20th-century Modernism in a broader context than they have traditionally been seen.
The starting point for Cruz-Diez´s chromatic investigations is the unstable nature of color. His work combines color theory, science, kinetics, mechanical engineering, and the painter´s craft, and it defies easy categorization. In order to realize his artistic vision, particularly with regard to the innovative Physichromies series, the artist adapted or invented his own tools and machines. And he has involved his family and a large corps of assistants in the enterprise, with guild-style studios in Paris, Panama, and Caracas. The works on view in Carlos Cruz-Diez: Color in Space and Time are culled from the Cruz-Diez Foundation Collection at the MFAH and the Atelier Cruz-Diez in Paris and Panama; as well as public and private collections in the United States, Venezuela, France, England, Germany, Italy, and Spain. The exhibition catalogue, published by the MFAH and distributed by Yale University Press, traces the full trajectory of the artist´s career and is available at the MFAH Shop.
► Take a Virtual Tour of Carlos Cruz-Diez: Color in Space and Time
---
This exhibition is organized by the Museum of Fine Arts, Houston, and the Cruz-Diez Foundation, Houston.

Major support is provided by the MetLife Foundation.

Additional generous funding is provided by:
Mrs. Linnet F. Deily
The Boeing Company
Leslie and Brad Bucher

The catalogue for this exhibition receives generous funding from
Mercantil and Furthermore: a program of the J. M. Kaplan Fund.