Between Sea and Sky: Blue and White Ceramics from Persia and Beyond Through May 31, 2021
---
The enduring appeal of blue and white ceramics stretches across the centuries and around the world. This exhibition tells the story through the lens of the exceptional Hossein Afshar Collection of Persian ceramics, on long-term loan to the MFAH.
These works of art—exhibited here together for the first time—open the door to a new and more nuanced understanding of the monumental contribution of Persian blue and white to the world history of ceramics.
Between Sea and Sky: Blue and White Ceramics from Persia and Beyond begins with the early trade history of ceramics, when cobalt blue from the Persian Gulf meets ceramic shapes and techniques from China. The story continues with the introduction of stonepaste, which revolutionizes Persian ceramics, spawning an unprecedented flourishing of shapes, techniques, and colored glazes in the 11th to 14th century. Rare Persian blues also play a significant role, from the luxurious lapis lazuli and brilliant blue turquoise to the more commonly found cobalt. Locally mined and traded across Islamic lands and the world, rare Persian blues are as precious as gold.
Chinese blue and white porcelain from the Ming dynasty was highly prized and collected by Islamic courts in Iran, Turkey, and India. The exhibition features three extraordinary examples of Chinese blue and white porcelain loaned by the San Antonio Museum of Art. The section "Inspired by China" highlights the creative synthesis seen in 15th- to 17th-century Persian ceramics, which combine Chinese dragons and other motifs with Persian blues, shapes, and decorative motifs.
Also on view together for the first time are iconic blue and white works from the full range of the MFAH collections, including blue and white English porcelain and delftware from the Rienzi and Bayou Bend collections; notable Japanese Arita ware from the Sarah Campbell Blaffer Foundation; and important examples of global contemporary blue and white ceramics. These works demonstrate the many different cultural resonances of this wide-ranging tradition.
► A Virtual Tour with the Curator
Aimée Froom, curator of Islamic art, presents an overview of the exhibition.

► Gallery Guide
Explore the exhibition on-site and online with the engaging gallery guide.
► Virtual Conversation "Global Blue and White"
Artist Jennifer Ling Datchuk talks with curator Aimée Froom and assistant curator Anna Walker about traditional Chinese blue and white ceramics and how the global migration of blue and white patterns relates to identity, race, and gender.
► Related Publications
Find a curated selection of books, as well as the special edition of Arts of Asia magazine, at the MFA Shop (713.639.7360).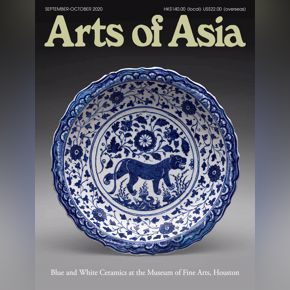 Between Sea and Sky: Blue and White Ceramics from Persia and Beyond | November 21, 2020–May 31, 2021
• Included with general admission. Advance timed tickets recommended.
---
This exhibition is organized by the Museum of Fine Arts, Houston.