Ádám Magyar "Stainless" February 8–April 9, 2017
---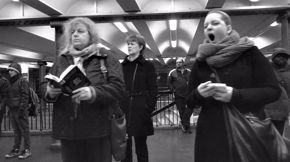 In Ádám Magyar's hypnotic video Stainless, time appears to have stopped for everyone but the viewer, who travels down the subway platform of Alexanderplatz station in Berlin. The nearly immobile commuters are frozen in mid-conversation, sipping coffee, staring at cell-phone screens, or lost in thought. Only a little girl running down the platform seems to be in the real world.
Magyar, a Berlin-based Hungarian photographer (born 1972), created Stainless using a customized high-speed-camera setup he devised. He recorded the length of the subway platform from the window of a train at 1,000 frames per second, stretching the 12-second passage into more than 8 minutes and slowing the movements of waiting passengers to near stillness.
Magyar's interest in focusing on "unimportant, ignored moments," rather than exceptional situations, allows the viewer a voyeuristic look at people's everyday presentation, pose, and expression, and transforms a commonplace crowd into a gallery of living sculptures.
---
This exhibition is organized by the Museum of Fine Arts, Houston.