Virtual Cinema | A Silent-Film Concert January 4, 2021
---
Here's a unique addition to the Virtual Cinema schedule: a livestream silent-film concert. Pianist Ben Model accompanies a trio of silent-comedy shorts featuring Charlie Chaplin, Buster Keaton, and another silent clown—Charley Chase.
The MFAH offers this program free of charge on Thursday, January 14, at 6:30 p.m. Register in advance for an email with a link to watch the show. (Scroll down for details.)
Meet Ben Model
Leading silent-film pianist Ben Model, based in Manhattan, is a resident accompanist for the Museum of Modern Art and the Library of Congress. He has composed and performed live scores for hundreds of silent films.
When cinemas went dark in March, Model had an idea: He'd take the silent-film experience online. He hosts the shows live from his living room, seated at his 1918 Baldwin baby grand piano, and introduces each film with his insights. These livestreams, he says, "combine the excitement of a live performance with the informality of a friend inviting you over to watch a movie."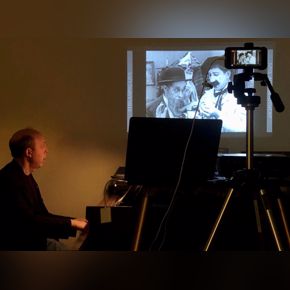 We All Need a Laugh
Model curated a program of comedies for the MFAH, and he shares a few thoughts.
• Charlie Chaplin's The Pawnshop
"At the top of the list of favorites for many Chaplin fans, this one has a great blend of slapstick routines as well as smaller character-driven ones.
• Buster Keaton's The Goat
"One of my personal favorites, and a great example of how far comedians could take dispensing with logic and consequence in telling their slapstick stories."
• Charley Chase's Dog Shy
"If you don't know Charley Chase, this film will make you a die-hard fan. His comedy shorts rely a little more on situation and plot, and are relished by aficionados."
Register Now
This silent-film program streams on Thursday, January 14, at 6:30 p.m. Admission is free! To register, send an email to film@mfah.org and you will receive a link to the livestream on the day of the event.
---
Underwriting for the Film Department is provided by Tenaris and the Vaughn Foundation. Generous funding is provided by Nina and Michael Zilkha; The Consulate General of the Republic of Korea; Franci Neely; Carrin Patman and Jim Derrick; Lois Chiles Foundation; ILEX Foundation; L'Alliance Française de Houston; and The Foundation for Independent Media Arts.
Recent Posts