Virtual Cinema "Going beyond the Big Screen with MFAH Films" September 14, 2020
---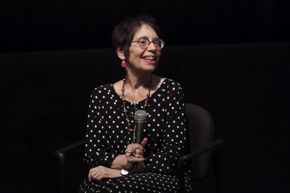 We caught up with Marian Luntz, curator of MFAH Films, for an inside look at Virtual Cinema and a preview of the new documentary "Our Time Machine."
How do you select films for Virtual Cinema? Are there certain criteria the films need to meet?
Our film programming practice hasn't changed since moving to Virtual Cinema. Just as when we screen movies in Brown Auditorium Theater at the Museum, for Virtual Cinema we find a balanced selection of exceptional films from around the world, often aligning with national virtual releases. (That's a new term!) We present films across various genres, spotlighting BIPOC filmmakers (Black, Indigenous, People Of Color) and films directed by women. Our virtual selections have reflected some of the Museum's most popular annual festivals and series, including Five Funny French Films, the Latin Wave Film Festival, short-film compilations, and repertory titles.
What's the most surprising film you've shown so far during Virtual Cinema?
I'd say Lucky Grandma—a hilarious U.S. indie comedy that refreshes the classic heist genre. It's about a feisty, chain-smoking Chinese widow whose trip to a casino gets her mixed up with bad guys in New York City's Chinatown. It sold quite a few virtual tickets!
Anything special you'd like to share about Virtual Cinema?
Since launching Virtual Cinema in March, we have shown nearly 50 films, opening two titles almost every week. Many of these films are available for a month or more via our website!
We have two edgy French features: My Dog Stupid and Sybil; two female-centric dramas that premiered at the Cannes Film Festival: Ghost Tropic and Song without a Name, which has drawn comparisons to Academy Award–winner Roma; and a few topical documentaries, including Our Time Machine.
► Spotlight on Our Time Machine
Our Time Machine follows Shanghai conceptual artist Maleonn as he stages a play for his father, who is in the early stages of Alzheimer's. Using life-size mechanical puppets, Maleonn draws on his own childhood memories to form an autobiographical play, hoping to re-engage his father one last time.
● Our Time Machine WATCH NOW Your purchase ($12) supports the MFAH and provides a 48-hour pass to the film. SEE THE TRAILER
---
Underwriting for the Film Department is provided by Tenaris and the Vaughn Foundation. Generous funding is provided by Nina and Michael Zilkha; The Consulate General of the Republic of Korea; Franci Neely; Carrin Patman and Jim Derrick; Lynn S. Wyatt; ILEX Foundation; L'Alliance Française de Houston; and The Foundation for Independent Media Arts.
Recent Posts