Virtual Art Encounters "Color" March 9, 2021
---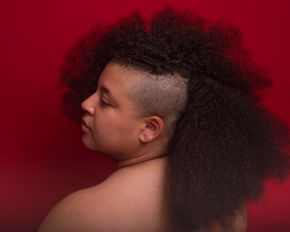 What is your relationship to color? This edition of Virtual Art Encounters explores color theory with Houston artist Jamie Robertson. Follow @MFAH on Instagram and see how you can join in! #ArtEncountersMFAH
We're Seeing Colors Everywhere
How do you feel when you see the color red? Yellow? Blue? Color theory is the study of color relationships in the visual arts. Maybe your home is full of bright, vibrant colors. Or maybe you prefer neutral tones. Whatever you choose, color can have a significant impact on your mood. It can also reveal aspects of your personality.
Meet the Artist
Jamie Robertson, a visual artist and educator from Houston, is one-half of the podcast "Where I See Me," which examines the presence of Black and Brown people in comics and media. Her creative practice is an autobiographical examination of history and identity in the African Diaspora through the mediums of photography and video.
"Color is a significant component of my work. The colors in my self-portraits are inspired by the vibrant colors of vintage albums by Celia Cruz, La Lupe, Diana Ross, and Donna Summer. Lately, I've really been interested in the color red and its significance within Black culture." —Jamie Robertson
► Find out more in this Q&A with the artist
About the Program
Led by artists and inspired by art, Virtual Art Encounters brings the Museum's popular studio-style art project online.
---
Virtual Learning & Interpretation programs are generously underwritten by the Jerold B. Katz Foundation.
Recent Posts