The Story of Azaleas at Bayou Bend August 29, 2016
---

March 5, 2016, marked the 50th anniversary of Bayou Bend's opening to the public. We're celebrating throughout the year with blog posts offering behind-the-scenes perspectives on this cultural and historical Houston treasure.
Today, azaleas are synonymous with Houston—and with Bayou Bend. In March 2017, the River Oaks Garden Club celebrates its 82nd annual Azalea Trail with thousands of garden enthusiasts. But the 1929 Garden Book of Houston did not include even one single mention of azaleas!

I knew that Ima Hogg and Bayou Bend had an important, early role in encouraging the popularity of Houston's most iconic flower. So to learn more, I visited with Bart Brechter, who serves as curator of the Bayou Bend Gardens as part of his overall duties as head of gardens and landscape operations for the MFAH. He filled me in on the backstory and shared an exciting 50th-anniversary announcement about Bayou Bend's azaleas.
Bart, the Hogg family—and Ima in particular—started planning the gardens at Bayou Bend in the mid-1920s, even before the house was under construction. What did they plant?
Many of the trees and plants that were first ordered for the property were typically found in Southern gardens: magnolias, yaupon, crepe myrtle, and dogwoods.



Azaleas bloom in early spring across Bayou Bend's 14 acres. Photo by Rick Gardner in memory of Mary Gardner
I notice your list does not include azaleas, which I think of as a traditional Southern flower.
At that time, in the 1920s, azaleas were found more often in the Deep South. But, in 1930, Ima Hogg decided to experiment with azaleas at Bayou Bend, and she ordered a few of the variety known as Omurasaki, through Teas Nursery. Planting them with peat moss and making some other soil adjustments allowed the azaleas to thrive, and she ordered 250 more the next year.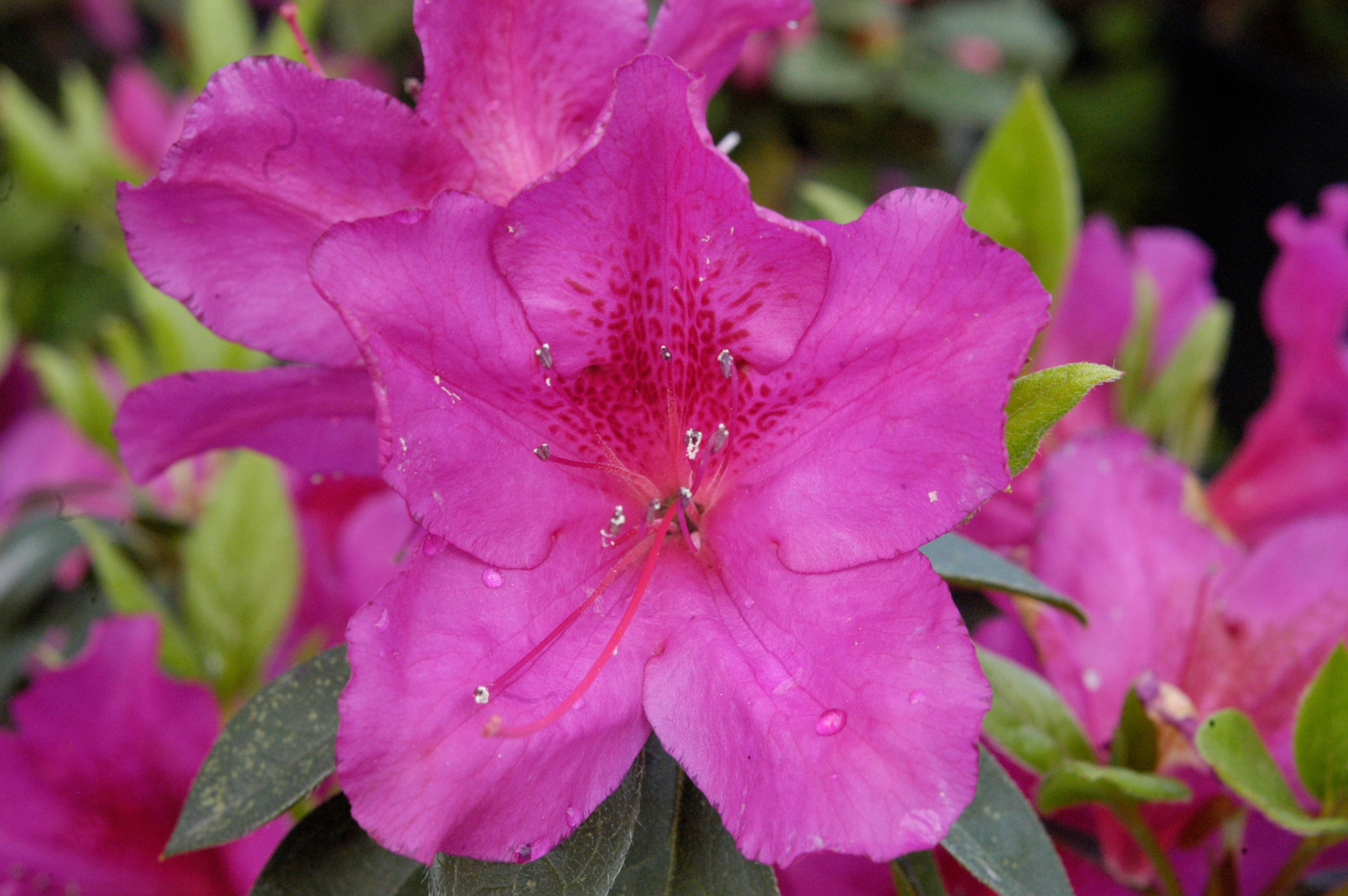 The Omurasaki variety of azalea
Why do you think Miss Hogg decided to try out azaleas, when before that, Houston had not been considered to have the right soil or climate for azaleas?
I think Ima Hogg felt that what she saw as Houston's Southern roots needed to be encouraged and nurtured. The state's Western traditions were championed by many at that time. By planting the Asian azalea—the iconic Southern flower—throughout Bayou Bend's gardens, she was creating a very Southern experience for her guests. She had visited most of the major gardens in the South, including Bellingrath Gardens in Mobile, Alabama, which had been a private garden but opened to the public in 1932. I suspect the idea was to equate Bayou Bend with these other Southern gardens.
Today, Bayou Bend seems to have an endless variety of azaleas in different shades of pink, magenta, and white. Did Miss Hogg select all of these different types?
Yes, over some 20 years she planted 39 different varieties of azaleas. You could say she collected azaleas as passionately as she collected antiques!

The colors of different varieties of azaleas burst in spring. Photo by Rick Gardner in memory of Mary Gardner

And so many varieties have survived all these years?
Sadly, as the gardens and azaleas matured, some varieties died out. By the time I began working at Bayou Bend in 2001, one-third of the original azalea collection was no longer represented in the gardens. Since then, I have made it my mission to find the lost flowers. Many are no longer available from retail nurseries, so I had search for examples in private and public gardens.
Quite a detective hunt! Give me a few examples of the harder azaleas to find.
One of the rarest azaleas, the Hortensia, was especially difficult to locate. Miss Hogg had planted Hortensia in the Clio Garden. As a member of the Azalea Society of America, I connected with Joe Coleman in Atlanta, who I had learned grew the elusive Hortensia. He generously shared several cuttings. Now, 200 of the plants are growing in Clio.

The Hortensia variety of azalea
In Maryland, a delightful 91-year-old woman, Wanda Hanners, and her late husband, Charles, had cultivated one of the most organized azalea collections I have ever seen. However, finding the exact azaleas among the thousands that were planted on their seven acres was challenging because they were not labeled. After three days, I found the varieties Audrey Marie, Duc de Rohan, L. C. Fisher, and Mme.\ Dominique.

Wanda Hanners and Bart Brechter in early 2016
I understand you have a wonderful announcement to make about your 15-year quest for the lost azaleas.
I am pleased to report that this year I completed the search, and Miss Hogg's azalea collection is now fully restored at Bayou Bend. I did not plan for it to happen during Bayou Bend's 50th-anniversary year, but isn't it nice that it did!
Yes, and it reminds us that the gardens are not just beautiful but preserved to reflect Ima Hogg's original plan.
Correct. Historically accurate gardens are extremely rare, and that makes Bayou Bend Gardens especially important. We carefully follow a detailed master plan that ensures the design, plantings, and other features are consistent with what Miss Hogg did.
Recent Posts