The British Are Coming! Regal Portraits of Henry VIII & Elizabeth I Visit for "Tudors to Windsors" September 14, 2018
---
For the scores of viewers and countless binge-watchers of the hit Netflix series The Crown—and for the even larger global audience that tuned in to the televised royal wedding of Prince Harry and Meghan Markle in May—the British monarchy resonates.
The kings and queens of England are on prominent display this fall, when a major traveling exhibition originated by London's National Portrait Gallery goes on view in the United States exclusively at the Museum of Fine Arts, Houston. Tudors to Windsors: British Royal Portraits from Holbein to Warhol promises to be an Anglophile's dream, with more than 100 portraits of British rulers selected from public and private collections worldwide.
A Powerful Duo
Just two of the masterpieces to keep an eye out for are a powerful father-daughter duo: a vivid portrait of King Henry VIII by Hans Holbein, who for a time served as the personal painter to the sovereign; and Marcus Gheeraerts the Younger's extraordinary painting of Queen Elizabeth I.
Portrait of Henry VIII
Lent by the Palazzo Barberini in Rome, Holbein's portrait communicates the grandeur of Henry VIII while also referencing the political importance of the king's fourth (and exceedingly brief) marriage to Anne of Cleves. She was one of the relatively lucky ones among Henry VIII's six wives: Their 1540 marriage was annulled after being declared unconsummated.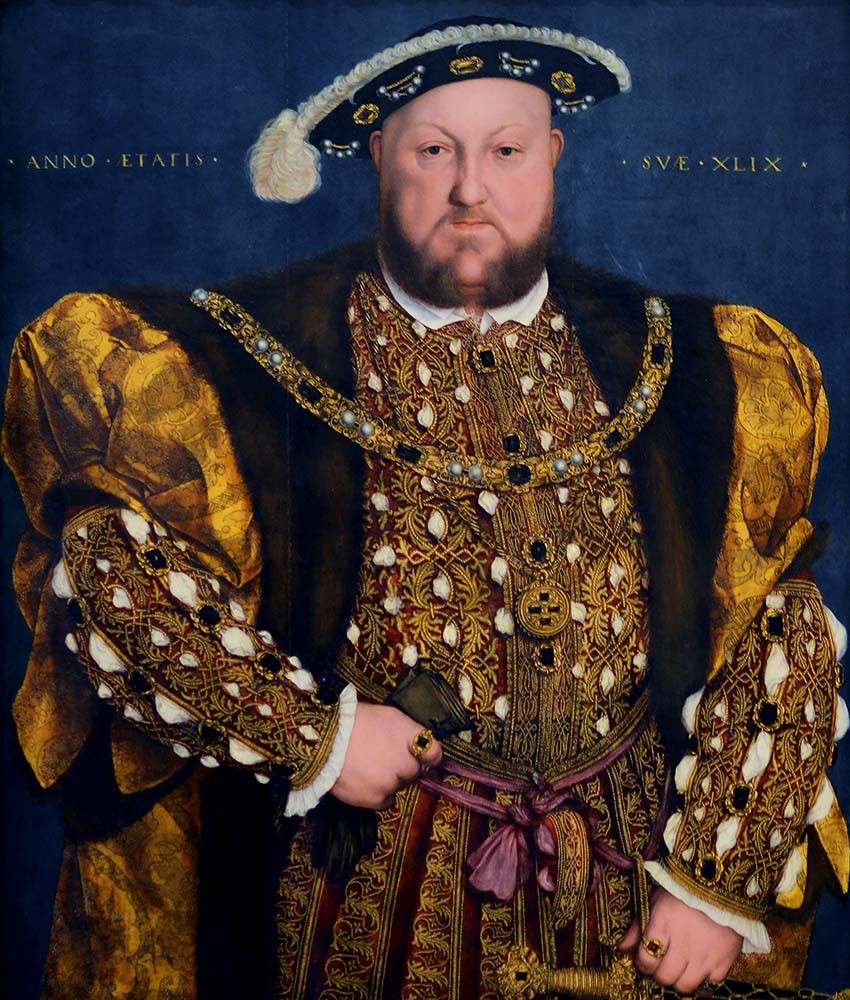 Hans Holbein the Younger, Portrait of Henry VIII, 1540, oil on wood, Palazzo Barberini, Rome.
Holbein's inscription on the painting indicates that Henry VIII sat for this magnificent portrait at age 49. The king's magisterial pose—accented by the sumptuous silk brocades and fur, glittering jewelry, and imposing sword—all point to the absolute power of the monarchy.
Queen Elizabeth I ("The Ditchley Portrait")
Henry VIII's daughter, Elizabeth I, asserted her right to rule through art and adornment, and she created a model of rule that skillfully offset the presentation of her femininity with assertions of the power of her rule.
Gheeraerts's portrait of her, painted about 1592, shows the lavishly ornamented queen standing on a map of England. An inscription on the right-hand side contains a sonnet on the theme of the sun—the symbol of the monarch—which refers to the queen as the "prince of light."
See more in "Tudors to Windsors: British Royal Portraits from Holbein to Warhol," on view in the Law Building through January 27.
Recent Posts