Take Mom to See "Ron Mueck" This Mother's Day May 4, 2017
---
Are you looking for the perfect activity to enjoy with your mom this Mother's Day? We hope you'll bring her to see Ron Mueck at the MFAH on Sunday, May 14, and share an afternoon with Ron Mueck's sculptures, which promote conversations that allow us to connect on a deeper, more profound level. You'll find that several of the works in the MFAH's exhibition are dedicated to the theme of motherhood, one of the most celebrated subjects in the history of art.
A father of two, Mueck witnessed the births of both of his daughters—an intensely intimate, life-changing moment that is echoed in two sculptures in the exhibition: Mother and Child (2001–03) and A Girl (2006). The former was created during Mueck's two-year post as an artist associate at the National Gallery, London, when he became particularly fascinated by Diego Velázquez's The Immaculate Conception (1618–19) and a 15th-century The Virgin and Child in an Interior from the workshop of Robert Campin—both of which are somewhat echoed in Mueck's own images of motherhood.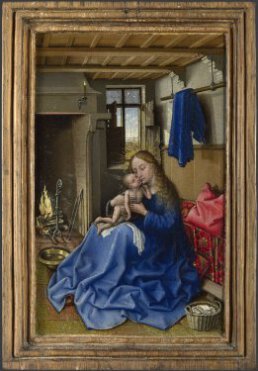 Workshop of Robert Campin (Jacques Daret?), The Virgin and Child in an Interior, before 1432, oil on oak, National Gallery, London. © National Gallery, London 2017
For A Girl (top image), Mueck referenced a photograph of one of his daughters, taken just after she was born. The intensity of engagement in this work reveals the artist's own memories and thoughtful reflection. The sculpture captures the first moment of consciousness, the baby just beginning to open one eye. Though she is no longer attached to her mother by an umbilical cord, her skin and hair are still wet with bodily fluids. She is also a monumental presence at more than 16 feet long!
Mueck rarely has a specific person in mind for his sculptures, but Woman with Shopping (2013), one of his newest works, was inspired by a woman he saw on a London street corner waiting for the traffic light to turn green. Like Mother and Child from a decade earlier, this burdened mother has a glazed, vacant look in her eyes. Weighed down by bags from Sainsbury's supermarket in both hands and an infant tucked inside her oversized coat, she is an image of absolute strength and devotion.
Ron Mueck, Woman with Shopping, 2013, mixed media, Collection of the artist, Courtesy Hauser & Wirth and Anthony d'Offay, London. © Ron Mueck
Mueck's sculptures on motherhood strike a chord that resonates far beyond the Museum. We hope you'll join us to see Ron Mueck, on view in the Beck Building through August 13.
Recent Posts