Striking Different Notes: Two Magnificent Still Lifes from the MFAH Collections July 21, 2019
---
Italian artists Bartolomeo Bettera and Cristoforo Munari excelled at painting still lifes. Their identically titled Still Life with Musical Instruments both depict a seemingly haphazard arrangement of musical instruments and attractive objects painted in a refined, realistic manner. But closer inspection reveals the distinctions.
Cristoforo Munari
Still Life with Musical Instruments (c. 1710–15) celebrates, and perhaps represents, an allegory of the five senses. Gorgeous objects and musical instruments lie strewn on a vividly hued carpet, but Munari's use of brighter colors with more contrast results in a livelier tone than seen in the Bettera painting, alluding to a dissimilar theme.
The recorder, violin, and sheet music refer to sound; the reflected surfaces of the mirror and metalware signify sight. The ripe fruit tumbling off the platter in the foreground and the wine in the exquisite Venetian glass in the background symbolize taste. The fruit and the bouquet bursting with fresh flowers represent smell, while the texture of the patterned rug demonstrates touch.
An Italian painter of the late Baroque who worked in Florence, Reggio Emilia, and Rome, Munari specialized in still-life paintings like this one. Wealthy patrons commissioned them as a demonstration of refinement and worldliness. Possibly influenced by the merry court of the Medici, several of whom were patrons of Munari, this still life exudes elegance, luxury, and prosperity. The instruments in both paintings are placed as if hastily abandoned by a troupe of musicians, but in the Munari work, the party seems to continue in an adjacent room.
Bartolomeo Bettera
Despite eight handsomely wrought musical instruments in its composition, Bettera's Still Life with Musical Instruments (probably 1680s) conveys an eerily silent, almost somber, tone. An example of the vanitas (vanity) genre, the painting comments on the brevity and futility of life.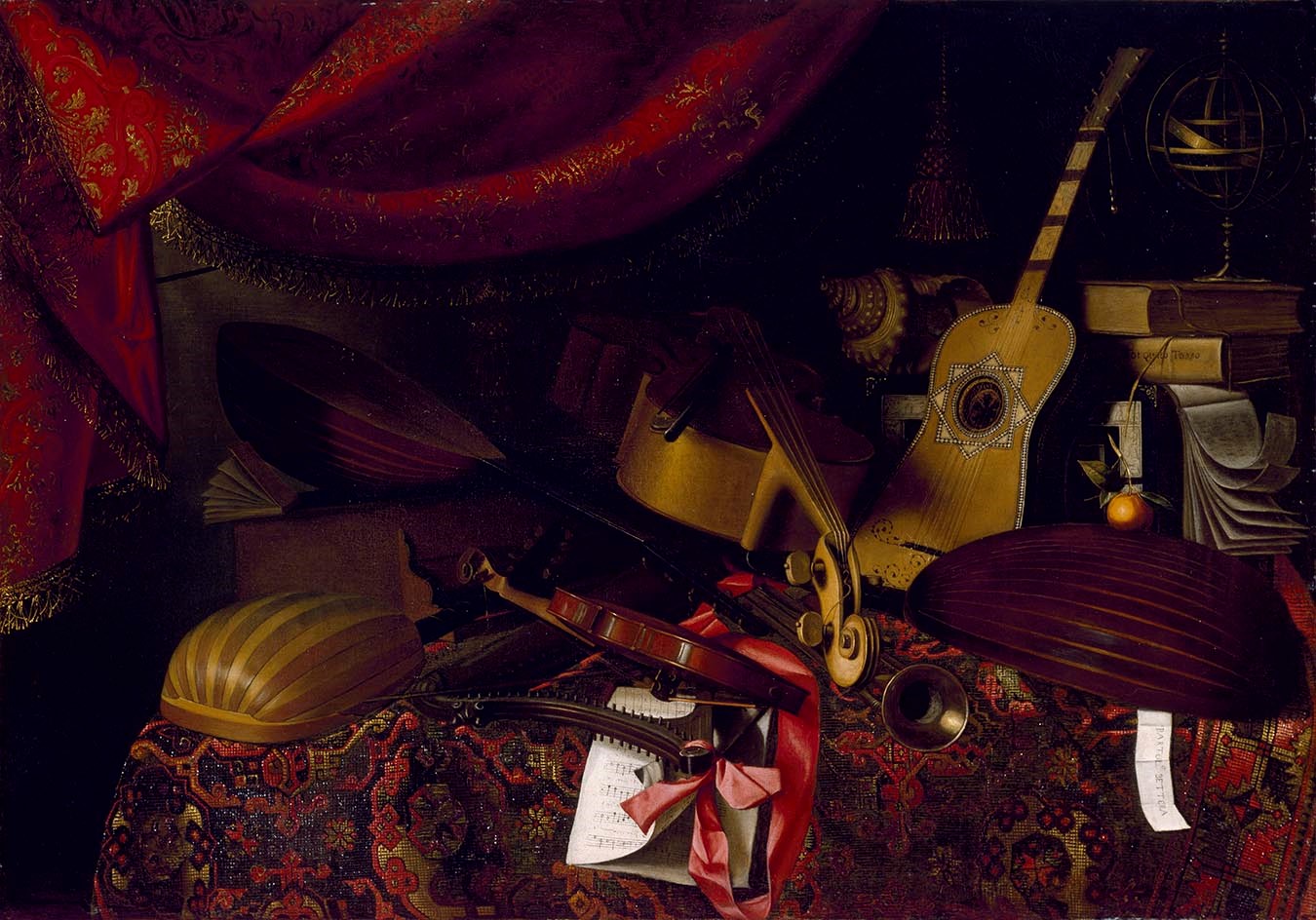 Set beneath a dramatically draped Spanish curtain, the string and wind instruments look as if they might topple off the table. The guitar with the sprung string, the stack of books, and the sheet music caught in a gust of air—all suggest the ephemeral nature of human endeavor. The triton shell, prized by collectors, and the armillary sphere also indicate the pointlessness of human ambition. In a note of additional gravity, a solo apple perches on a lute, solemnly conjuring a reminder of original sin.
For all its opulence of color—rich reds, burnished browns—lavishness in details, and sumptuously shaped lutes, Bettera's arrangement is sharp, with the lines of the instruments creating a configuration of diagonals. Throughout his career, Bettera painted works with similar compositions. The inlaid Spanish guitar and the carpet, presumably owned by the artist, appear in other works.
► Find out more about these paintings and other MFAH works of art: Search the collections.