Still-Life Smorgasbord November 17, 2019
---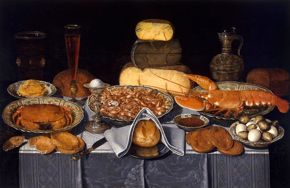 Not much is known about artist Clara Peeters, who worked in Flanders and Holland during the first half of the 17th century. We do, however, know she was a master of still-life paintings at a time when women were not allowed to pursue art professionally and were rarely included in guilds.
Skillfully rendered still lifes—one of the few subjects deemed appropriate for women artists—were her specialty. About 30 of her works, thinly painted, nearly monochromatic, and delightfully detailed, are known to exist. They vary from simple compositions to sumptuous, complicated banquet pieces such as Still Life with Crab, Shrimps, and Lobster. This painting depicts an abundance of food alongside valuable metal and ceramic objects in a tightly spaced, balanced composition.
Mystery Surrounds the Meaning
Like the artist herself, mystery surrounds the meaning of this work. Is it simply a painting of an opulent feast, a popular genre meant to demonstrate the worldliness, wealth, and refinement of a painting's owner? The bountiful buffet and expensive serving ware certainly point to luxury.
A knife, with a Maltese cross on its blade and a handle inlaid with red and blue precious stones, dangles on the edge of the cloth. In the foreground, an overload of cakes practically tumbles off the table. Three hefty hunks of cheese form a backdrop for a heaping platter of seafood. (A lone upended crab supplies a realistic, amusing touch.) Glass vessels with gilded rims and decorative elements and a stoneware jar with a pewter lid mingle among the bounty of eggs, crab, shrimp, and boiled lobster.
More to the Story?
But could this work contain a deeper meaning? Notably, all the foods displayed are allowed during the Lenten season, an observance of the period leading up to God's sacrifice of his son, Jesus. An elaborate salt cellar with a generous scoop of salt sits behind cloth-covered bread, typical of a Sabbath meal. Furthering the religious theme, a blue-gray damask overlay shows a biblical scene of Abraham's intention of following God's command to sacrifice his son, Isaac.
Damask, a finely woven monochromatic fabric of silk or linen in which the play of light reveals the pattern or scene, has a long history dating to China around 300 BC. Weavers in Belgium and the Netherlands began incorporating biblical or battle scenes into damask table linens in the 1600s. Although the use of damask in such paintings is not unusual, here the prominence of the scene-within-a-scene gives weight to the theory that Peeters may be drawing parallels between Old and New Testament themes, comparing the sacrificing of Isaac to that of Christ.
► See "Still Life with Crab, Shrimps, and Lobster" on the second floor of the Beck Building.