"Staff Art Show" Spotlights Talent across the MFAH February 22, 2019
---

The Staff Art Show, open to the public through February 24, features 77 works of art by MFAH employees across 23 departments. A few shared thoughts on their work and inspiration.

Monica Cuellar, Their Reflection and Love, acrylic on canvas. © Monica Cuellar
Monica Cuellar
Security Console Monitor
"I wanted to make some type of abstract landscape with a lake. Then, at the last minute, I added the two moons, because there's something romantic and whimsical about the moon. I thought of reflections on a water's surface, as well as the reflection of one's self and the state of one's mind both above and underneath the surface."

Andrew Groocock, Structural Drawing 2019, charcoal on paper. © Andrew Groocock
Andrew Groocock
Manager, Inventory and Receiving
"I have always been fascinated by engineered structures and the visual layering of the urban environment. Structural Drawing 2019 is a continuing response and expression of these interests. To me, drawing is a very physical activity. I love to move the compressed charcoal around the paper with my fingers and attack it with an eraser, letting forms and voids find their pictorial spaces."


Richard Hinson, The Elements: Wind 2.2.a, stained glass. © Richard Hinson
Richard Hinson
Senior Preparator, Collections
"The Elements: Wind 2.2.a is an original design and part of a continuing series of the four elements: earth, air (wind), water, and fire. I like to think of glass the same way a painter thinks about paint. Color can create a mood or feeling, especially when seen through a window lit by bright sunlight."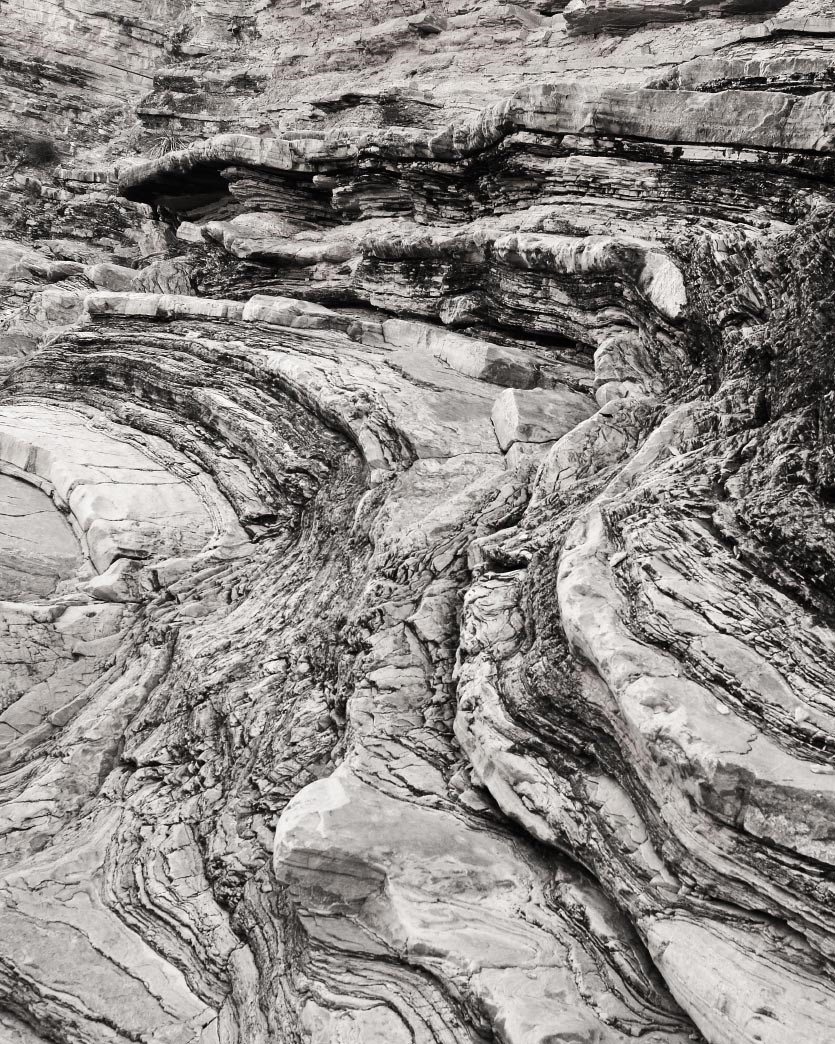 Andrew Spies, Untitled, photograph. © Andrew Spies
Andrew Spies
Manager, Parking, Housekeeping, and Event Management System
"This image was taken in Big Bend National Park of the Ernst Tinaja, the largest of the tinajas, or natural water holes, in Ernst Canyon. What you see here is layering of shale and sandstone, formed by thousands of years of water and sediment erosion. This layer of rock lies just above the smooth, slick limestone surface of the tinaja. Its abstractness is what inspired me."
See more in the "Staff Art Show," on view in the Beck Building through Sunday, February 24.
Recent Posts