So Fashionable! Portraits in the MFAH Collections February 15, 2019
---
From New York to London and Milan, February is a month of Fashion Weeks around the world—the perfect time to look at a few impeccably dressed and accessorized women in works of art in the Museum's permanent collection.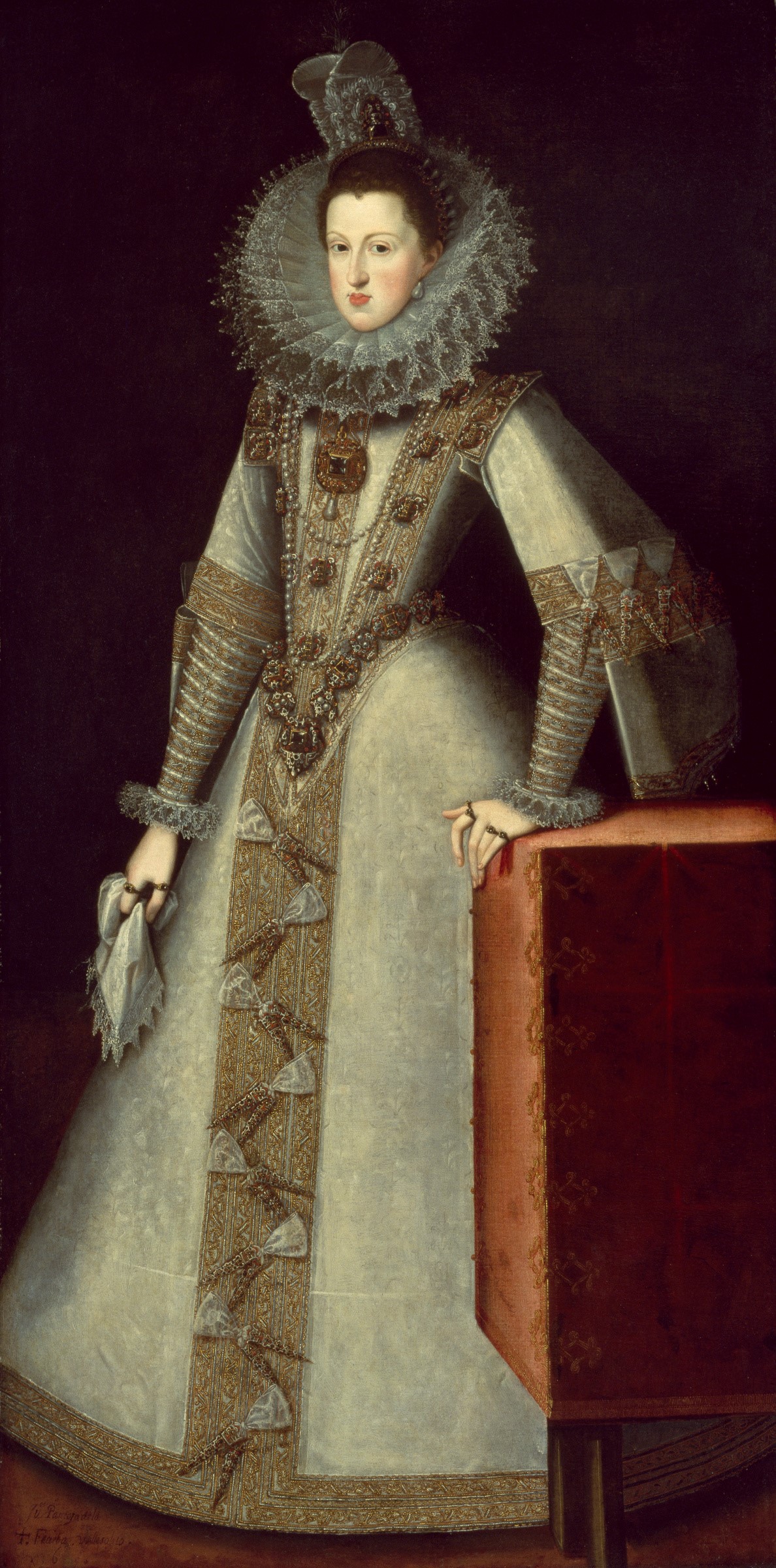 Juan Pantoja de la Cruz, Margaret of Austria, Queen of Spain, 1605
In this painting of Margaret of Austria on view at Rienzi, court painter Juan Pantoja de la Cruz upholds his country's tradition of royal portraits. Stately majesty is on display in the depiction of the queen of Spain, who reigned with King Philip III. She wears an elaborately textured dress, and the dramatic ruff framing the sovereign's face brings her solemn gaze into sharp focus.
Indian, A Bejeweled Lady, 1690–1720
This elegant Indian woman wears a luxurious, European-style velvet gown and ornate slippers, one of which has slipped off to reveal her toe clad in a pink silk stocking. A feathered hat protects her from the glare of the sun. She is dripping in jewels and encircled by strands of pearls—a layering style that Coco Chanel would famously champion in the 1920s when she emboldened women to pile on pearl necklaces.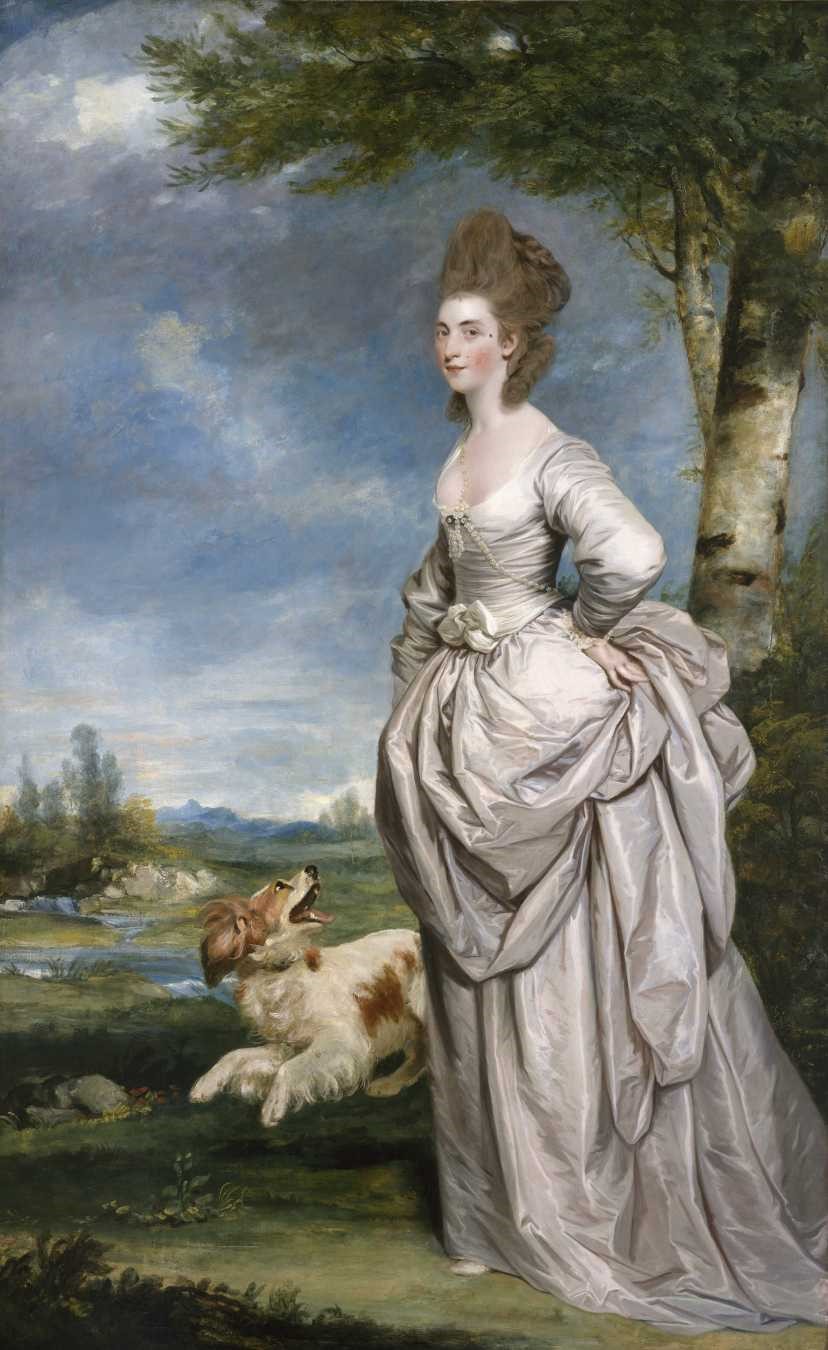 Sir Joshua Reynolds, Mrs. Elisha Mathew, 1777
Celebrated beauty Elisha Smyth Mathew radiated grace and glamour, as seen in this grand work by Sir Joshua Reynolds. His paintings of women were unabashedly flattering, and he pursued "an ideal beauty, superior to what is to be found in individual nature." In this full-length portrait on view at Rienzi, Mrs. Mathew stands in a park landscape in a gray shot-silk dress tinged with blue highlights and enhanced by graceful folds and classicizing drapes.
Rembrandt Peale, Idealized Portrait, c. 1845
Idealized Portrait reflects Rembrandt Peale's special affinity for the work of esteemed Italian Renaissance painter Raphael. In Peale's portrait, on view at Bayou Bend, the demure yet sensuous woman is dressed sumptuously in a costume of red velvet, paired with a red turban, both of which offset her cream-colored skin. Peale ultimately looked to several artistic sources to create this idealized portrait of what many consider to be a woman of fantasy.
Uchida Kuichi, Haru-ko, the Empress of Japan, 1872
Upon her marriage in 1869, Haru-ko was the first imperial consort in several hundred years to receive the titles of both nyōgō and kōgō (literally, the emperor's wife, translated as "empress consort"). For this hand-colored photographic portrait taken by Uchida Kuichi in 1872, the empress holds an elaborate fan and wears a jūnihitoe. An elegant, 12-layer silk kimono that could weigh up to 44 pounds, the robe is among the most expensive items of Japanese ceremonial dress. Interestingly, from 1886 on, the empress and her entourage wore only Western-style clothes in public. She even issued a memorandum in 1887, stating her belief that traditional Japanese dress was unsuited to modern life and that Western-style dress was closer in form to clothes that Japanese women had worn in ancient times.
Recent Posts