Rienzi Gallery Talk | Chinese Export Porcelain for the Mexican Market October 13, 2020
---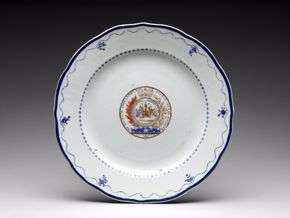 Discover 18th-century Chinese export porcelain made for the Mexican market in the collection at Rienzi, the MFAH house museum for European decorative arts.
In a virtual gallery talk inspired by Hispanic Heritage Month, assistant curator Misty Flores explores the trade relationship between China and New Spain. She highlights objects in the Rienzi Collection, including the beautiful Chinese porcelain Plate and Platter in the adjacent slideshow. To see these works of art in person, schedule a tour of Rienzi and be sure to stop in the Mexican Room.
Stay Tuned for More
This virtual Rienzi Gallery Talk is the first in a series of three for the fall season. Up next: associate conservator Trevor Boyd in November, and curator Kaylin Weber in December.
---
Education programs at Rienzi receive generous funding from the Sterling-Turner Foundation; Alkek and Williams Foundation; Carroll Sterling and Harris Masterson III Endowment; Isla Carroll Turner Friendship Trust; and the Caroline Wiess Law Endowment for Rienzi.
Recent Posts