The Richness & Variation of Sub-Saharan Photography July 27, 2020
---
Photography curator Malcolm Daniel shares history and perspective on the social and political expressions conveyed by the images in the exhibition Through an African Lens: Sub-Saharan Photography from the Museum's Collection.
In the 1950s and 1960s, when many African countries gained independence, there was a wave of enthusiasm for the future, an explosion of new music, and a boom of photographic studios throughout sub-Saharan Africa. Local portrait studios were spaces of creativity, modernity, and expression, and the images produced by the photographers reflected the momentous changes outside of the studio walls.
Issues of Identity
Portraiture, which had been used and abused during the colonial era and during the segregation of apartheid to uphold notions of racial superiority, has been reclaimed by African photographers in more recent years to address issues of identity—exploring gender, sexuality, national identity, performance, and ultimately, pride.
Range of Expression
It goes without saying that sub-Saharan Africa is a vast territory with hundreds of individual cultures, languages, and artistic traditions and with differing histories in the colonial and post-colonial periods. Photography naturally reflects that richness and variation, so even though the 70 works in the exhibition are by 20 artists from Benin, Burkina Faso, Cameroon, Côte d'Ivoire, the Democratic Republic of Congo, Mali, Nigeria, Senegal, South Africa, and Zimbabwe, they still represent a mere taste of the wide range of photographic expression on the continent.
Unapologetic Pride
One of the most striking works in the show is the self-portrait of South African artist Zanele Muholi—a floor-to-ceiling photomural. Muholi's bearing and direct gaze, combined with a use of light and contrast that exaggerates the darkness of black skin, conveys an unapologetic pride in black identity. While the image celebrates the beauty of blackness, Muholi noted that its imposing scale is also a political statement that "speaks about occupying public spaces to which we, as black communities, were previously denied access."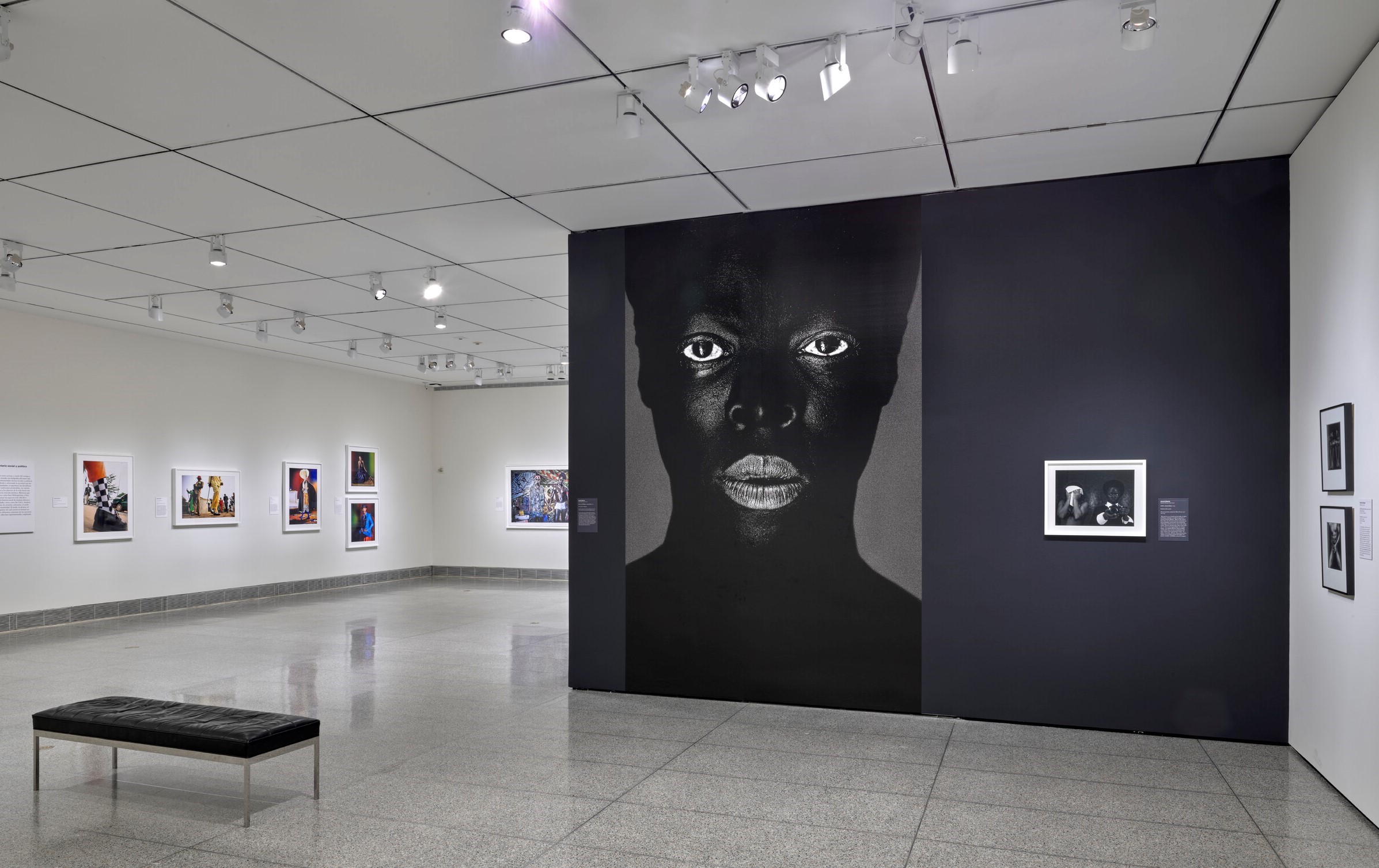 ► See Through an African Lens: Sub-Saharan Photography from the Museum's Collection on the lower level of the Beck Building through November 8. Plan ahead for your visit.
This exhibition is organized by the Museum of Fine Arts, Houston.
Recent Posts