"Rain" Travels to the Buffalo Bayou Park Cistern January 3, 2017
---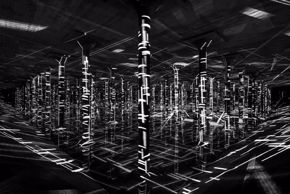 The inaugural art installation in the Buffalo Bayou Park Cistern is straight from the Museum's own collection! The MFAH teamed up with Buffalo Bayou Partnership to present Rain: Magdalena Fernández at the Houston Cistern, on view through June 25.
Rain features 2iPM009, an abstract video-projection piece created by Venezuelan artist Magdalena Fernández in 2009. She adapted the installation to be projected onto the cistern's 221 columns.
The cistern's cavernous interior and 17-second acoustic reverberation time make for an immersive art environment as the 1-minute, 56-second video plays on a loop. The installation's sounds evoke a thunderstorm—a watery theme that complements the cistern, which was built as a drinking-water reservoir in 1926 for the City of Houston and still features a floor of shallow water. MFAH visitors may remember 2iPM009 when it was part of the 2015–16 exhibition Contingent Beauty: Contemporary Art from Latin America.
The Rain installation is on view through June 4 at the Buffalo Bayou Park Cistern, located near downtown Houston at 105 Sabine Street. Learn more and book tours at buffalobayou.org, and follow along on social media with #CisternRain.