Operating on Art: Treating Walker Evans's "Banda Headdress" August 1, 2014
---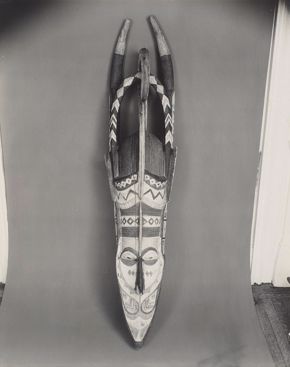 Like medical students completing their residencies in a hospital, graduate conservation students are required to gain practical experience during their final year of training. Over the past year, I have had the privilege of completing my internship with the wonderful staff and art collections at the MFAH.
My most recent project is a gelatin silver photograph by American artist Walker Evans (1903–1975), who is best known for his images of the Great Depression. This particular print, Banda Headdress, is part of Evans's series called African Negro Art, which consists of approximately 500 prints of African sculptures from a similarly titled 1935 exhibition at the Museum of Modern Art in New York. MoMA commissioned Evans to document each sculpture and produce 17 portfolios and a traveling exhibition for the purpose of teaching students about African art history.

Banda Headdress arrived in the MFAH conservation lab with a tear in the top right corner that made it unsafe for the object to be handled or displayed. The many-layered structure of photographs—coated paper and silver image, held together by a gelatin binder—makes them highly sensitive to physical stress and the environment.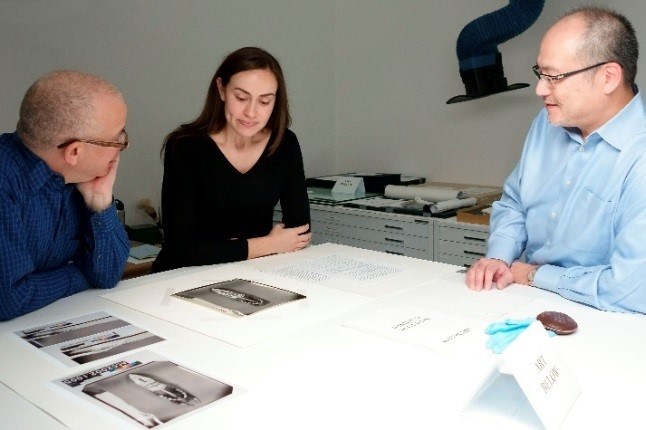 Heather Brown discusses the photograph's treatment with Malcolm Daniel, curator in charge of the department of photography and special projects; and Toshi Koseki, Carol Crow Senior Conservator of Photographs.

Routine treatment steps included:
Writing a report on the current condition of the photograph and taking digital photos to document changes during treatment
Surface cleaning to reduce accumulated dirt
Consolidation, or application of a gelatin adhesive, to re-attach image flakes to the paper before they were lost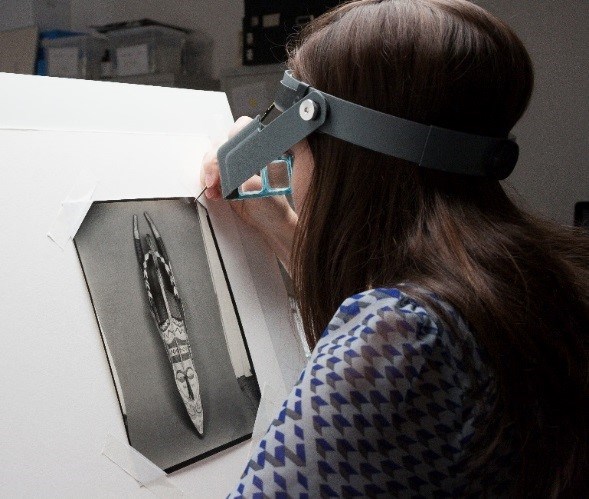 Heather Brown completes the final treatment step: retouching with watercolors.

I was then able to stabilize the tear by:
Mending with gelatin adhesive
Reinforcing the back with Japanese paper and wheat-starch paste
Retouching around the tear using watercolors
Each step was performed using reversible materials and techniques so that a future conservator can undo the repairs if necessary. Before the print was returned to the cool, dark storage environment at the Museum, the condition of the work was documented again with a final treatment report and after-treatment photos.



Detail of the top right corner of the photograph before and after treatment.
The most rewarding aspect of the treatment, besides the dramatic visual improvement, was the opportunity to make the print once again accessible to museum colleagues and researchers. After this—and countless other valuable experiences I have had at the MFAH—I look forward to demonstrating everything I learned during my graduation presentation and in my new fellowship position this fall in San Francisco.
Recent Posts