Virtual Cinema | New Music Documentary "Crock of Gold" November 13, 2020
---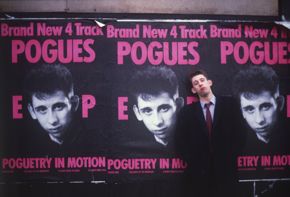 "A ringside view into the life, words, and mind of Ireland's greatest punk poet." —Johnny Depp
This lively new documentary profiles Irish musician Shane MacGowan, best known as the lead singer of Celtic punk band the Pogues and still staunchly irreverent in his 60s. Crock of Gold: A Few Rounds with Shane MacGowan stands apart from other music documentaries thanks to its talented director, Julien Temple, a veteran chronicler of the punk era; and producer Johnny Depp, a longtime friend of MacGowan's.
A Vivid Picture
MacGowan drew inspiration from his Irish heritage when founding the Pogues in 1982, and many of his songs are influenced by Irish history and culture. The photos and home movies in Crock of Gold reveal a vivid picture of his youth in Tipperary along with reflections by his sister and father.
Gerry Adams, former president of the Sinn Féin party, engages MacGowan in a rambling discussion about the influence of 20th-century Irish politics on MacGowan's music. Journalist Victoria Clark, married to MacGowan since 2018, draws him out in touching, intimate conversations about his life and career. Music fans will relish the scenes of rousing Pogues performances, and the film cleverly weaves MacGowan's memories and music together with kaleidoscopic animated collages.
Fun Fact
Julien Temple visited the MFAH in 2016 as a guest of Michael Zilkha, co-chair of the Museum's film subcommittee. Temple introduced several screenings of his own films, including The Filth and the Fury about the Sex Pistols, and the feature Absolute Beginners, starring David Bowie. Many of the classic 1980s music videos Temple created were projected on the walls of the Museum during the MFAH Mixed Media party that weekend.
Mark Your Calendar
Crock of Gold: A Few Rounds with Shane MacGowan WATCH HERE Your ticket purchase ($12) supports the MFAH and provides a 3-day pass to the film. Please note: This film is not rated but contains material consistent with an R rating for profanity and adult content.
---
Underwriting for the Film Department is provided by Tenaris and the Vaughn Foundation. Generous funding is provided by Nina and Michael Zilkha; The Consulate General of the Republic of Korea; Franci Neely; Carrin Patman and Jim Derrick; Lynn S. Wyatt; ILEX Foundation; L'Alliance Française de Houston; and The Foundation for Independent Media Arts.
Recent Posts