Virtual Cinema | Musician Ben Model Returns for Another Silent-Film Concert April 22, 2021
---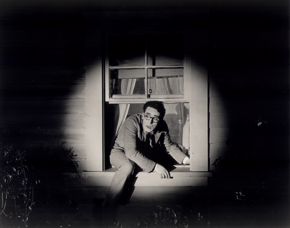 The MFAH welcomes pianist Ben Model back to Virtual Cinema for another silent-film performance. In January he accompanied a trio of comedy shorts, and this time he presents Hot Water, a 1924 movie starring bespectacled comedian Harold Lloyd. Admission for this online concert is free! (Scroll down for details on how to register.)
Meet Ben Model
Model, a leading silent-film pianist, is a resident accompanist for the Library of Congress and New York's Museum of Modern Art. He has composed and performed live scores for hundreds of silent films.
When cinemas went dark in March 2020, Model decided to take the silent-film experience online. He hosts shows live from his living room, seated at his baby grand piano. He enjoys the livestreams because they "combine the excitement of a live performance with the informality of a friend inviting you over for a movie."
In Celebration of Mothers
Because this program follows Mother's Day, Model accepted our challenge to feature a movie with a memorable mother. In Hot Water, he explains, "Harold Lloyd is a newlywed who invites his mother-in-law and brothers-in-law over as guests. The mother-in-law is portrayed by Josephine Crowell, who played mothers, mothers-in-law, queens, dowagers, and duchesses throughout the silent-film era."
A Few Words from Harold Lloyd's Daughter
Suzanne Lloyd, Harold's daughter, is devoted to his legacy and maintains a website about her legendary father.
"In his romantic comedies," she said, "Harold usually plays the guy who chases, and eventually gets, the girl. Hot Water is the only film in which he plays a married man. Harold felt that playing a married man stifled his character and didn't give him enough comedic range. Despite this, Hot Water is still the usual Lloyd-brand fun, featuring Jobyna Ralston as his leading lady, and a spectacular car chase. One contemporary film that I think is very similar to Hot Water is Meet the Parents. The audience might be able to find some interesting comparisons between the two!"
Register Now
This silent-film concert streams live on Monday, May 10, at 6:30 p.m. Admission is free to viewers worldwide. To register, send an email to tstephenson@mfah.org with "Ben Model" in the subject line. On the day of the event, you'll receive a link to the livestream.
About the Author
Marian Luntz is curator of film.
---
Underwriting for the Film Department is provided by Tenaris and the Vaughn Foundation. Generous funding is provided by Nina and Michael Zilkha; The Consulate General of the Republic of Korea; Franci Neely; Carrin Patman and Jim Derrick; Lois Chiles Foundation; ILEX Foundation; L'Alliance Française de Houston; and The Foundation for Independent Media Arts.
Recent Posts