#MeetTheHabsburgs June 10, 2015
---

Ladies and gentlemen, meet the Habsburgs!
Europe's longest-reigning dynasty featured a cast of characters who married well; made love, not war; and collected spectacular works of art for 500 years, from the late Middle Ages to the 19th century.
This summer, get know who's who through their stunning objects, showcased in the exhibition Habsburg Splendor: Masterpieces from Vienna's Imperial Collections. Some 100 masterpieces are on loan from the renowned Kunsthistorisches Museum in Vienna.
Here's a first glimpse at the power, drama, and excess of the Habsburg Dynasty.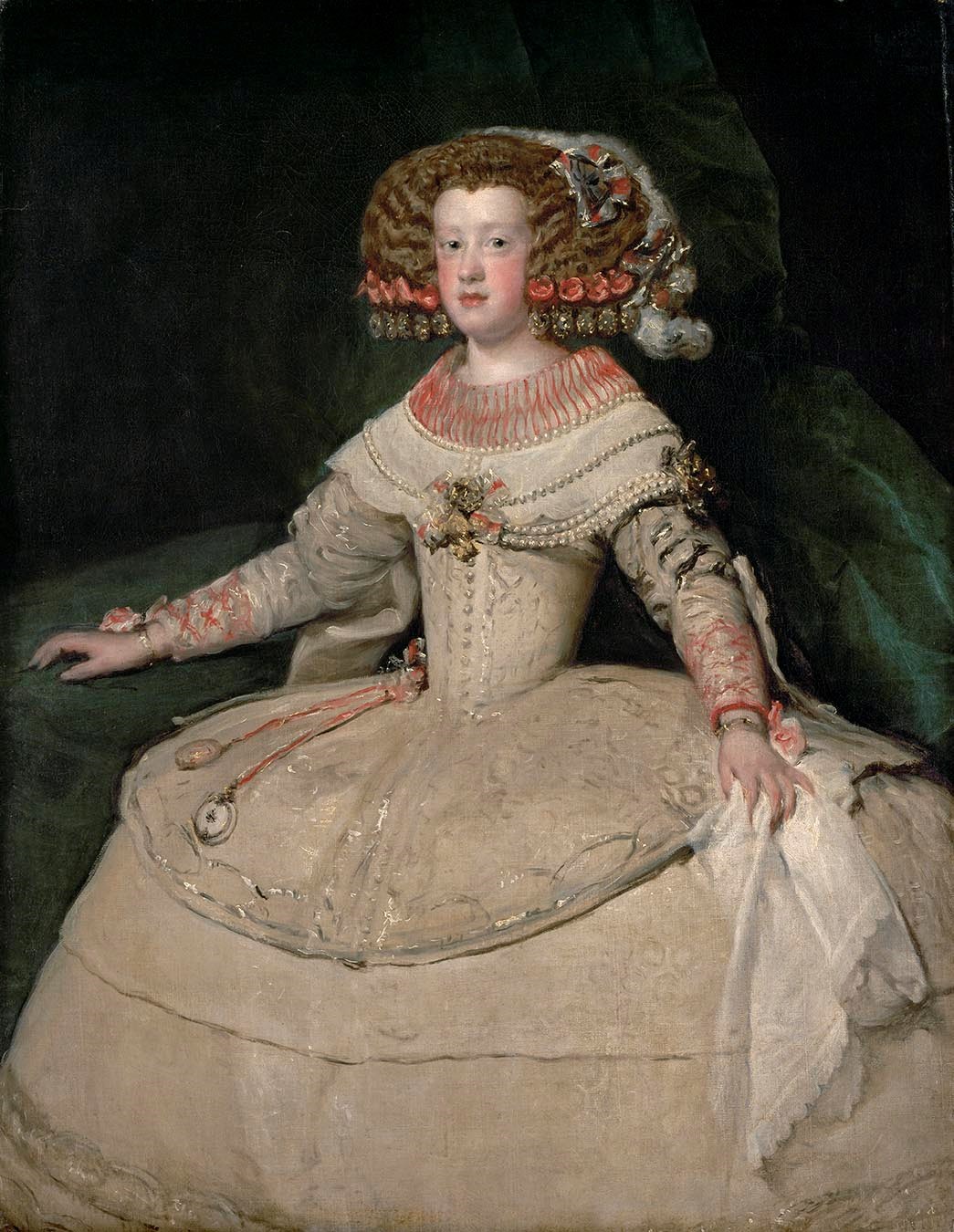 Infanta Maria Theresa (c. 1652/53)
Court painter Diego Velázquez completed this portrait of Maria Theresa (1638–1683), the daughter of King Philip IV of Spain, when she was about 14 years old. The infanta, or princess, was one of the key figures in the political network of the ruling houses of Madrid, Vienna, and Paris. Despite plans to marry her off to a number of other prominent prospects, the princess ultimately became the first wife of her cousin, France's King Louis XIV, who was known for his many mistresses.

Emperor Leopold I (1667)
This portrait offers a look at Emperor Leopold I (1640–1705) during the festivities for his wedding to his niece, Margaret Theresa (1651–1673). The opera-loving couple took part in in the musical drama La Galatea and were depicted by court painter Jan Thomas in their Baroque costumes. The libretto is based on Ovid's Metamorphoses and describes the tragic love between beautiful sea nymph Galatea and Acis, son of Pan.

Black Velvet Dress Belonging to Empress Elisabeth (1860–65)
The beautiful and tragic Empress Elisabeth of Austria (1837–1898) was the Lady Diana of her day. Known as "Sisi," she was married to Austria's longest-reigning Habsburg, Emperor Franz Josef I. An icon of European style for decades, the empress was an obsessive dieter, a superb horsewoman, and a fitness enthusiast who shocked the court by having an exercise room set up in the imperial palace. This magnificent velvet dress was designed to show off Sisi's figure and her famous "Viennese wasp waist." Sisi was assassinated at the age of 60 by an Italian anarchist.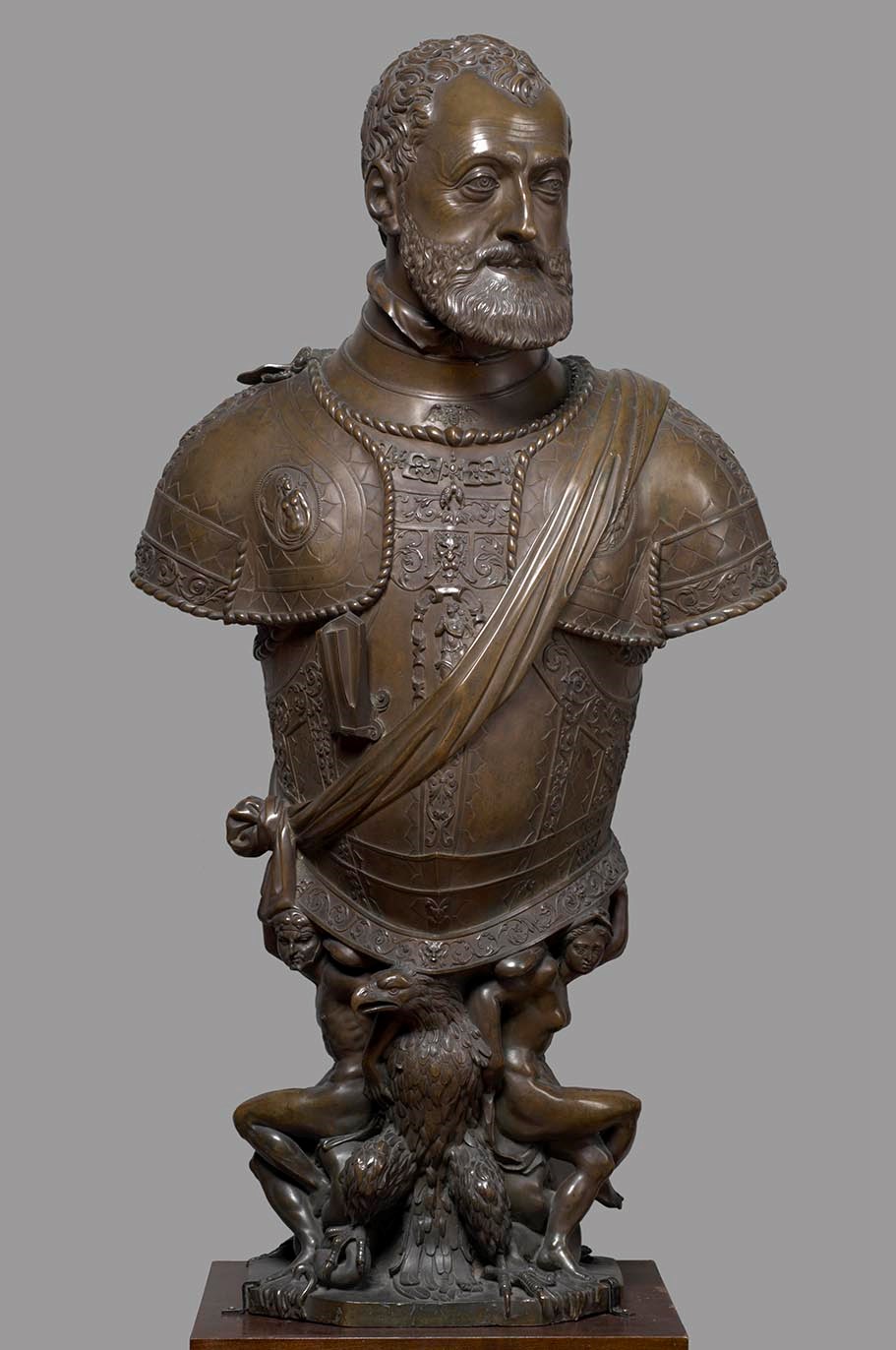 Emperor Charles V (c. 1555)
Charles V became emperor of the Holy Roman Empire in 1519, after the death of his grandfather, Emperor Maximilian I. This idealized image in bronze was intended to show Charles V as eminently powerful. Imitating the depiction of emperors in classical antiquity, the bust is held up by an eagle, as well as by Mars, the Roman god of war, and Minerva, goddess of wisdom—quite an illusion given that Charles V suffered from gout and was carried to battle.


Vienna Court Carousel Sleigh (c. 1740/50)
The bridegroom himself drove this extraordinary gilded sleigh—truly a mobile sculpture—in the ceremonial wedding procession for emperor-to-be Joseph II and Maria Josefa of Bavaria in 1765. The ensemble is decorated with about 350 bells that are especially notable. Not only did such bells warn people of a sleigh's approach as it cruised silently over icy streets; at the same time, the jingling of the bells in various keys delighted the occupants.
► What's in a Name?
Whether you spell it Habsburg or Hapsburg, the name is a notorious one. So what's the difference, anyway? The traditional German spelling is Habsburg. You're likely to see the American, or Anglicized, spelling of Hapsburg in the New York Times, for example. As you might imagine, we're a little old school about that sort of thing. Call us Team Habsburg.
► Explore the Exhibition
Habsburg Splendor is gloriously installed in the Upper Brown Pavilion of the Museum's Law Building. Either get your tickets in advance, or just drop by! Join the fun on social media by following #MeetTheHabsburgs and check out mfah.org/calendar for related programs like wine tastings, gallery concerts, fencing demonstrations, and VIP tours.