Love, Longing & Desire in "Bestowing Beauty" February 2, 2018
---
Love is one of the most celebrated subjects in art. The universal desire for the deepest form of human connection also finds expression in the Persian art and literature highlighted in Bestowing Beauty: Masterpieces from Persian Lands.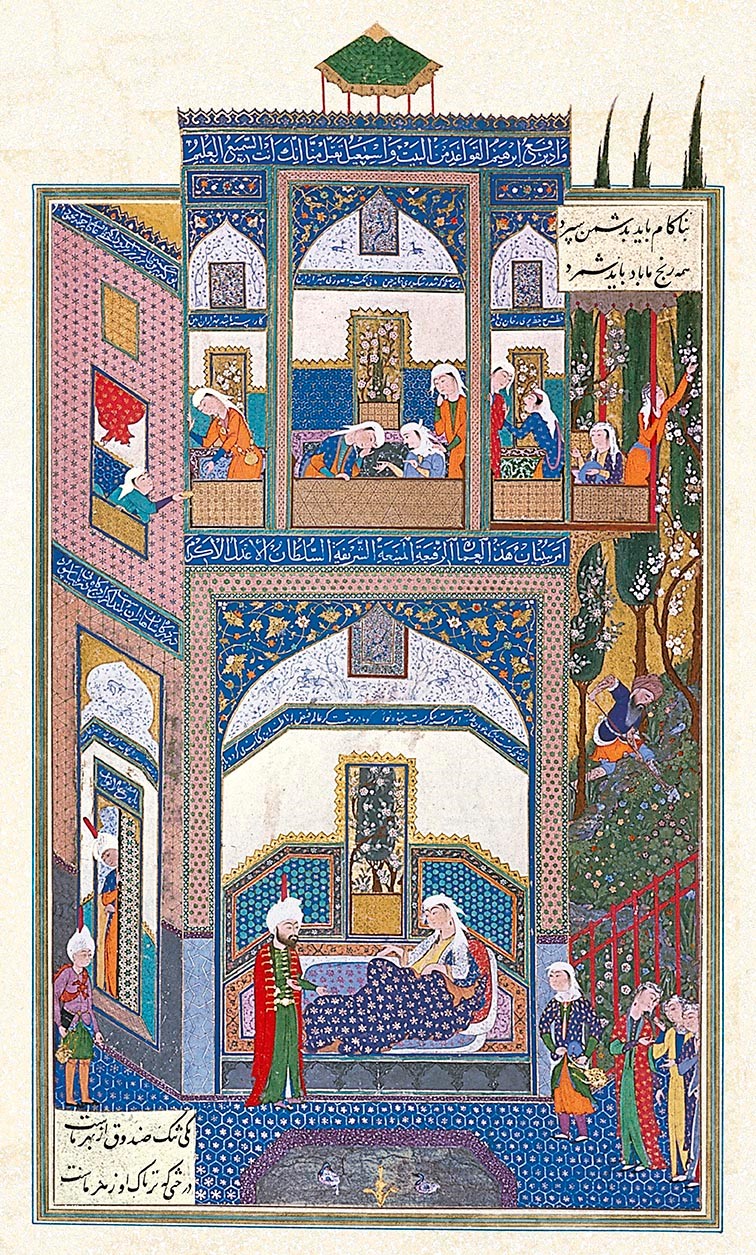 Attributed to 'Abd al-'Aziz directed by Sultan Muhammad, Mihrab Hears of Rudaba's Folly, folio 77v from the Shahnama of Shah Tahmasp (detail), Iran, Tabriz, c. 1520–40
An Epic Love Story
Tales of romance were passed down through generations via oral storytelling and manuscripts. In Mihrab Hears of Rudaba's Folly, a folio from the Shahnama of Shah Tahmasp (ruled 1524–76), Queen Sindukht tells her husband, King Mihrab, that their daughter Rudaba has fallen in love with Zal. The relationship is met with resistance, but love prevails. The union between Rudaba and Zal produces Rustam, the great hero of the Shahnama, or Book of Kings—the Persian national epic.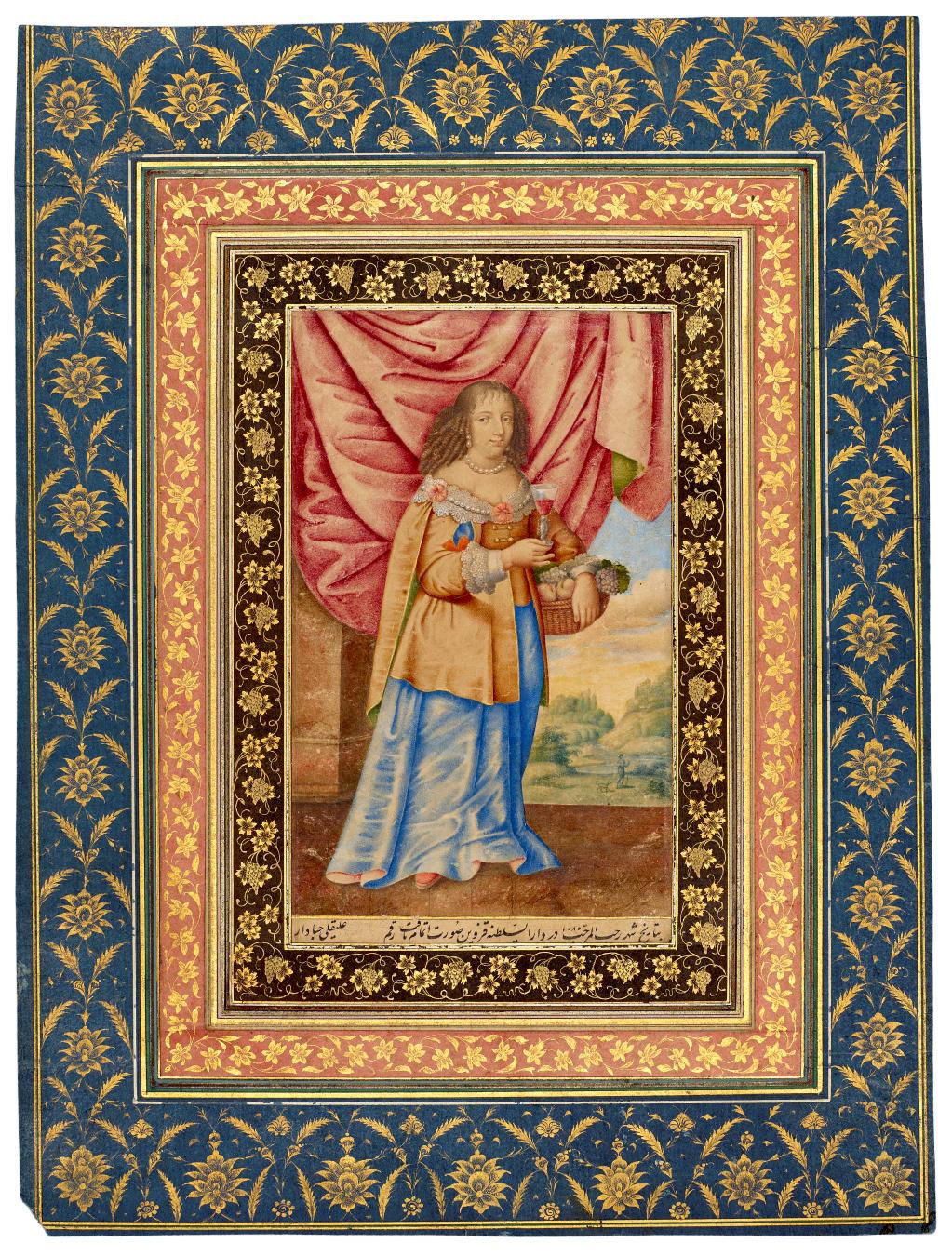 Signed 'Aliquli Jibadar, European Lady, Iran, Qazvin, 1674
An Intoxicating Mix
European Lady—the epitome of love and desire in cosmopolitan Isfahan in the 17th century—mixes traditional Persian motifs with an influx of European imagery. The woman's wine cup recalls the saqi, or cup-bearer, an established theme in Persian poetry that promises the intoxication of love. To a viewer of that time, the Europeanizing (farangi-sazi) style would have represented temptation and desire.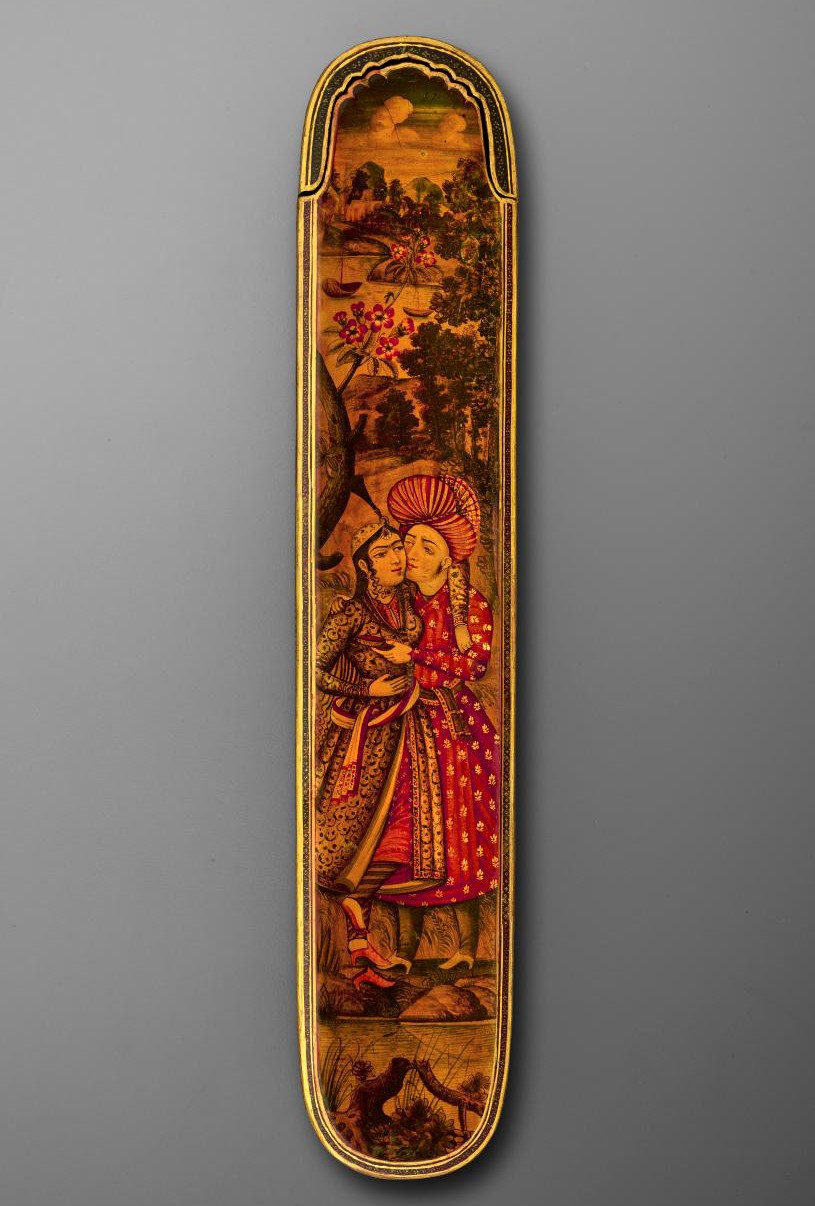 Pen Case (Qalamdan), Iran, probably Isfahan, late 17th century
An Exotic Embrace
Likewise, a qalamdan, or pen case, utilizes European-style landscapes and portrait medallions to complement the amorous tone of the lovers: a well-dressed Safavid nobleman embracing a young woman.

Mirror Case (detail), Iran, probably Shiraz, mid-19th century
A Song of Love
The rose and the nightingale (gul u bulbul), a popular element in Persian poetry and art that is represented on a mirror case in the exhibition, evokes both earthly and spiritual love. The rose signifies the beloved, who is beautiful but can be thorny and cruel, and the nightingale embodies the lover, who sings of his longing. These symbols can also represent the soul's search for divine connection with God.
Get a head start on Valentine's Day and bring your beloved to see "Bestowing Beauty: Masterpieces from Persian Lands" on view through February 11 in the Beck Building.
Recent Posts