Virtual Cinema Highlight | Live Q&A with Iranian Filmmaker Mona Zandi Haghighi February 2, 2021
---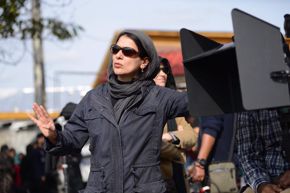 Join a free Q&A with "African Violet" director Mona Zandi Haghighi, live from Tehran. The discussion takes place on Saturday, February 6, at 1:30 p.m. Central Time.
► Register Here
The Festival of Films from Iran concludes this weekend, with all eight films available to view through Sunday, February 7. A highlight of closing weekend is the Q&A with Iranian writer/director Mona Zandi Haghighi on Saturday, February 6, at 1:30 p.m. In conversation with author and film scholar Godfrey Cheshire III, Haghighi shares insights about her film African Violet. Viewers can ask questions during the live talk.
A Unique Premise
African Violet is a tender story about a married, middle-aged woman who brings her ex-husband home from rehab to live with her and her current husband. Not surprisingly, there are complications! This beautifully filmed drama, which has touches of humor, was inspired by Haghighi's own extended family. The cast includes noted actors Fatemeh Motamed-Aria (Avalanche), Saeed Aghakhani (I Am Diego Maradona), and Reza Babak (My Eldest Son). At Iran's 2019 Fajr International Film Festival, African Violet received award nominations for Best Music and Best Actress.
Women's Voices in Iranian Cinema
Haghighi joins a long list of talented female filmmakers who have contributed to the strong reputation of Iranian cinema internationally. Rakhshan Banietemad, Samira Makhmalbaf, Tahmineh Milani, and Shirin Neshat are just a few of the established directors who have paved the way for the next generation of women to share their voices in cinema.
How to Join the Conversation
The Q&A is free and open to anyone in the United States—all you have to do is register here. Haghighi speaks in Farsi, with an interpreter providing translation.
How to See the Films
The eight movies in the Festival of Films from Iran, including African Violet, stream through Sunday, February 7. Your tickets ($10 per film, $55 for a pass) support the MFAH.
► Watch Here
---
Underwriting for the Film Department is provided by Tenaris and the Vaughn Foundation. Generous funding is provided by Nina and Michael Zilkha; The Consulate General of the Republic of Korea; Franci Neely; Carrin Patman and Jim Derrick; Lois Chiles Foundation; ILEX Foundation; L'Alliance Française de Houston; and The Foundation for Independent Media Arts.
Recent Posts