Lightning Strikes: Installing "Albero folgorato" August 24, 2014
---
What does it take to install a 36-foot-tall, 2-ton sculpture of a cast-bronze tree in the heart of the Houston Museum District? Our newly acquired Albero folgorato (Lightning Tree), by renowned Italian artist Giuseppe Penone, got a fittingly dramatic debut on the Museum's South Lawn this weekend.
The journey to Houston began in Italy two years ago, where Penone first conceived and then cast the sculpture in bronze from a lightning-struck oak, which he had shipped to his studio, gilding its core to capture the power and drama of a bolt from the heavens.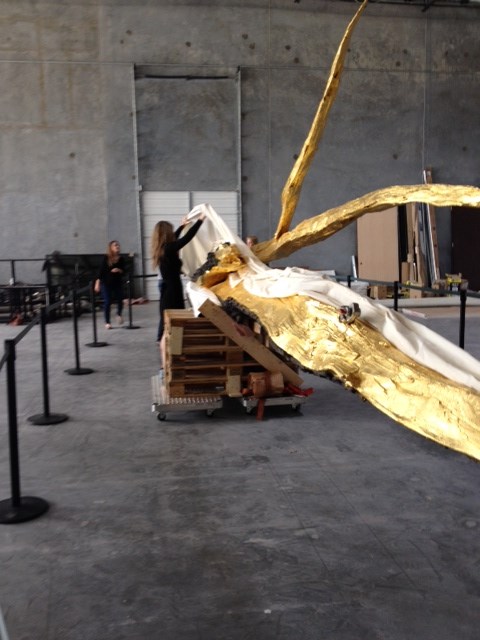 Albero folgorato was purchased in June 2014, shipped by boat from Livorno to the Port of Houston, and then placed temporarily in storage. Above, one of the Museum's summer conservation fellows covers the sculpture with a protective muslin cloth inside the Museum's warehouse.
While the sculpture was in the process of being shipped, the Museum's buildings-and-grounds team set to work constructing a life-size mock-up of Albero folgorato from Sonotubes—the cardboard forms used for setting concrete—to help determine where on the South Lawn the work should be placed. Below, Museum director Gary Tinterow measures the model's placement with his strides.


Next, a structural engineer was called in to design and prepare a cement platform, following the detailed engineering specs provided by the artist. Measuring seven by seven feet and sunk three feet into the ground, the base ensures that the freestanding sculpture will stay anchored in all conditions.
When it was time to move Albero folgorato on the South Lawn, the Museum's art handlers worked in concert with crane operators and the City of Houston. Everyone arrived at dawn on Saturday morning, as lanes on busy Montrose Boulevard had to be closed to accommodate the flatbed truck carrying the sculpture, plus the two cranes needed to maneuver the artwork around the historic Live Oak trees lining the street.
The monumental sculpture is hoisted by crane with a 183-foot boom over a grove of Live Oak trees and the roof of the Museum's Caroline Wiess Law Building.
Tinterow and curator Alison de Lima Greene tossed their business cards into the base, for an impromptu time capsule.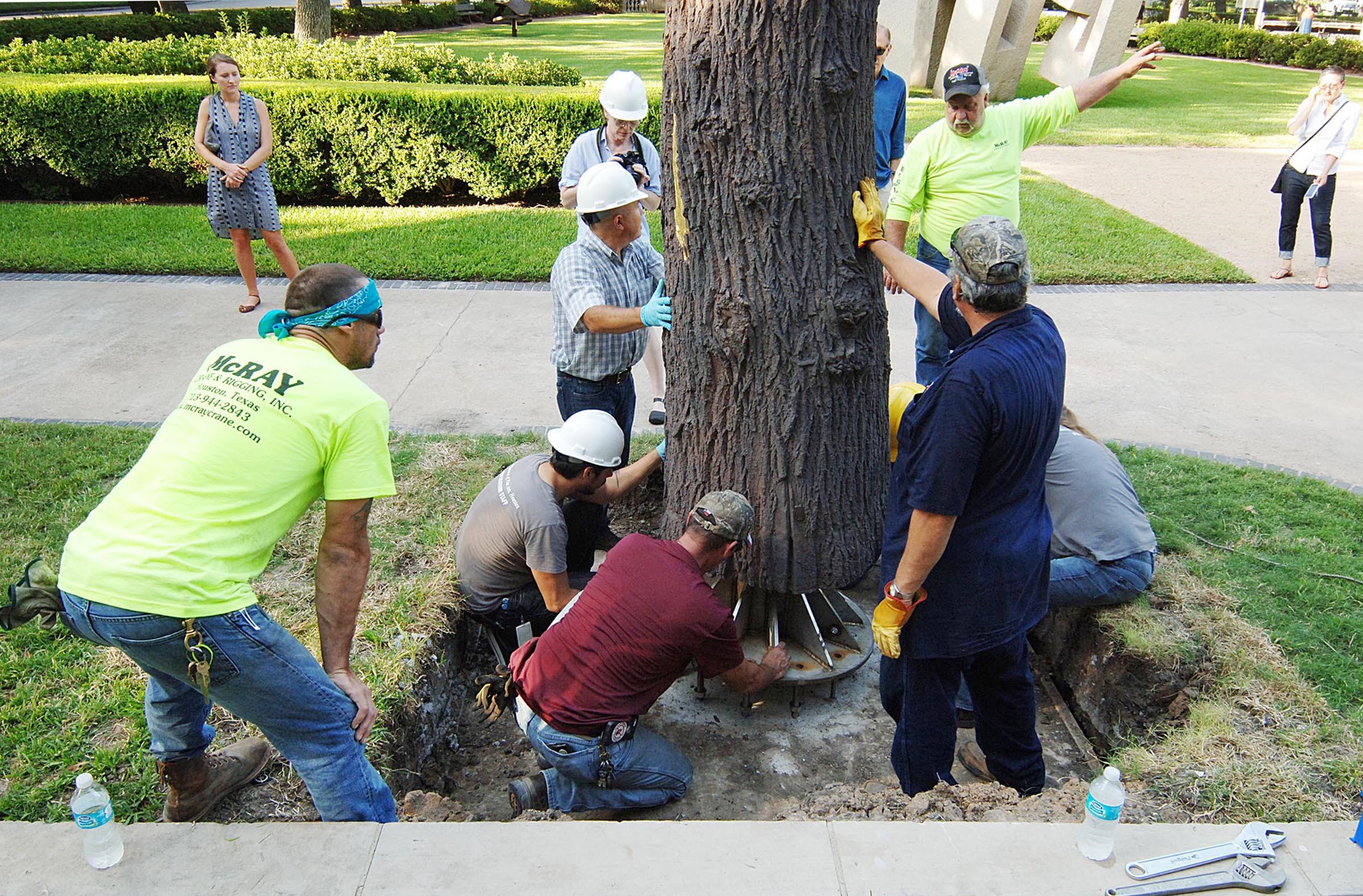 The Museum's preparations staff and the rigging crew gently nudge the piece into place.
With the final touch—a branch—in position, a successful installation was realized after months of hard work! Visitors can drop by the South Lawn seven days a week to see this dramatic and profoundly beautiful new addition to the Museum's public art displays. As Greene said, Penone's sculpture "captures a moment in time and yet stands fixed as a timeless monument."
Giuseppe Penone, Albero folgorato (Lightning Tree), 2012, cast and gilded bronze, the Museum of Fine Arts, Houston, Museum purchase funded by the Caroline Wiess Law Accessions Endowment Fund.
Recent Posts