Let's Make a Drape Painting August 18, 2020
---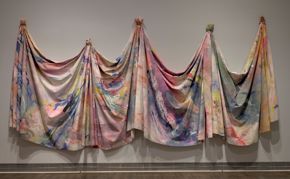 Switch things up with the innovative art of drape painting! Use this at-home, family-friendly art activity to create your own drape painting inspired by artist Sam Gilliam's Carousel Change. His 1970 work of art is on view in the exhibition Soul of a Nation: Art in the Age of Black Power, an exploration of what it meant to be a Black artist in America from the 1960s to 1980s.
What is a Drape Painting?
Drape paintings are a unique blend of installation and painting. Gilliam takes the traditional canvas right off of its stretcher, stains it with powerful colors, and then drapes the fabric around the gallery space.
Who is Sam Gilliam?
Associated with the Washington Color School, Sam Gilliam (born in Mississippi in 1933) is considered a Color Field artist for his abstract style of solid color spread across or stained into canvases. Gilliam often says his work is influenced by the jazz music of John Coltrane.
Explore Approaches to Painting on Canvas
This art activity represents a beautiful example of the Black aesthetic and a wonderful contribution to contemporary art in the United States by a Black artist. It's a fun way for children to experiment with pushing boundaries in art. The handy how-to guide and video were developed by MFAH teaching artist Melissa Aytenfisu.
See the drape painting Carousel Change in person at the MFAH, where Soul of a Nation: Art in the Age of Black Power is on view through August 30. Plan ahead for your visit.
Learning and Interpretation programs receive generous funding from the Jerold B. Katz Foundation; Institute of Museum and Library Services; H-E-B; MD Anderson Cancer Center; Sharon G. Dies; Sterling-Turner Foundation; Houston Junior Woman's Club; The Brown Foundation, Inc.; Susan Vaughan Foundation; and additional generous donors.
"Soul of a Nation: Art in the Age of Black Power" is organized by Tate Modern, London, in collaboration with the Museum of Fine Arts, Houston; Crystal Bridges Museum of American Art, Bentonville; Brooklyn Museum, New York; The Broad, Los Angeles; and the Fine Arts Museums of San Francisco.
Major support provided by:

Additional generous support provided by:
The African American Art Advisory Association (5A) at the MFAH
Recent Posts