Invisible Forces: Mounting with Magnets July 28, 2016
---
We paper conservators at the MFAH have been experimenting with using rare-earth magnets to help us display works of art. Sometimes framing isn't the best way to present works on paper, perhaps because of the art's size or shape, the artist's preferences, or the nature of the art. Using strong, rare-earth magnets opens up new possibilities for exhibiting works on paper. Innovative, magnetic mounts are reusable, easily installed, relatively inexpensive, and, with careful handling, safe for the art.
Recently, we used the magnetic method of hanging artworks for Dufour et Leroy's 1828 Panel from "Les Rives du Bosphore." A wallpaper section from Ima Hogg's personal collection, this work of art shows a view of Istanbul from the Bosphorus Bay. The Art of the Islamic Worlds galleries feature selected works from other curatorial collections that dialogue with the Islamic works on view, and this panel was chosen for the summer 2016 installation, "Collections in Conversation: The Fantasy World of Turquerie."
Using magnets to mount the panel allowed for a display that was closer to the original presentation, as the wallpaper had spent many years installed in the music room in Bayou Bend. The magnetic mounting system can be easily removed when the work is deinstalled and also covers up a non-original border around the wallpaper panel.


The magnets held the panel in place around the edges by attaching to metal screws drilled into the wall. It took about 40 rectangular magnets to safely support the wallpaper's weight.

The magnets were embedded into mat-board strips that were pieced together, one at each corner and one at each edge. We made a template of the strips at the edges, indicating the locations of the magnets and the edges of the artwork. This gave the Museum's preparations team the exact locations where screws needed to be drilled in the display wall, and it also assisted the curator in determining the layout of other artworks during gallery installation.



Preparators use the template to position the wallpaper panel.
Once the template was completed, we attached a beveled mat—segmented to match the edge strips—to the top of the embedded magnet strips. That helped conceal the magnets and give the appearance of a typical mat.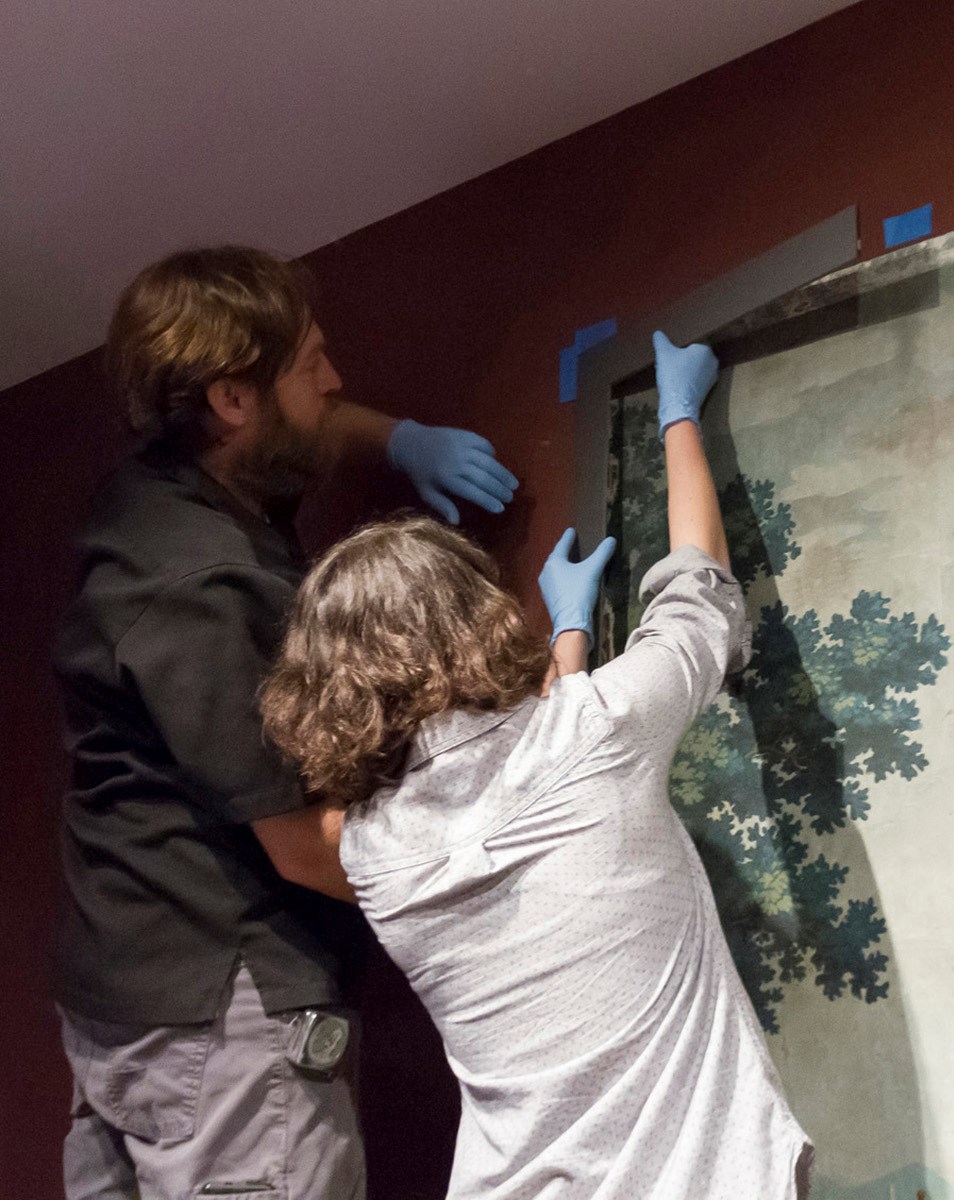 Conservators place strips along the edges of the wallpaper panel.

The template made installation simple and straightforward. Finally, two members of the preparations team held the artwork in place over the screws in the wall, and the conservators worked together to place the magnet-embedded edge strips in the correct locations according to the template.



Installation view showing the panel, on the far wall of Art of the Islamic Worlds gallery.
Want to see more up-close looks at conservation projects? Check out Selected Case Studies for highlights.
Recent Posts