Inspired by Oscar! See the winning looks from Fashion Fusion January 24, 2018
---
The MFAH has once again teamed up with Houston Community College's award-winning fashion program for the annual Fashion Fusion event! A competition that culminates in a live runway show and judging at the Museum, Fashion Fusion encourages students and alumni to create garments centered around the art on view in an MFAH exhibition.
Hit "play" to watch the January 11 runway show.
For the fourth annual Fashion Fusion, The Glamour and Romance of Oscar de la Renta inspired the students' stunning gowns, which were organized into the same four categories as the exhibition. These groupings reflect themes that run throughout the renowned designer's decades-long career: The East, Gardens, Icons, and Spain.
Out of the 24 garments that made it to the catwalk, a panel of judges selected two winners in each of the four categories—one current student and one alum. The audience voted for a favorite garment, too! Here are this year's winning Fashion Fusion designs:
The East
Student Winner: Jing Cao, Blue Rhythm
With laser-cut patterns and hand-dyed crepes, Blue Rhythm speaks to de la Renta's sumptuous attention to detail.


Alum Winner: Erica Medrano, The Ballerina
Like the Russia-inspired coats in The Glamour and Romance of Oscar de la Renta, this wool garment features intricate embellishments.
Gardens
Student Winner: Inge Duran, La Vie en Rose
The floral train conjures de la Renta's love of gardens and nature, which found its way into many of his designs.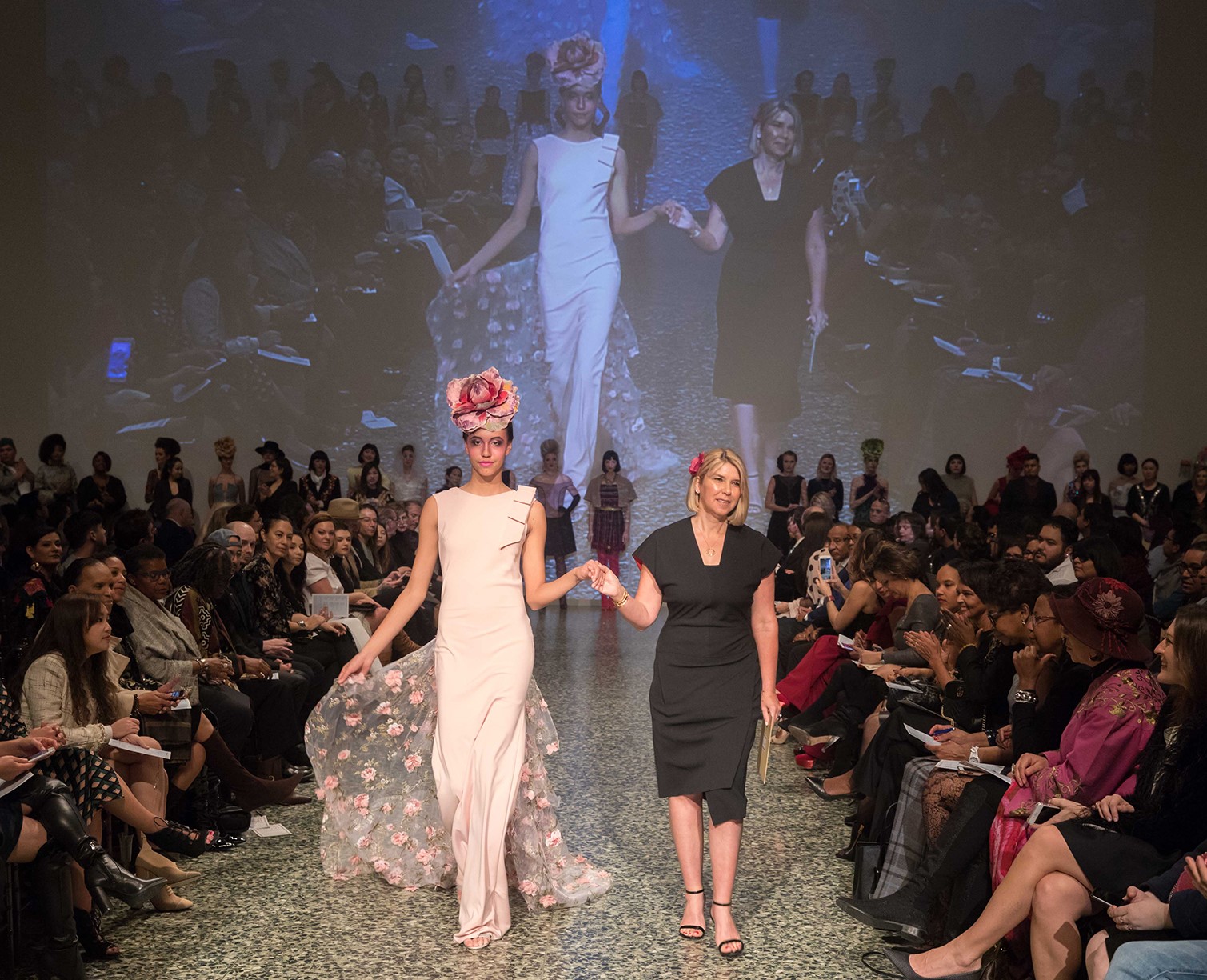 Alum Winner: David Julian Valdez, Iconic Ingénue
Flowers peek out from under the sheer blouse and ball-gown skirt.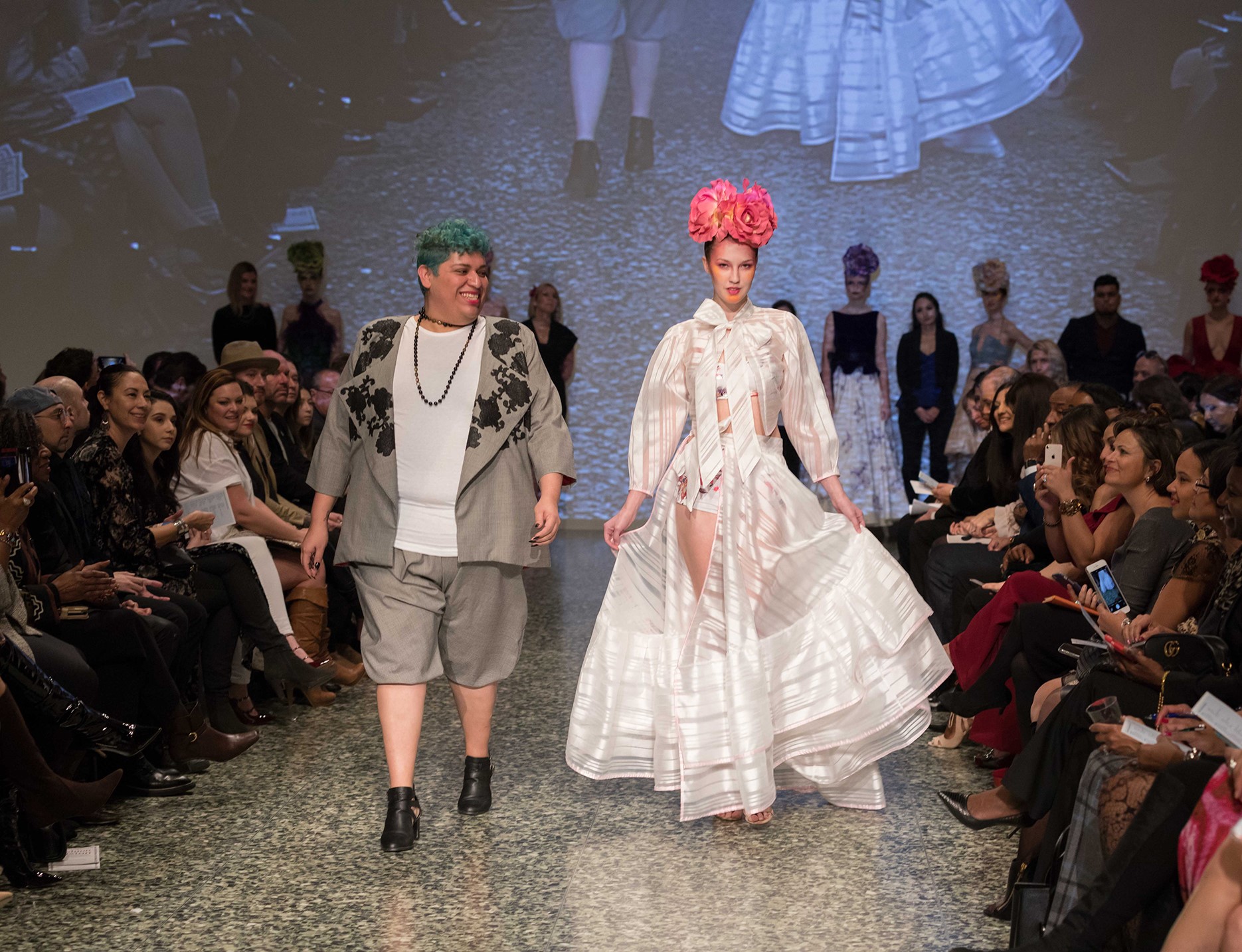 Icons
Student Winner: Shanda Phillips, Black Rose
Like the dramatic de la Renta gowns worn by Penelope Cruz, Taylor Swift, and others, Black Rose brings both drama and beauty in embellished details.


Alum Winner: Teresa Rangel, The Cate
This sleek cocktail dress is made of black silk organza layered on top of peach silk taffeta.
Spain
Student Winner: Ebonie Sophus, Oscar de la Ruffles • Winner of Audience Favorite!
A double winner at Fashion Fusion, this voluminous red jumpsuit evokes the ruffles of de la Renta's romantic "Custom Evening Ensemble," worn by Mica Ertegun, as well as a dress that Beyoncé wore for Vogue.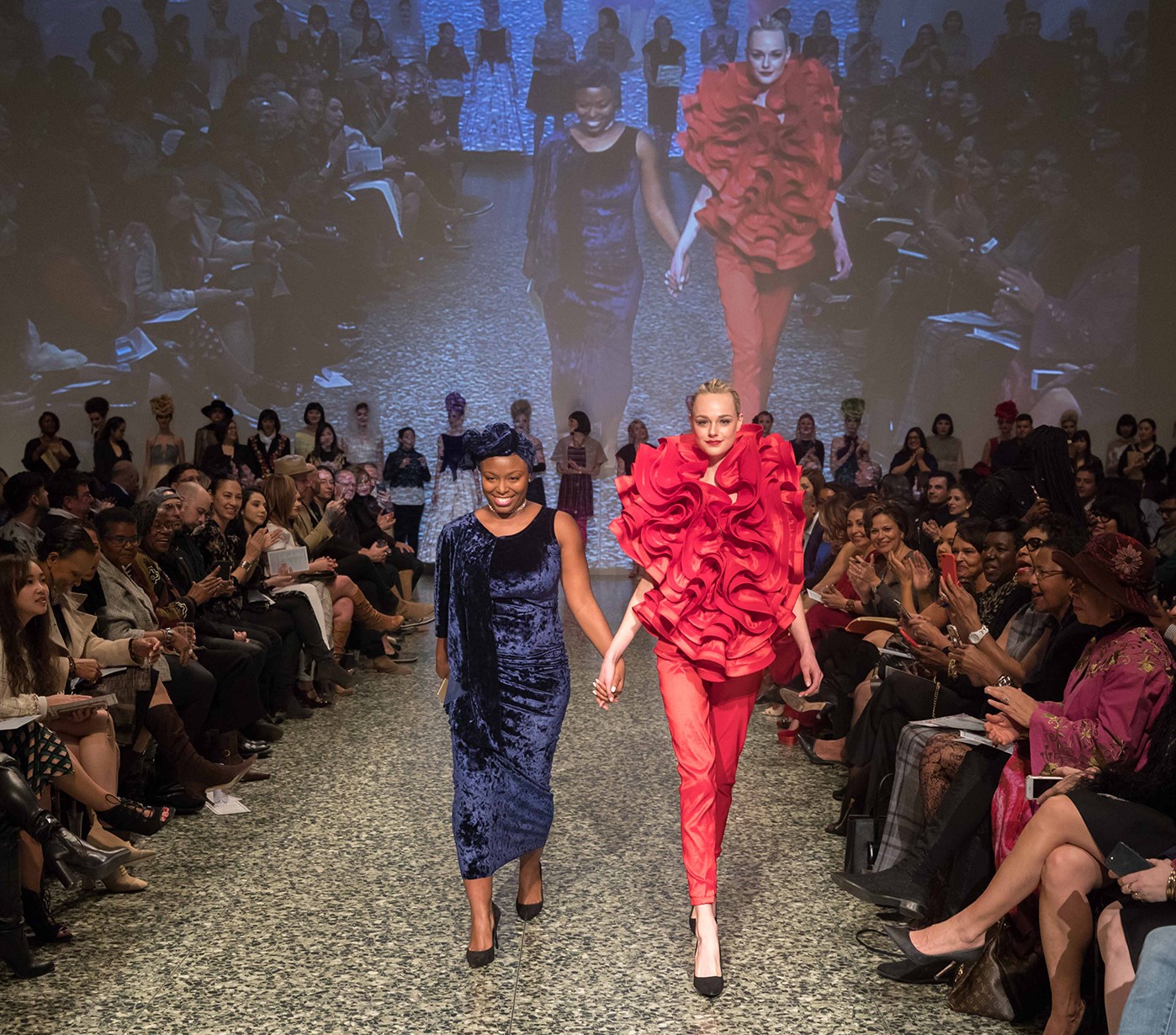 Alum Winner: Maria Hammond, Garden Wedding in Seville
This bridal ensemble is inspired by two gowns from The Glamour and Romance of Oscar de la Renta, including Amal Clooney's wedding dress.


See these looks in the Kinder Foundation Education Center Gallery, on the lower level of the Law Building. The student winners are on display January 12 to February 11, and then the winning alum designs are up from February 13 to March 4. "The Glamour and Romance of Oscar de la Renta" remains on view through March 18.
Runway photography by Jorge Luna / Courtesy of Houston Community College