If "The Yellow Scale" were a drink ... May 11, 2020
---
"Fugue in Yellow" is the latest cocktail masterpiece by Harold Madison, the Museum's event/beverage manager. He was inspired by "The Yellow Scale," from the MFAH collections, and he shares his custom-made creation for you to try at home.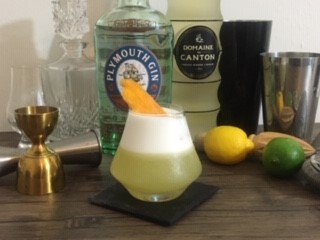 As soon as I saw the self-portrait The Yellow Scale, my mind went to work. František Kupka is so chill there, relaxing with his cigarette and book. Yellow washes over everything like a sunrise on a beach. First I thought "tropical," and then: "What would make this artist peel himself away from his book to enjoy his cigarette with a drink?" He's in a heightened state of yellow—bright, sunny, happy—but Kupka's face almost says, "I am annoyed you bothered me." Well, let's fix that with a drink.
The obvious choice for the tropics was rum, but I decided against it because Kupka was probably a complex guy, with his political satire, cartoons, and Disks of Newton. So I went with gin and its complexities with botanicals. Then I thought ginger, lemon, lime, mango ...
And so "Fugue in Yellow" was born. Here's how you make it.
Fugue in Yellow
½ ounce lemon juice (fine strain if fresh)
½ ounce lime juice (fine strain if fresh)
½ ounce pineapple juice (fine strain if fresh)
1 ounce mango nectar (preferably no sugar added)
1½ teaspoons sugar or simple syrup
1½ ounces Plymouth gin (adds more of a tropical taste than other gins)
½ ounce ginger liqueur (I used Domaine de Canton, but any should be fine)
White of one raw egg (no yolk)*
*The egg white makes a thick, frothy foam on top. Don't worry, alcohol kills the bacteria, but if you do have an egg allergy, you can omit.
In order, combine ingredients in shaker. "Dry" shake (no ice) for one minute. Shake vigorously in an up-and-down motion so that the liquid goes from the top to the bottom of the shaker. After one minute of shaking, add ice. Shake again, ensuring that the ice and liquid go to the top and bottom of the shaker. Shake until very cold. Using a Hawthorne strainer, pour into a glass, without getting ice in the glass. Garnish with a slice of dried mango.
Enjoy! Kick back like Kupka and savor your tropical-tasting "Fugue in Yellow" cocktail.
► Learn more about "The Yellow Scale" and František Kupka