Hong Kong Cinema Meets MFAH Films for "Chicken and Duck Talk" January 30, 2017
---
It's always special when members of the Museum's subcommittees share their areas of expertise with our audiences. On February 11, Karen Fang, a film scholar and member of our film committee, stops by to present a brief overview of her latest book, Arresting Cinema: Surveillance in Hong Kong Film, followed by a screening of the classic Hong Kong comedy Chicken and Duck Talk. She spoke with me about the book and the film.
Hong Kong cinema is mostly known for action movies, so what inspired you to explore the subject of surveillance?

When I first visited Hong Kong, I couldn't help but notice how surveillance is an inescapable part of the urban fabric: Guards, security cameras, and ID checks are everywhere, and the people often seem quite habituated to it. I began to wonder about the relationship between this unusual urban culture and Hong Kong's unique, globally influential cinema.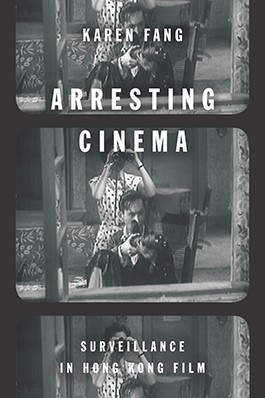 The cover of your book features a still from Backyard Adventures, a 1955 Hong Kong remake of Alfred Hitchcock's Rear Window. Does your book reference other popular Western movies?

For many years, Hong Kong was one of the world's most successful cinemas outside of Hollywood. Hong Kong audiences preferred their own movies over Western imports. In the book, I show how Hong Kong cinema was able to achieve success partly because it deliberately transformed Hollywood conventions and properties. The Rear Window remake you mentioned—which turns Hitchcock's murder mystery into a musical—is a great example of Hong Kong cinema's irreverent take on Hollywood classics.
Please share a bit about Chicken and Duck Talk, the comedy you chose to screen at the Museum.
Chicken and Duck Talk is such a fun, delightful film that I'd love to keep it a surprise, but in the interest of urging people to check it out, I'll say that anyone who likes cooking shows and food movies will get a kick out of it. The story is essentially old-school Chinese cooking facing off against KFC. Screenwriter and star Michael Hui, who won the American Film Institute's award for Best Comic Performance for this film, is one of the few comedians in the world to transcend the limits of language and culture to become an international star: His films were distributed in Europe.
One night only! Get tickets to join Karen Fang for "Chicken and Duck Talk" on Saturday, February 11, at 6 p.m. Her book, "Arresting Cinema: Surveillance in Hong Kong Film," is available for purchase in the MFA Shop and the box office on nights when films are scheduled.
Recent Posts