Francisco de Goya: On Your Screen and in the MFAH Galleries July 14, 2020
---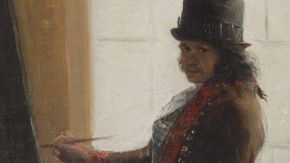 As you embark on a virtual trip to top museums and famed locations around the world through the summer film series Armchair Travel: "Exhibition on Screen" be sure your itinerary includes a stop to see Francisco de Goya in Goya: Visions of Flesh and Blood.
In London, the landmark 2015 exhibition Goya: The Portraits at the National Gallery explored the Spanish artist's genius and took a close-up look at his life. The film Goya: Visions of Flesh and Blood delves into Goya's life and art through extensive location footage of that exhibition, a trove of personal letters, and Goya masterworks from art collections across the world. Watch the movie now through September, and don't forget to use the special MFAH discount code: MFAHSUMMER678.
During the film, keep in mind that Goya's legendary portrait The Duchess of Alba is among nearly 20 of the artist's works featured in the exhibition Glory of Spain: Treasures from the Hispanic Society Museum & Library, on view at the MFAH until January 10. You can also explore Goya's etchings, drawings, and more in the MFAH art collections.
► See the Film
► Browse the MFAH Collections
► Plan Your Visit to Glory of Spain
Learning and Interpretation programs receive generous funding from the Jerold B. Katz Foundation; Institute of Museum and Library Services; H-E-B; MD Anderson Cancer Center; Sharon G. Dies; Sterling-Turner Foundation; Houston Junior Woman's Club; Houston Livestock Show and Rodeo; Samuel H. Kress Foundation; The Brown Foundation, Inc.; Susan Vaughan Foundation; and additional generous donors.
Recent Posts