Francis Bacon: Body Language January 28, 2020
---
The exhibition Francis Bacon: Late Paintings opens on February 23.
The body has long served as an inspiration for art—from the perfected physiques of ancient Greek statuary to contemporary works that explore the human form in drawing, sculpture, paint, and live performances. Whereas many artists have tended to idealize the body, others have focused on its mutability and even its grotesque aspects.
Acclaimed Irish-born British artist Francis Bacon was among the latter. The body is a recurring theme in his paintings, but it is far from the ideal. Instead, Bacon transformed the human figure through his expressive brushstrokes—dissecting it in paint.
Self-Portrait
The artist's self-portrait from 1971 demonstrates how he would contort physical features to give psychological depth to his subjects. "I'm always hoping to deform people into appearance," Bacon said. "I can't paint them literally."
Photographic Memory
Bacon preferred to work from photographs rather than live models, as he did for Female Nude Standing in a Doorway and Study for Portrait. Both were based on studio photographs he commissioned from photographer John Deakin, whose career began at Vogue. Deakin brought an uncompromising eye to the studio sessions for Bacon, often regarding subjects with a penetrating and merciless gaze.
Female Nude Standing in a Doorway, 1972 / Study for Portrait, 1971
In Memoriam
After the 1971 suicide of Bacon's companion, George Dyer, the artist delved into the complexities of mourning and guilt through a series of paintings that portray Dyer in many guises: lover, muse, and victim. Always ready to probe his own emotions, Bacon stated, "I feel ever so strongly that an artist must be nourished by his passions and his despairs."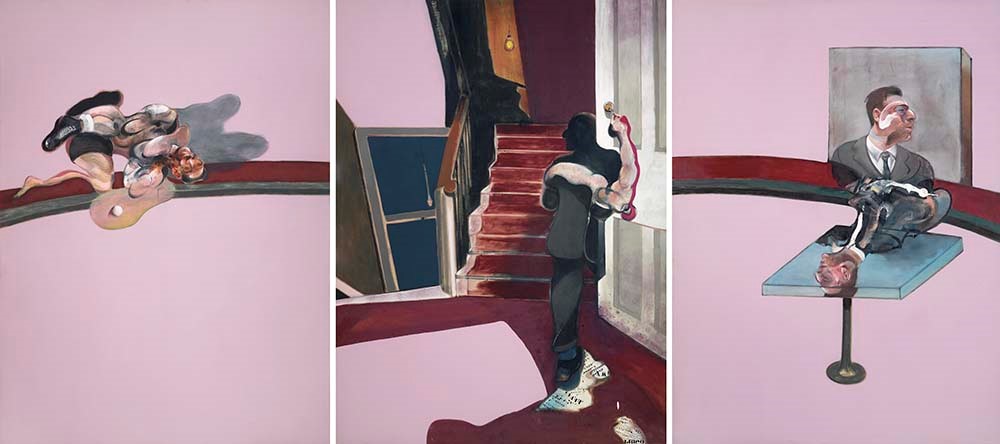 In Memory of George Dyer, 1971
Animal Magnetism
Bacon was fascinated by bullfighting, and he depicted the sport on several occasions in his art—including Study of a Bull, his final completed painting in 1991. He died in Madrid the following year.
Study of a Bull, 1991
► See "Francis Bacon: Late Paintings" in the Beck Building, February 23 through May 25.