During National Nutrition Month in March, the Museum of Fine Arts, Houston, and VegOut! with Recipe for Success are teaming up to encourage Houstonians to add more vegetables to their plates.
The 30 Ways in 30 Days challenge asks participants to track meals prepared with a different vegetable each day of the month in order to be entered in a drawing for prizes. The Museum is celebrating National Nutrition Month with many other great activities:
Art Bite Tours "Healthy Food in Art"
To stay healthy, you are supposed to have nine servings of fruits and vegetables a day, and there is new proof that looking at art can keep you healthy, too. Join a 20-minute Art Bite tour on selected days at noon to view fruits and vegetables in works of art. You'll be ready for lunch after that! Learn more about the tour.
Still-Life Sketching
During regular Museum hours, pop into the Kinder Foundation Education Center and sketch a still-life drawing inspired by a colorful arrangement of delicious vegetables. Paper and colored pencils are provided. This program is free with general admission and open to adults, kids, couples—everyone's invited!
Art-Inspired Recipes
While indulging your appetite for fine art, browse the collection of cookbooks at the Museum's Hirsch Library and Bayou Bend's Powell Library. Make plans to prepare some art-inspired dishes from recipes like these three examples, pulled from cookbooks in the libraries' holdings.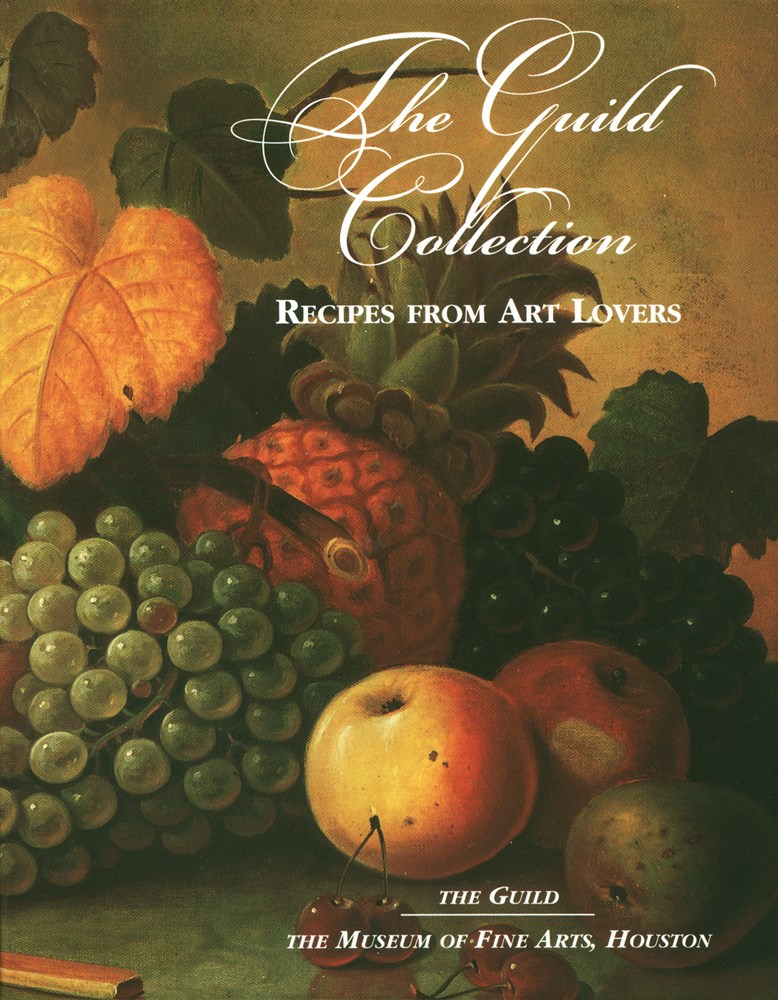 ► Still Life with Leg of Lamb (1730) by Jean-Siméon Chardin
A master of the still life, 18th-century French painter Jean-Siméon Chardin instilled beauty and dignity in the simplest subjects. To impress dinner guests, try this recipe in The Guild Collection: Recipes from Art Lovers cookbook, compiled by the Museum's Guild:
Lamb Shanks à la Merrily
4 lamb shanks (3¼ – 4 lbs.)
4 onions, thinly sliced
¾ cup dry vermouth
splash of rice wine
¼ cup lemon juice
¼ cup soy sauce
4 cloves garlic
pepper, to taste
Arrange onion slices in ovenproof pan. Top with lamb shanks and pour vermouth over. Stir together lemon juice, soy sauce, garlic, pepper, and rice wine; pour over shanks. Bake at 350° for 3½ to 4 hours, or until lamb is done. Remove lamb and onions to serving platter. Skim and discard fat from pan juices. Reduce juices on high heat until about ¼ cup remains. Serve onions and shanks with rice, and spoon juices over all. Yield: 4 servings
► Still Life with Vegetables (1826) by James Peale
Nineteenth-century American painter James Peale shows all the color and textures of an array of squashes, turnips, radishes, beets, tomatoes, and eggplants in his highly detailed painting. Add some color and spice to your meal with this veggie-rich recipe in The Starving Artist's Cookbook, featuring delicious and experimental dishes from artists including Louise Bourgeois and John Cage:
Sidney's Tortes (recipe submitted by artist Sidney Perry)
1 large white onion
2 green peppers
3 yellow or summer squash, sliced
3 green zucchini, sliced
½ stick of butter
1 small container of sour cream
1 package of tortillas (flour or corn)
salt and pepper, to taste
Slice onion and cut up green peppers. In a large fry pan or pot, cook until soft in butter, medium low heat. Add sliced zucchini and squash; cook until soft. Warm tortillas simply by placing individually on gas or electric stove burner; flip very frequently over heat until warm. Place vegetables on warm tortillas; salt and pepper to taste; dollop with sour cream.
► PH "Artichoke" Lamp (1958) by Poul Henningsen
Inspired by the shapes of the small, budding flowers on the edible base of the vegetable, PH "Artichoke" Lamp emits a warm glow—leading to the lamp's popularity in 20th-century Danish residences and businesses. Cooks who are more daring in the kitchen may want to try this dish from French Country Living: A Year in Gascony:
Lapin aux coeurs d'artichaut / Rabbit with Artichoke Hearts
8 small purple artichoke hearts, pared and cut into quarters
lemon juice
salt and pepper, to taste
1 rabbit, cut in 7–8 pieces, liver reserved
3 tbsp olive oil
1 onion, skinned and chopped
fresh rosemary to taste
1 bay leaf
1 glass dry white wine
pinch of sugar
1 garlic clove, skinned
6 anchovy fillets, soaked in milk
1 tbsp capers
fresh parsley, to taste
Squeeze a little lemon juice over the artichoke hearts to prevent discoloration. Season the rabbit well. Heat the oil in a heavy-based casserole and brown the rabbit on both sides. Lower the heat, add the onion, rosemary, bay leaf, and artichoke hearts, and cook for 5 minutes. Stir in the wine and sugar. Bring to a boil and cook for 5 minutes. Lower the heat; cover and simmer for about 45 minutes.
Meanwhile, chop the garlic, anchovies, capers, parsley, and rabbit liver in a food processor, blender, or by hand. When the rabbit is tender, remove from the casserole and keep warm. Add the liver mixture to the casserole and stir well over very low heat for 5 minutes; do not boil. Pour this over the rabbit. Serve the dish with freshly cooked tagliatelle.
Fine Art + Healthy Food
Make sure not to miss out on these pairings of fine art and healthy food during National Nutrition Month!