A Feast for the Eyes October 17, 2019
---
The ritual of feast has connected family, fostered political alliances, and bonded the mortal soul to the spirits of ancestors since the dawn of time. The works of art shown here—all drawn from the MFAH collections—illustrate the historical infatuation with food.
1656 | Banquet Piece with Ham
Remnants of a scrumptious meal are the focus of this banketje (banquet) still life, a trademark of Dutch painter Willem Claesz. Heda. Glassware, oyster shells, and silver vessels—a roemer (wine glass), beaker, bell-shaped salt cellar, and flute glass—are juxtaposed on a white tablecloth, their monochromatic tone interrupted only by the pink ham, blue bowl, and yellow lemon rind. Through these delicacies, the painter expresses a hunger for worldly goods and an appetite for intellectual prowess, yet simultaneously manifests a moralizing reminder that sensual pleasures of the feast are momentary, while the spiritual food provided by God is everlasting.
c. 1525–30 | Court Scene
Referred to as bazm ("feasting"), scenes of royal banquets featuring food, drink, and entertainment are a popular theme in Persian painting. Here a nobleman, surrounded by attendants offering him refreshments, sits within an elaborately decorated, gilded palace setting. This detail from the exquisite Court Scene is punctuated by vessels of various shapes, materials, and colors, including a slender-necked wine bottle and cups that underscore the importance of drinking wine during such feasts.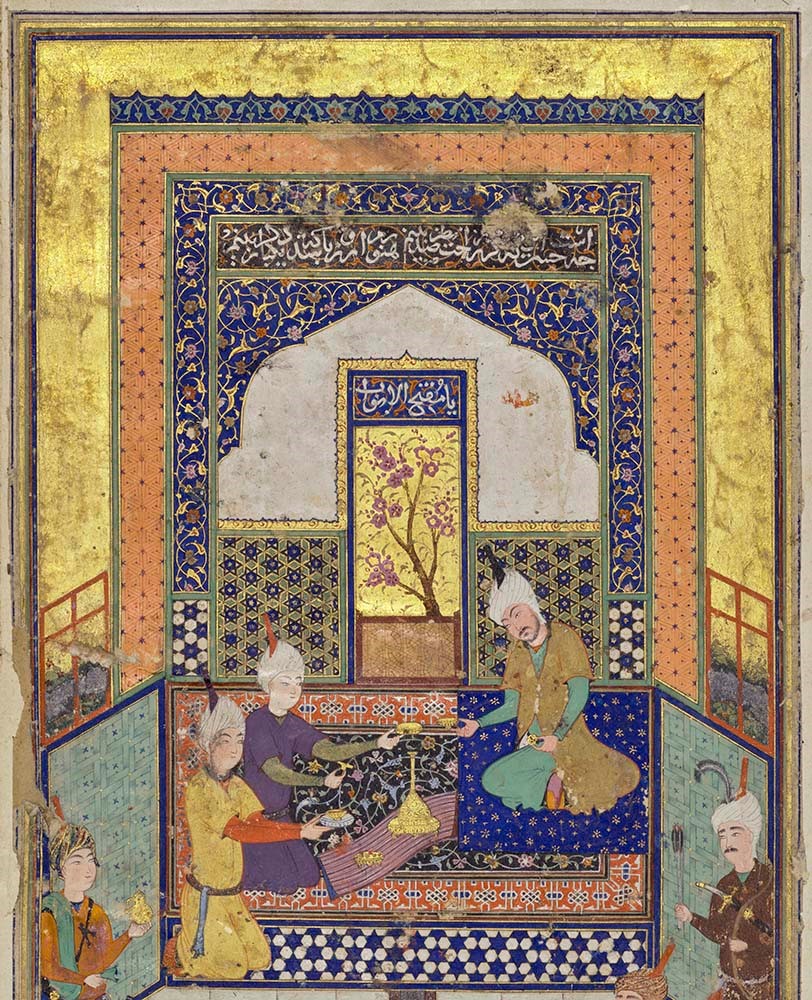 1850–75 | Sea Lion Feast Bowl
Well known for their woodworking tradition, the carvers of the Kwakiutl culture of the northwest coast of North America made ordinary objects into elaborate sculptures. This large feast bowl would have been used at a potlatch, a feast ceremony in which extravagant gift giving formed alliances, strengthened relationships, and demonstrated the host's bounty and generosity with great fanfare. The bowl shows a snarling sea lion, a respected creature that also provided oil and food, with an eagle head as its tail. Both animals frequently appear on totem poles and other works.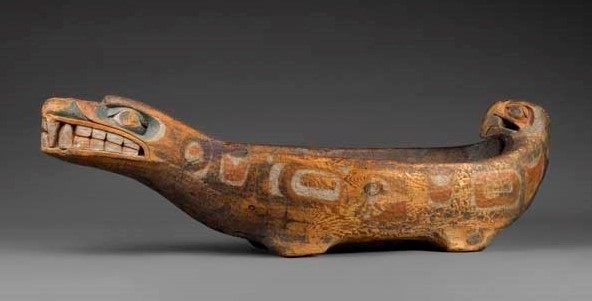 c. 1959 | Family Meal
Lithuanian-born artist Ben Shahn created art based on two ideas: "what I love and what I abhor." After immigrating to New York in 1906, Shahn embarked on a life of leftist political activism—a passion reflected in his expressive yet simplistic figurative works. The artist was adamant in using pictorial realities, drawing upon the motifs of humanistic content, childhood, and familial structure—as seen here in Family Meal—to make the universal personal for viewers. Shahn's later works, such as this one, became more introspective and symbolic of his emotional state rather than descriptive of social injustices.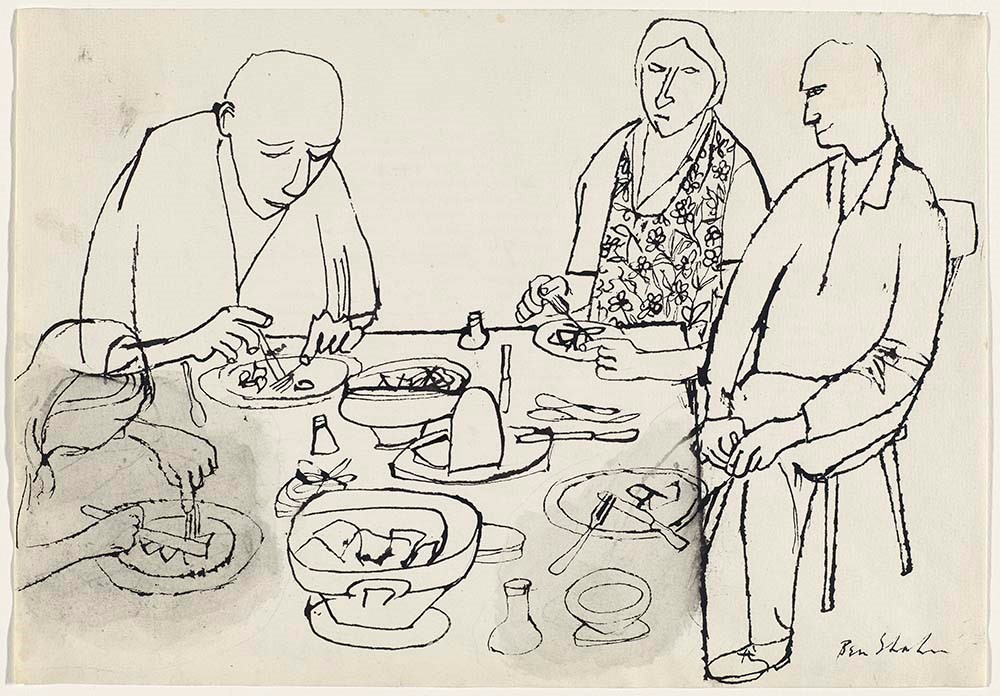 2003 | Breakfast Tacos
Coffee, beer, and half-eaten breakfast tacos comprise this visual feast by San Antonio–born artist Chuck Ramirez, part of his Seven Days series depicting post-party detritus. As the artist explained, eating and drinking were an integral part of the process. Ramirez specialized in humor-laced art, magnifying the mundane to reveal the history behind popular icons. In Breakfast Tacos, the aftermath of a morning meal functions as a vanitas still life, with objects connoting worldly pleasures and mortality.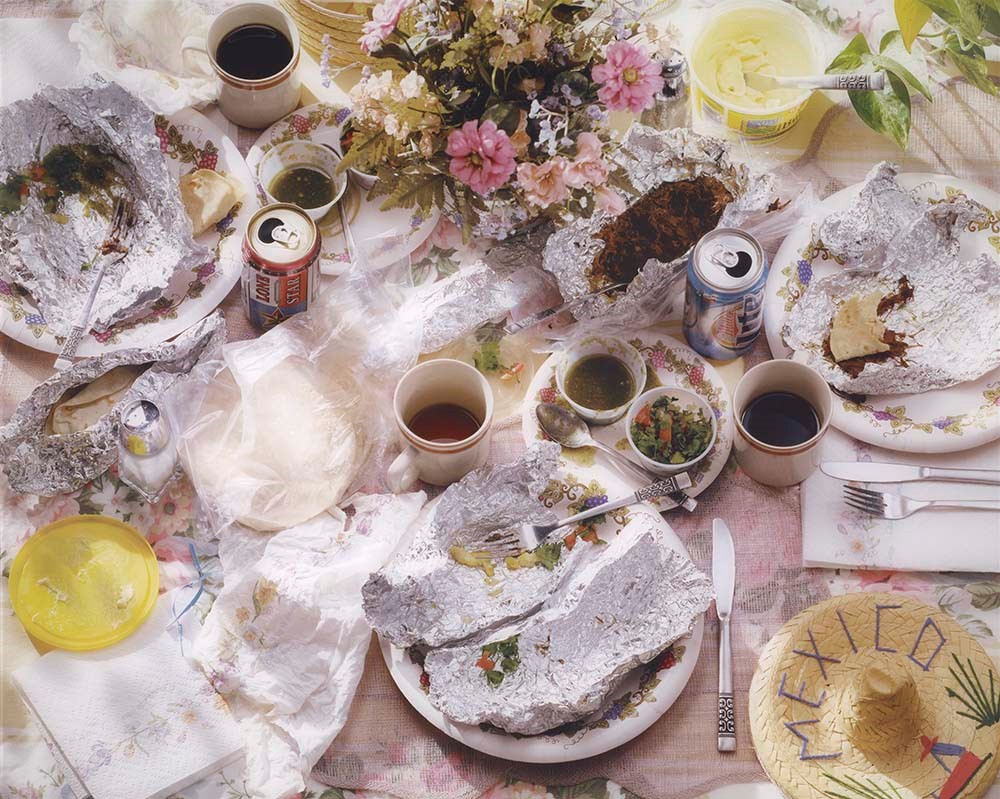 Explore More
► Visit the MFAH collections to see Lütfi Abdullah's Scene of Feasting; Augustus Welby Northmore Pugin's "Waste Not, Want Not" Bread Plate; Matankol people's Ceremonial Feast Bowl; Akan people's Linguist Staff Finial Depicting Two Men and a Table with Food; Dan people's Spoon; Édouard Manet's Plums; Paul Gauguin's Still Life with Mangoes and a Hibiscus Flower; Pablo Picasso's Le Festin (The Feast); Gordon Parks's Anacostia, D.C. Housing Project; Forrest Bess's Bread and Potatoes; Subodh Gupta's Untitled; and Song Dong's Chopsticks 2006.
► Browse the MFAH collections to make your own discoveries!