Diving into "Watson and the Shark" November 14, 2013
---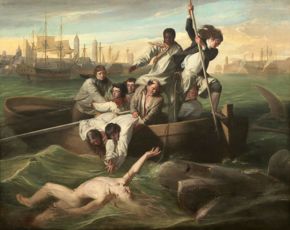 One of the centerpieces of American Adversaries: West and Copley in a Transatlantic World is Watson and the Shark, the sensational painting that earned artist John Singleton Copley (1738–1815) election to the Royal Academy of Art in London.

Just a few insights into this monumental work:

Watson led quite a life, including a stint as the "peg-legged mayor of London."
This painting depicts a dramatization of the 1749 shark attack on teenager Brook Watson, a seaman's apprentice, in Havana harbor. Watson lost his right leg below the knee but miraculously survived.

Watson, fitted with a wooden prosthesis, went on to become a well-known merchant who was elected lord mayor of London in 1796. He reveled in the exciting public persona boosted by this painting: Watson even styled his own coat of arms featuring his lost leg and the Roman god Neptune driving off a shark.

No one really knew what a shark looked like at the time.
Viewers today will notice how the shark isn't quite anatomically accurate, but the late 18th century didn't exactly have Shark Week. Very little was known about these animals. Copley's shark was actually fairly groundbreaking—far closer to real sharks than "sea monsters" depicted in mythical and biblical artworks up to that time. Probably the easiest shark specimen to obtain was the jawbone, so Copley likely studied from one—meaning that the rest of the shark's anatomy is essentially guesswork from other sources. He didn't do badly, considering!

This painting is a revolutionary mash-up of old and new.
In addition to the shark's blending of the tradition of biblical sea monsters with Enlightenment-era scientific study, Watson and the Shark combines the New World (the Cuban setting and the diverse group of sailors) with the Old World (Watson was English-born, and this image appeals to Britain's imperial maritime power). This transatlantic fluidity is echoed in Copley himself, who was Boston-raised and had moved to London only three years before painting Watson and the Shark in 1778.

Learn more about this painting in the essay "Like Gudgeons to a Worm: John Singleton Copley's 'Watson and the Shark' and the Cultures of Natural History" by curator Emily Ballew Neff in the exhibition catalogue.
Recent Posts