A Conversation about Cuisine & Culture October 7, 2020
---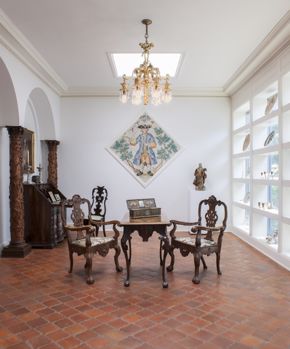 Adán Medrano, chef and international food writer, talks about Mexican American cuisine and culture with Misty Flores, assistant curator at Rienzi, the MFAH house museum for European decorative arts.
Cuisine & Culture
Adán Medrano spent 20 years traveling and working throughout Latin America, Europe, and Asia, appreciating the importance of food and culinary traditions in society. Returning to the United States in 2010, he began to focus on the culinary traditions, history, and recipes of the Mexican American community of Texas.
Inspired by Hispanic Heritage Month, he and Misty Flores share a food-focused talk about how cuisine contributes to culture. From the proliferation of spices used in Mexican American cooking to how food relates to memory, identity, and community, this culinary conversation covers it all.
Mexico & the Mastersons
After you watch the conversation, head over to Rienzi to experience colonial Spanish furnishings and Southern European paintings on view in the Mexican Room. For Rienzi, exploring regional food from Mexico is especially important because of the relationship between Mexico and Carroll Masterson, former owner of the Rienzi estate with husband Harris Masterson III. When Carroll lived in Mexico City for a time in the 1940s with her second husband and children, she developed a deep love and admiration for the culture, arts, and lifestyle of Mexico. Rienzi's Mexican Room, part of the 1972 addition to the house, reflects this affinity and appreciation.
---
Education programs at Rienzi receive generous funding from the Sterling-Turner Foundation; Alkek and Williams Foundation; Carroll Sterling and Harris Masterson III Endowment; Isla Carroll Turner Friendship Trust; and the Caroline Wiess Law Endowment for Rienzi.
Recent Posts