Stains, Sprays, and Splendor Fill the Canvases of Color Field Painter Jules Olitski February 15, 2012
---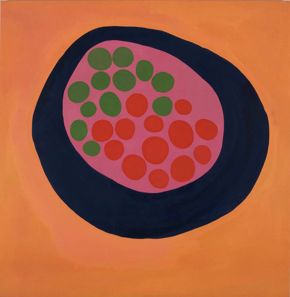 Color Field painter Jules Olitski didn't stay in one place very long, artistically speaking. Unlike his contemporaries—Helen Frankenthaler, Morris Louis, Kenneth Noland—Olitski changed his artistic techniques frequently.
"Olitski is unique among the Color Field painters in the rapidity of his evolution," says Alison de Lima Greene, MFAH curator of contemporary art and special projects. Greene is one of three curators of Revelation: Major Paintings by Jules Olitski, on view through May 6. Within this one exhibition, you can see five distinct series of works highlighting 50 years of the artist's career: canvases stained with color; magnificently spray-painted artworks; somber and textured later works; iridescently pigmented late paintings; and a final series titled "With Love and Disregard" that explodes with colors and shapes. Olitski died in 2007, just a few weeks shy of his 85th birthday.
This Russian-born American artist pushed the limits of painting, always seeking out new advances in media and techniques. In the early 1960s he used Magna acrylics to create Stain paintings, allowing the pigment to do what it does best: eliminate any gesture and create flat color areas. In this series you will see circular and core motifs, which are quite graceful and organic, almost like early life forms (think amoebas and primordial life).
In the mid-1960s Olitski transitioned to Spray paintings, putting down the paintbrush and picking up the spray gun—sometimes painting with two spray guns at a time, says Greene. His circular motif was replaced with canvases full of luminous color. Be sure you notice the use of light in all of his series. Greene points out that Olitski was struck by Rembrandt's illuminating paintings and inspired to use light and chiaroscuro in his own works. Despite being an abstract artist, Olitski looked back to Old Master painters for inspiration.

► Explore More After viewing the Spray paintings, such as Patutsky in Paradise, walk through James Turrell's neon The Light Inside , the Wilson Tunnel that connects the museum's two gallery buildings. Compare the experiences of being enveloped in color and light by two different art forms. How does it feel looking at a painting vs. standing in a space?

In his later paintings, labeled Baroque and High Baroque by critics for the lavish, iridescent colors and surfaces, Olitski turned his palette from vibrant colors to somber earthtones and grays. He put down the spray gun, and the gesture of painting returned, especially in the High Baroque series, which is much more built up in texture and dimension. Again, he takes cues from his paint, using an iridescent acrylic that gives the surface of the canvas a visually unstable quality. Stand in front of these paintings and notice that when you shift from side to side, every viewing angle offers a different play of color and light.

► Explore More Take a stroll through Cullen Sculpture Garden after viewing Olitski's Baroque series, especially Rephahim Shade. In the sculpture garden, stop by David Smith's Two Circle Sentinel and compare how a painting and a sculpture can both show gesture, movement, and the play of light and shadow.

Olitski created With Love and Disregard toward the end of his life, at the age of 78. Sarah Schultz, MFAH curatorial assistant of contemporary art and special projects, explains that this series embodies Olitski's "love" for color, the physicality and sensuality of the paint, and the pleasures of life. His "disregard" is for everything familiar or safe, and for the fear of death. He cycles back to the circular motifs of the Stain series, but this time the graceful organic forms are explosive and primal. He painted the series at his studio on the shore of Bear Island, New Hampshire, where he saw the sunrise over the water every morning and the sunset at night. With those surroundings, it's possible for us to see how nature inspired these last great paintings, says Greene.

► Explore More Look at a sunset or moonrise and see how those images are echoed in paintings such as Olitski's With Love and Disregard: Splendor (image #7 in the slideshow). Do the paintings show the beginning of something? Or the end?

Recent Posts