The Characters of Kenwood: Mary, Countess Howe June 22, 2012
---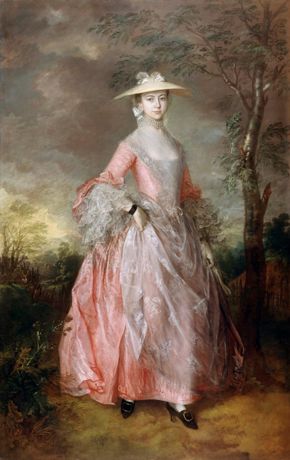 During the run of the exhibition Rembrandt, Van Dyck, Gainsborough: The Treasures of Kenwood House, London, we will fill you in on the lives of the characters that add to the colorful history of the Kenwood estate. Many of the artworks in the show are full-length portraits of glamorous society ladies painted by artists competing in the Royal Academy of Arts exhibitions. Quite a few of these 18th-century beauties—including actresses, courtesans, and other celebrities—would have recognized (and in some cases snubbed) each other had they entered the same reception rooms . . .
Who's that cover girl starring on the Kenwood House exhibition catalogue? None other than the indisputably beautiful Mary, Countess Howe. Putting her best (elegantly dressed) foot forward in her full-length portrait by Thomas Gainsborough, she stands proudly in a dress that would have been at the height of fashion in the mid-1700s. Her pale complexion and arsenal of expensive accessories also attest to her aristocratic status.
Born Mary Hartopp in 1732, she married into aristocracy in 1758. That was the year her husband, Richard Howe, inherited his family's viscountcy when his older brother died. Richard was described by Horace Walpole as "undaunted as a rock and as silent," and a marble monument in Richard's honor stands at St. Paul's Cathedral in London. He had a long, successful military career and became Commissioner of the Admiralty at the end of the Seven Years War in 1763. Later in that same year he and Mary met the up-and-coming artist Thomas Gainsborough during a vacation in the fashionable retreat city of Bath, England.
Recognizing the opportunity to establish himself as a portrait painter to the aristocracy, Gainsborough offered to paint the Howes. This life-size portrait of Countess Howe—at nearly eight feet high— is a masterpiece of Gainsborough's career and established him among other portrait painters of the time, such as Sir Joshua Reynolds. The painting's aristocratic air and breathtaking background portray Gainsborough's talent—the countess is actually standing in the artist's studio, passing time while her husband goes for spa treatments to try to cure a case of the gout.
Stay tuned for more on the characters of Kenwood. To see the fabulous renditions of these personalities up close, visit the exhibition—organized by the American Federation of Arts and English Heritage—while it is on view at the MFAH this summer.
Recent Posts