The Characters of Kenwood: John Joseph Merlin July 23, 2012
---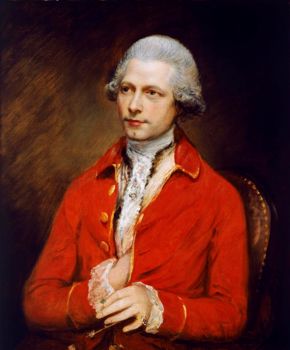 During the run of the exhibition Rembrandt, Van Dyck, Gainsborough: The Treasures of Kenwood House, London, we will fill you in on the lives of the characters that add to the colorful history of the Kenwood estate. Many of the artworks in the show are full-length portraits of glamorous society ladies painted by artists competing in the Royal Academy of Arts exhibitions. Quite a few of these 18th-century beauties—including actresses, courtesans, and other celebrities—would have recognized (and in some cases snubbed) each other had they entered the same reception rooms . . .
The subjects of portraits by English painter Thomas Gainsborough were more than just pretty faces. John Joseph Merlin, for instance, was an ingenious inventor and maker of musical instruments, and he's now known as the father of the roller skate. Born in Belgium, Merlin (1735–1803) worked in Paris as a young man making clocks and mathematical instruments. At age 25 he moved to London, where he befriended Gainsborough and German composer Johann Christian Bach (son of Johann Sebastian Bach).
When Gainsborough painted Merlin's portrait in 1781, the artist called upon two lessons learned from Flemish painter Anthony van Dyck: the way to pose Merlin as a gentleman; and how to paint quickly, keeping the brushstroke fresh and portraying the sense of an immediate encounter. In this portrait, the only indication of the subject's profession is that Merlin holds tiny pocket scales, used for weighing gold coins to detect false currency.
As an inventor, Merlin built wheelchairs, weighing machines, clocks and watches, and even an early roller skate. Story has it that Merlin debuted his first pair of roller skates to a shocked crowd by skating around a grand salon while playing a violin. Unfortunately, he had yet to invent a way to make the skates stop, so the performance ended abruptly when he collided into a large mirror. (Watch a playful, one-minute demonstration re-created by the BBC series Horrible Histories.) Luckily, though, the inventor wasn't plagued by seven years of bad luck. In 1800, he created Merlin's Mechanical Museum, where he displayed many of his machines, including a compound harpsichord, a barrel organ, and two robots.
Stay tuned for more on the characters of Kenwood. To see the fabulous renditions of these personalities up close, visit the exhibition—organized by the American Federation of Arts and English Heritage—while it is on view at the MFAH this summer.
Recent Posts