Let's Dance! Celebrate National Dance Day with Works of Art July 23, 2018
---
"Dance is the hidden language of the soul." ―Martha Graham
This year, National Dance Day falls on Saturday, July 28! An integral part of religions and cultures for millennia, dance appears in visual arts from all over the world. Celebrate National Dance Day with works from the MFAH collections that show the many meanings of the art of movement.
Bamileke peoples, Elephant Mask, 1900–1950
Location: Law Building, 2nd floor
Nearly five feet tall, this stunning mask was created by the Bamileke peoples of Cameroon to wear during special public celebrations or funerals. The mask's wearer, a high-ranking nobleman, would have brought the long, beaded "trunk" to life while dancing.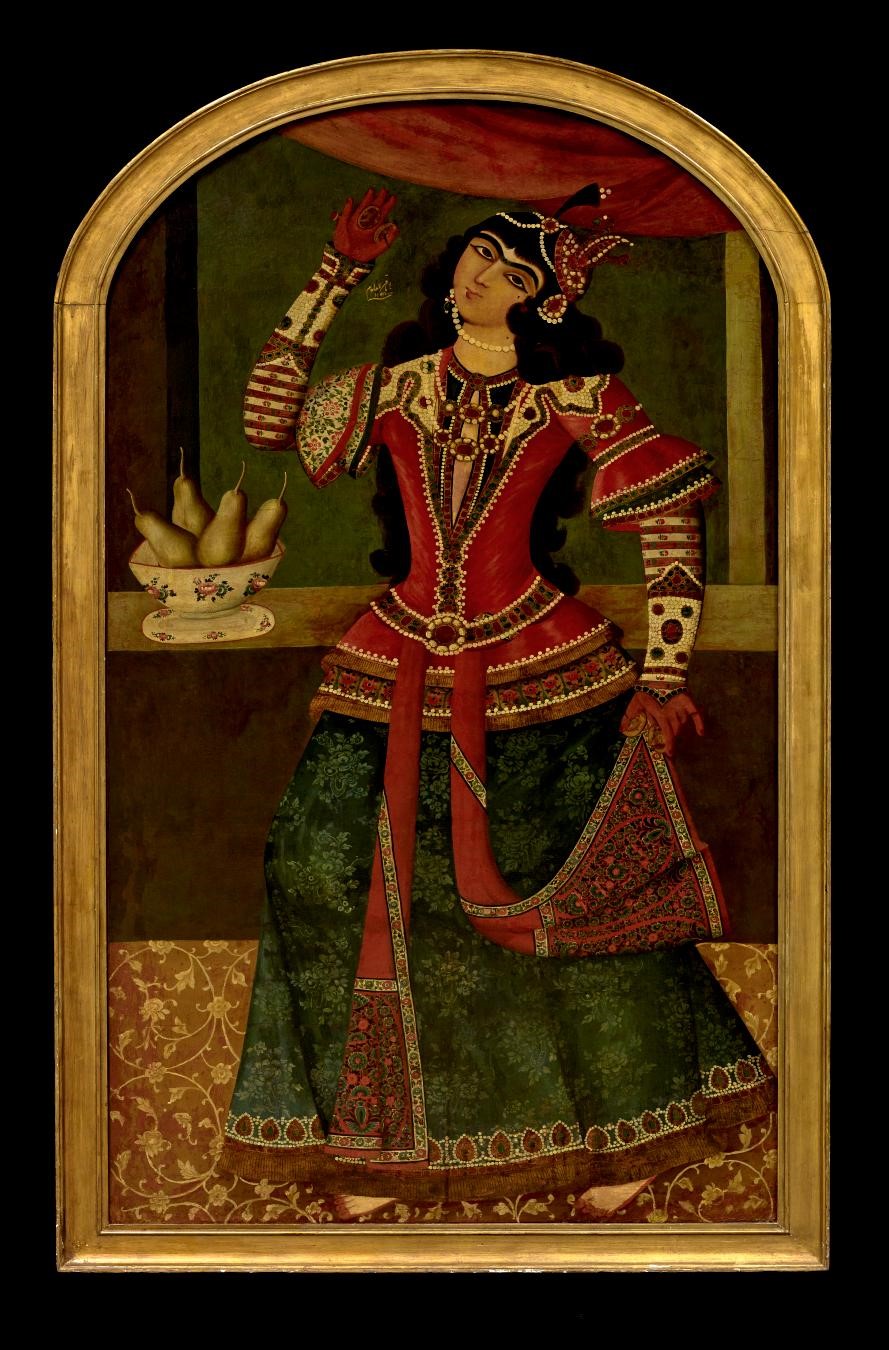 Muhammad Baqir, Dancing Girl, 1778–79
Location: Law Building, 1st floor
Dancing Girl was probably displayed in a private space within a royal palace, where she could join in with other painted and live dancers and musicians for the entertainment of the shah. The red staining on the dancer's hands and feet—henna, to enhance her beauty—would have added extra flair to her movements.
Colima, Deity Impersonator, 300 BC–300 AD
Location: Law Building, 2nd floor
A rare form of human figures created by the ancient Colima culture of western Mexico depicts dancers with detachable headdresses and paint. The fierce, fanged mask on this figure likely represents a deity that the dancer is impersonating during a ritual.
Edgar Degas, Russian Dancers, c. 1899
Location: Beck Building, 2nd floor
Edgar Degas's greatest passion was classical ballet, and he is unrivaled in capturing its allure. But when a troupe of Ukrainian dancers visited Paris, he immediately became intrigued with their colorful traditional costumes and the vivacious stomping and swirling of their folk dances.
Faliscan, White-Figure Bell Krater with Dancing Satyrs, 400–351 BC
Location: Beck Building, 2nd floor
Eight jovial satyrs—followers of Dionysus, the Greek god of wine—dance across this large vessel used for mixing water and wine at a symposium, or drinking party. Their hands, legs, and tails fly in every direction.
Indian, Shiva Nataraja, 13th century
Location: Law Building, 1st floor
Balanced on a slender foot, the Hindu god Shiva takes the form of the cosmic dancer known as Shiva Nataraja. In one hand he holds a drum—the rhythm symbolizing the creation of the universe—and in another hand, he holds fire. This divine dance symbolizes the ongoing cycle of creation, preservation, and destruction of the universe.

Elie Nadelman, Tango, c. 1918–24
Location: Beck Building, 1st floor
The tango, a Latin American dance craze that raged in Europe and the United States during and after World War I, is the subject of this graceful sculpture that captures the charged moment just before the couple's hands clasp.