Celebrate the Holidays with Rienzi | Gallery Talk, Music & More December 18, 2020
---

Rienzi, the MFAH house museum for European decorative arts, brings you plenty of holiday cheer this season with virtual and on-site highlights for art lovers of all ages.
Enjoy a curator's talk about an intriguing group portrait; a program of Christmas music performed on the harp; a salute to the British holiday Boxing Day; and a conversation about the exhibition Hats Off, featuring the work of influential fashion designer Halston.
Virtual Gallery Talk | 18th-Century Painting
What's the story behind this painting in the Ballroom at Rienzi? The enigmatic card players of The Hand That Was Not Called may or may not have something up their sleeves. Curator Kaylin Weber ponders the mysteries of the 1775 group portrait by British artist Thomas Beach, known for painting portraits of famed 18th-century actress Sarah Siddons.
Virtual Performance | Holiday Harp Music
Houston-based harpist Emily Klein performs holiday favorites with a beautiful backdrop—a Rienzi-themed Christmas tree, one of three trees at the house museum this year. The program features "The First Noel," "Joy to the World," "We Wish You a Merry Christmas," and more.
On-Site | Visit Rienzi on Boxing Day
Plan an outing to Rienzi on Boxing Day, Saturday, December 26. The British holiday takes place each year on the day after Christmas, and as the MFAH house museum for European decorative arts, Rienzi provides the perfect context. Spend your day exploring Rienzi with cell-phone audio tours of the house and gardens. Advance timed tickets recommended.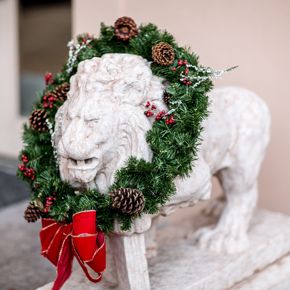 Virtual Discussion | On-Site Exhibition | Halston Hats
You can also catch Hats Off: Halston Hats from the Masterson Collection before it closes. This stylish exhibition focusing on fashion designer Halston is on view only through Sunday, January 3. For a preview, check out this discussion with Audry Schilt, an artist who worked with Halston; fashion professor Nicholas ChampRoux; and assistant curator Misty Flores.
---
Education programs at Rienzi receive generous funding from the Sterling-Turner Foundation; Alkek and Williams Foundation; Carroll Sterling and Harris Masterson III Endowment; Isla Carroll Turner Friendship Trust; and the Caroline Wiess Law Endowment for Rienzi.