Celebrate the 4th of July with George Washington at Bayou Bend June 19, 2019
---

The annual 4th of July Celebration at Bayou Bend Collection and Gardens features a variety of patriotic offerings, including crafts, family activities, music, and refreshments.
A Visit from George Washington
As a special highlight this year, historical interpreter Wesley Wright visits Bayou Bend in the role of George Washington. Throughout the afternoon, Wright takes photos with guests, speaks about the historical significance of the Declaration of Independence, and leads toasts in honor of the document.
In anticipation of the big day, we spoke with Wright about the experience of portraying the first U.S. president.
What fascinates you the most about George Washington?
He's so famous, and did so much to secure freedom for Americans, yet most of us know very little about him. In telling stories about Washington and events in his life, I find that we all are fascinated by him and the period in which he lived. History classes only scratch the surface, so there is plenty of information we've never heard before.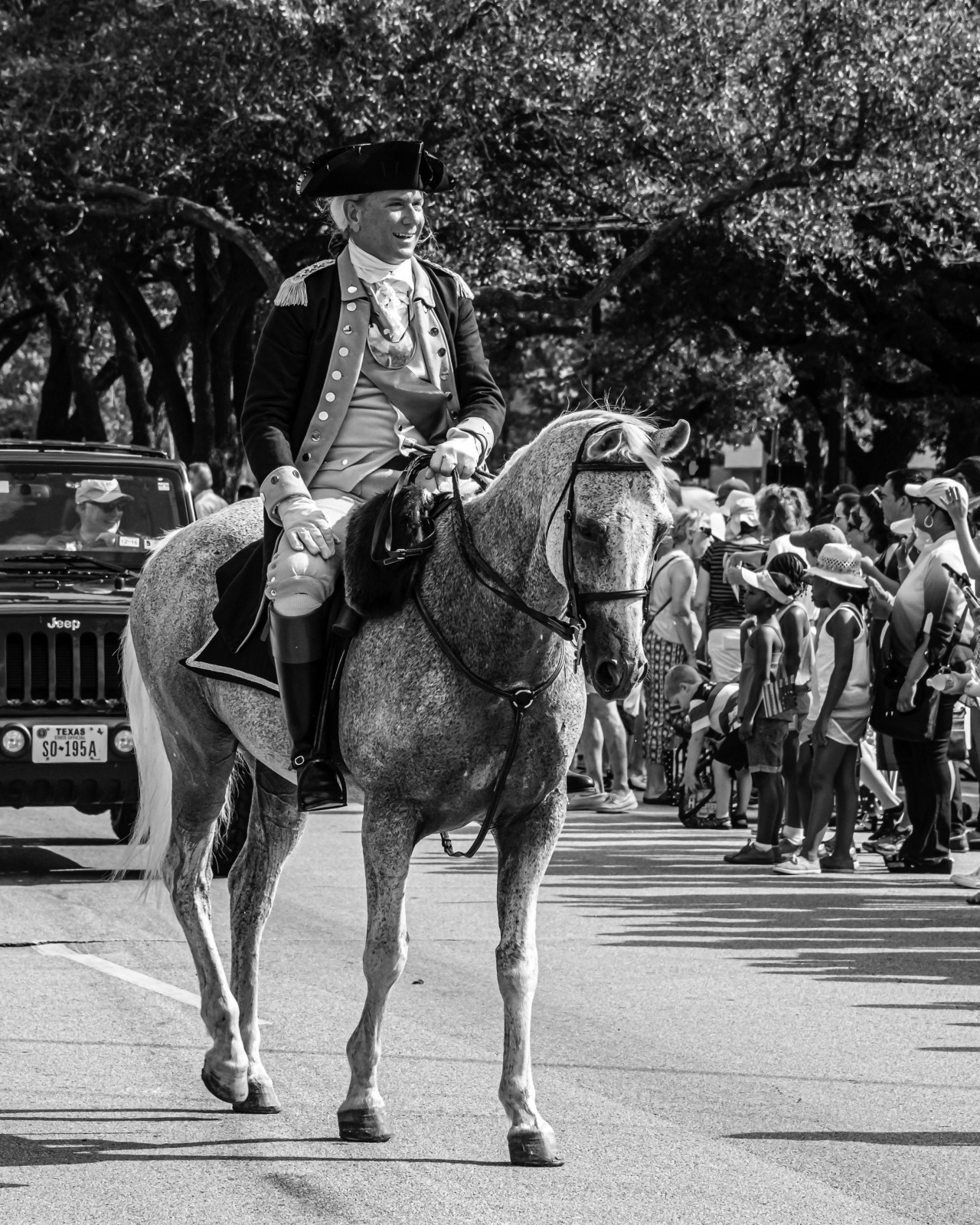 Wesley Wright as George Washington
Photo by Cletus Lee
How did you go about putting together your version of George Washington?
It took many months to gather all the things we needed, starting with a horse we named Blueskin, after Washington's white horse. The uniform was made in Pennsylvania. The wig and cape were made by the Alley Theatre here in Houston. The sword, flintlock guns, pistol buckets, custom English riding boots, and many other items, including the "cocked hat"—later know as a tricorne—were carefully chosen and ordered.
What can guests expect from your visit?
I hope they learn things they haven't heard before. The presentation focuses on the Declaration of Independence, and my interest is more in imparting historically correct information than trying to be an actor. Having said that, I'm a student of George Washington, so I'm still learning, too.
► Join the fun at Bayou Bend's 4th of July Celebration on Thursday, July 4, from noon to 5 p.m. Admission is free!
Recent Posts