Catwalk Stunners Now on View! See Fashion Fusion's Winning Designs May 25, 2017
---

This May, the Museum teamed up with Houston Community College's award-winning fashion program for the third annual Fashion Fusion event. A competition that culminates in a runway show at the MFAH, Fashion Fusion encourages design students to draw inspiration from an exhibition to create stunning, handmade garments, as well as jewelry and accessories.
The 2017 event, which took place on May 18, was centered on the modern and contemporary works on view in Adiós Utopia: Dreams and Deceptions in Cuban Art Since 1950. From the 20 garments that made it to the runway (see the above video), a panel of judges selected winners in four categories—and the audience chose their favorite, too! The five winning students share the stories behind their designs.
Theme: Wearable Art
Winner: Kyndall Bollmeyer for "Flor de Papel"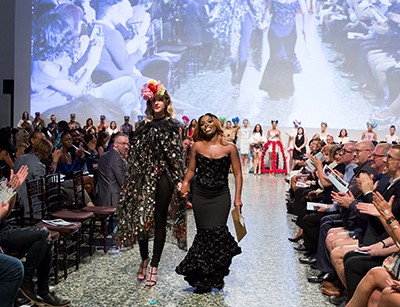 Art Inspiration: Raúl Martínez, Untitled, 1969–70
"My interpretation of Raúl Martínez's piece focuses on his message, which can be summarized as the promise of equality and the elation and color kindled in the glow of hope. In order to elicit excitement and draw attention to Martínez's positive ambition, I drew inspiration from details in his painting, such as the variety and delineation of colors and the flowers scattered throughout. My look has been created from paint-sample cards and paintbrushes over a wire mesh frame, hundreds of paper flowers, and countless rolls of tape." —Kyndall Bollmeyer
Theme: Modern Cuba
Winner: Maite Bradford for "My Soul, Never to Surrender"
Art Inspiration: Kcho, Obras escogidas (Selected Works), 1994
"A person's spirit is often their only untouchable virtue. The government can take everything else, but each of us will decide if we will allow our soul to be stolen. Obras escogidas is an imitation boat built from Kcho's personal books; similarly, my garment is made from experimental materials, including book covers, military surplus fabric, and recycled goods." —Maite Bradford
Theme: Old Havana
Winner: Luisa Nadarajah for "Past, Present, Future"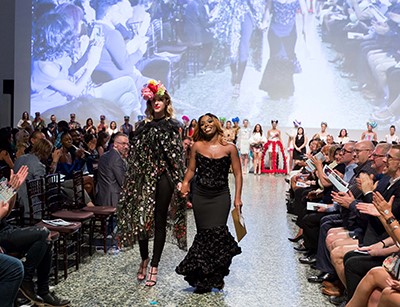 Art Inspiration: Tania Bruguera, Estadística (Statistics), 1995–2000
"I took on the work's powerful use of human hair and created my own piece of wearable art made with human hair." —Luisa Nadarajah
Theme: Accessories and Jewelry
Winner: Silvia Otaola for "I'm Taking Havana with Me" (left)
Art Inspirations: "Sea, Borders, Exile" section of the exhibition, especially José Bedia's Al límite possible (To the Possible Limit), 1996
"With the colorful facades of its houses, the Malecón promenade in Havana is an icon that represents Cuba beyond the barrier of the sea. I played with the idea of taking the image of the Malecón wherever a Cuban on exile would go, on a purse that would carry their dearest belongings and remembrances." —Silvia Otaola
Audience Favorite
Winner: Ebonie Sophus for "Eye Spy a Butterfly"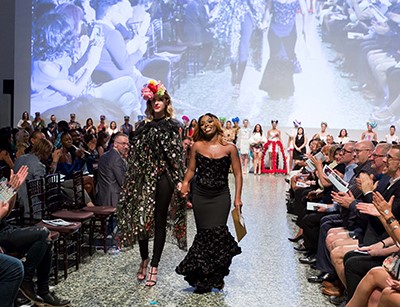 Art inspiration: Glenda León, Añoranza (Longing), 2004
"I was captivated by Añoranza's single, small butterfly on the gallery's large wall, which created a sense of peace and an escape from the darkness around it. The base of my garment is black to represent the many dark times in Cuba, while the lace symbolizes peace and serenity. The sleeves have two layers, like the two wings of the butterfly." —Ebonie Sophus
See the winning looks on view in the Kinder Foundation Education Center Gallery, located on the lower level of the Law Building, through July 5.
Photography by Jorge Luna. Courtesy of Houston Community College.