Carpet Connoisseurship: How to Look Closely at the "Wagner Garden Carpet" October 29, 2018
---
It doesn't take an expert to see that the Wagner Garden Carpet is incredibly beautiful. Even so, carpets aren't exactly in the mainstream of art history, and many of us have never really looked closely at one—though you'll find that the Wagner Garden Carpet is as stunning and carefully created as any painting.
This rarely displayed masterpiece, on its first-ever U.S. tour, is showcased in Garden Paradise: The Magnificent Safavid Carpet from the Burrell Collection, Glasgow. Here are some things to keep an eye out for when you see it!
Design
The carpet's design is all about movement. Branches sway in the wind, water flows, animals fly and leap. You can almost smell the fragrant breeze and hear the sound of water rippling and birds singing, even though in reality the carpet is completely still and silent. How do the artists manage to create such a convincing illusion?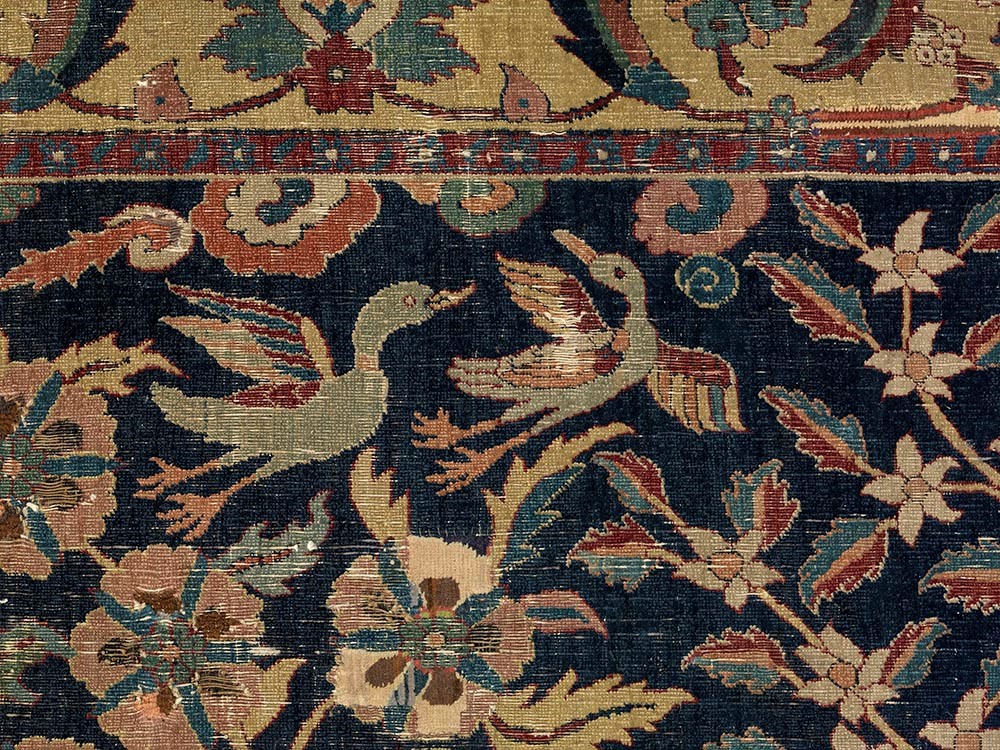 Symmetry
Is this carpet symmetrical? Carpets like this one were planned out using a scale drawing, and knotted entirely by hand. It's unlikely, however, that the drawing would be as large as the entire carpet. Instead, artists drew smaller sections that could be repeated, often turned in a different direction to avoid giving the carpet a mechanical appearance. Looking closely at the design, can you tell how many drawings were used to design this carpet and where they repeat? Note how the orientation of the plants and animals changes from one half of the carpet to the other, and how this variation affects the overall symmetry.

Borders
We're used to seeing carpets when they are lying horizontally on the ground, but they actually have a top and bottom because of the way the looms are set up when carpets are woven. If you know what to look for, you can tell where the weavers started and finished.
At the bottom of the Wagner Garden Carpet, the dense foliage is totally contained by the border. At the top, the weavers were in the middle of weaving trees, flowers, and animals when they realized that the carpet had reached the appropriate length. At that point, the artisans immediately started weaving the top border, even though the motif may have not been completed—it almost looks like the design continues underneath the border! Can you tell which end is which?

Colors
The carpet's wool yarn was dyed using naturally derived ingredients. Even though there were precise formulas for each color, there would still be subtle variations in tone within each dye lot, or batch of dye. Look for these variations in areas of one color on the carpet. This striated effect, known as abrash, enhances the beauty of the carpet.

See the "Wagner Garden Carpet," along with selections of objects from the Hossein Afshar Collection, in "Garden Paradise: The Magnificent Safavid Carpet from the Burrell Collection, Glasgow." The exhibition is on view from November 2 through February 10.