Body and Soul February 22, 2020
---

Kanitra Fletcher, assistant curator of modern and contemporary art, is curating the MFAH presentation of the acclaimed exhibition "Soul of a Nation: Art in the Age of Black Power." Here, she looks at the sociopolitical context around one of the featured works: "Black Unity," an Elizabeth Catlett sculpture from a pivotal year—1968.
In 1966, writer Amiri Baraka published the poem "Black Art" in reaction to the assassination of Malcolm X:
"We want a black poem. And a / Black World. / Let the world be a Black Poem / And Let All Black People Speak This Poem / Silently / or LOUD"
Resistance & Reflection
Baraka was part of the Black Arts Movement of the 1960s and 1970s, which sought to transcend the confines of traditional Western art and literature to better convey the black experience in America. Visual artists such as Elizabeth Catlett also produced works that affirmed black identity, sometimes through representations of the body. The portrayal of body parts—hands, eyes, hair, and skin—and gestures in some of these works speaks to the diversity of attitudes and approaches within the movement, from uncompromising resistance to spiritual reflection.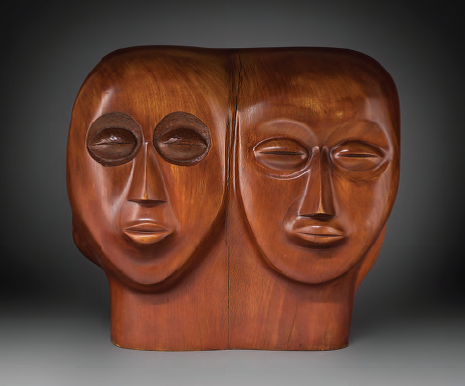 The two sides of Black Unity
Protest & Solidarity
Catlett's Black Unity is simultaneously a gesture of protest and solidarity. She carved the sculpture from a dark wood the color of brown skin. On one side is an enormous clenched fist; on the reverse are two serene, mask-like visages. The juxtaposition of these images represents quiet strength and defiant resolve.
Symbols & Interpretations
Catlett understood that some viewers might be put off by her interpretation of the fist, a symbol of black power: "It might not win prizes and it might not get into museums, but we ought to stop thinking that way, just like we stopped thinking that we had to have straight hair. We ought to stop thinking we have to do the art of other people."
► See "Soul of a Nation: Art in the Age of Black Power" in the Beck Building.
Recent Posts