Beauty, Hope & Short Films: An Interview with Filmmakers Brian Ellison & Emmanuel Osei-Kuffour, Jr. July 6, 2018
---
MFAH Films salutes Project Row Houses for 25 years of serving Houston's historic Third Ward! To celebrate, the Museum hosts a weekend of films from July 13 to 15, with selections that highlight the themes of family, community, and identity.
On Sunday, July 15, a trio of lively and thought-provoking Short Films features the work of Houston filmmakers Brian Ellison and Emmanuel Osei-Kuffour, Jr. I chatted with each of them, and excerpts of our conversations follow below. You can read the full interviews here.
A Day in the Tr3 is set in Houston's Third Ward, and Born with It takes place in a school in Japan's countryside. How do these distinct settings shape your short films?
Brian Ellison: A Day in the Tr3 follows a young man walking through his slowly gentrifying neighborhood. He embraces all the day-to-day things happening around him that some people may look at as threatening, but they are also beautiful.
Emmanuel Osei-Kuffour, Jr.: In Born with It, there are more ways for my main character to escape his "battle" if he lives in Tokyo. Putting him in the Japanese countryside makes his situation more palpable and heightens his self-consciousness.
The main character in Born with It is being bullied for being mixed race in Japan. Emmanuel, I know you lived in Asia for almost 10 years. Is this short film autobiographical?
EOK: Born with It is inspired by my time in Singapore and Japan. I experienced a lot of ignorance from people because I was darker. For the film, I was thinking about the idea of not being seen for who you think you are. Highlighting bullying is a way to show how difficult it is when someone is different.
Was A Day in the Tr3 shot after Hurricane Harvey hit Houston in August 2017?
BE: Yes, we did it in October and shot the whole film in one day. There's a pile of rubbish that was just one out of the many, many, many piles you can see on a regular basis around Houston. In some places, you can still find a pile. I wanted to pay homage to the people that were affected by Harvey.
What was it like working with the actors in your films?
EOK: Most of my films have been coming-of-age films. I like telling stories about kids, because when kids experience adult issues for the first time, it can be really powerful. It is also a challenge, but a lot of times they would surprise me in ways that adults can't. If you have your camera at the right place, you are able to capture raw, honest moments.
BE: When I saw Dominique Elam, who plays the protagonist in A Day in the Tr3, I knew that he was the one. He is a very eclectic, interesting person. He was not necessarily playing a role—he could just play himself.
There is also a scene of a woman, Starr Butler, inside a church dancing. We found her an hour—an hour—before we shot! She is Third Ward. She is so captivating, and yet flawed. She embodies the people there and the beauty that hides in plain sight.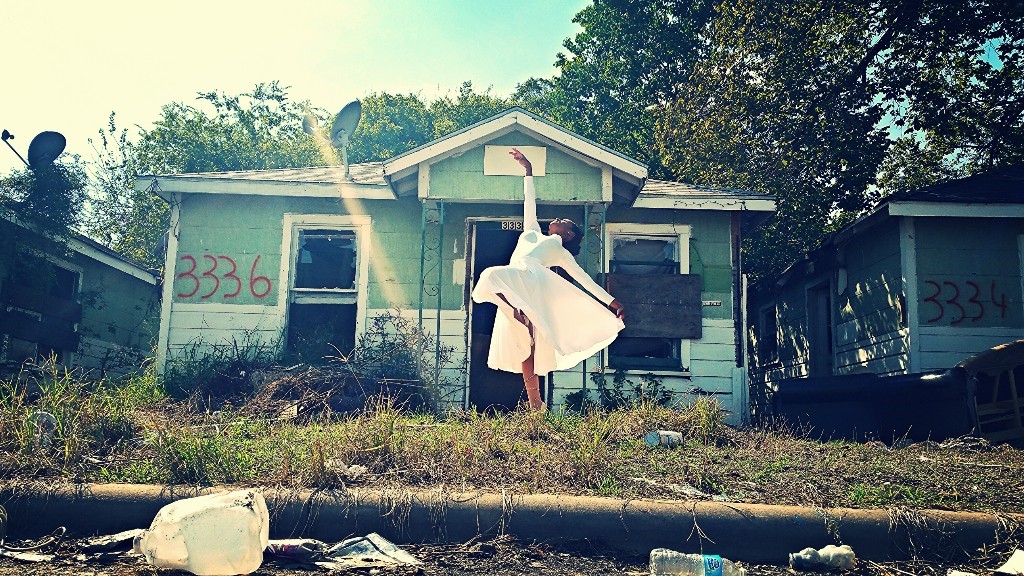 Brian Ellison's short film A Day in the Tr3 screens on Sunday, July 15.
Hear more! Stick around after the screening of "Short Films" on Sunday, July 15, for an in-person discussion with Brian Ellison and Emmanuel Osei-Kuffour, Jr. Filmmaker Carrie Hawks also joins by Skype! Get tickets.
Recent Posts