At-Home Art Activity: Let's Make a Sundial October 5, 2020
---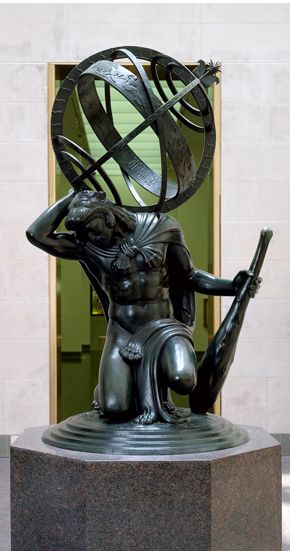 Grab your chalk and head outside to track time using this family-friendly art activity.
Create your own sundial, and find inspiration from Hercules Upholding the Heavens by Paul Manship. His 1918 sculpture is a favorite among MFAH visitors. Families love to see the 10-foot sculpture in the galleries and walk all the way around it. This art activity shares that same interactive experience with families at home.
Getting Started
What art materials do you need? Just three different colors of chalk, and objects you don't mind setting outside. Lots of families have sidewalk chalk on hand these days, and this activity is perfect for taking breaks throughout the day for fresh air.
Exploring Shadows
This project also offers a great opportunity to talk with kids about light sources and shadows, which are often some of the first elements and principles studied in the art studio. Use the sun to explore shadows and create your own sundial to track time, as you follow along with the how-to video and instruction guide.
---
Learning and Interpretation programs receive generous funding from the Jerold B. Katz Foundation; Institute of Museum and Library Services; H-E-B; MD Anderson Cancer Center; Sharon G. Dies; Sterling-Turner Foundation; Houston Junior Woman's Club; Houston Livestock Show and Rodeo; Samuel H. Kress Foundation; The Brown Foundation, Inc.; Susan Vaughan Foundation; and additional generous donors.
Recent Posts