Entering the Arts of Japan Gallery in the Museum's Law Building feels like entering a light, airy, meticulously tidy home. In addition to a recently installed selection of works from the MFAH collections, the space received a fresh coat of paint: The new wall color resembles the interiors of the traditional machiya townhomes of Kyoto during the Edo period (1603–1868).
The gallery houses a relatively modern assemblage of artworks from the 17th century to the present. The major art mediums of Edo-period Japan—painting, ceramics, basket weaving, and textiles—are all represented and remain relevant in modern Japan. Contemporary objects appear alongside their Edo-period counterparts in the gallery.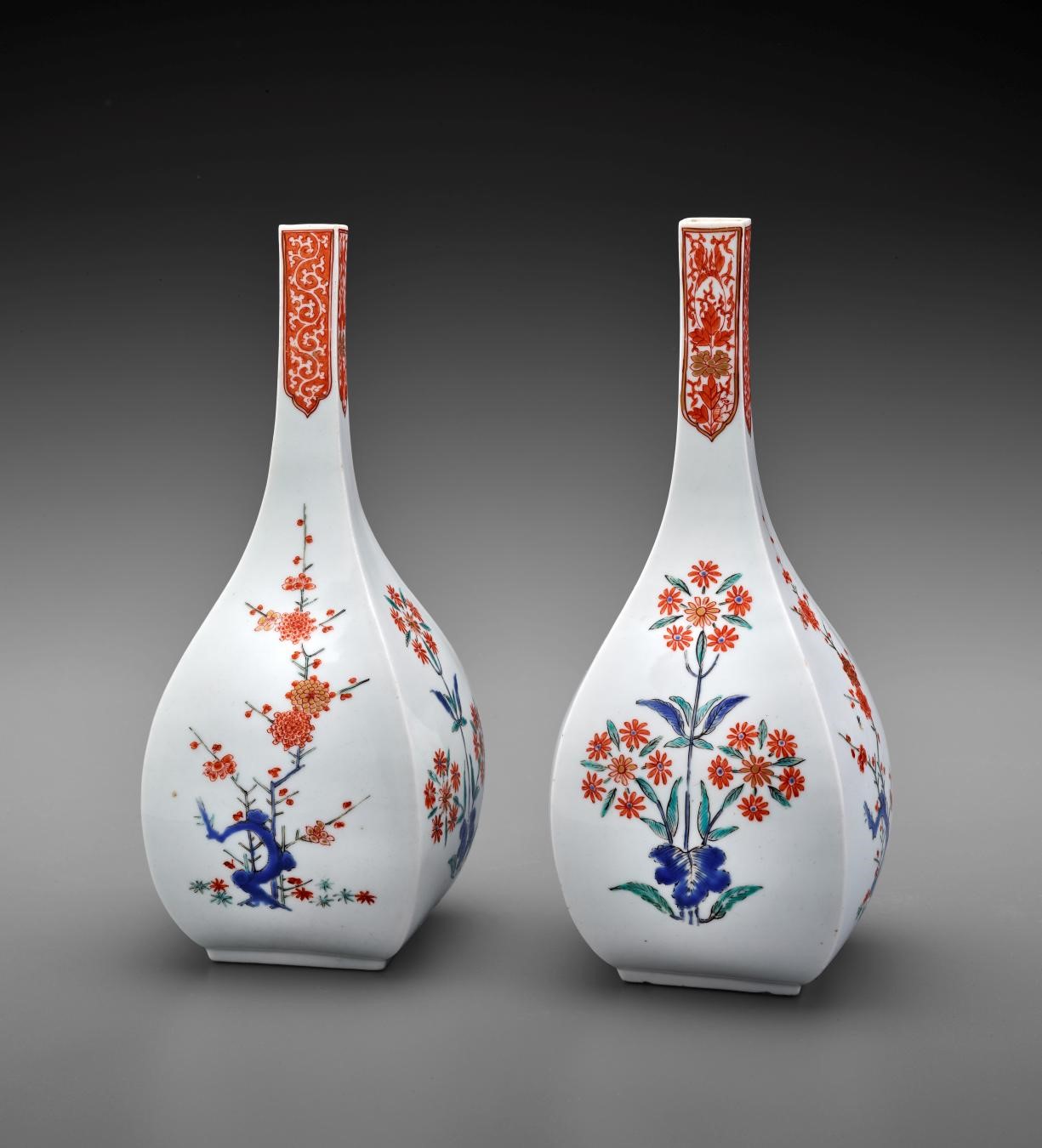 Japanese, Squared Wine Bottles with Design of Prunus and Flowering Plants, 1670–90
Popular Porcelain
One area in the gallery illustrates the importance of Japanese porcelain production during the 17th century. Although Japan was the last country in East Asia to develop the technology to produce high-temperature-fired porcelain, it dominated the international market during the 17th and 18th centuries while China faced domestic turmoil. Soon, the aesthetics of the kakiemon workshop—delicate floral patterns painted in red, green, and blue overglazes—spread to Europe and were emulated by German and British workshops.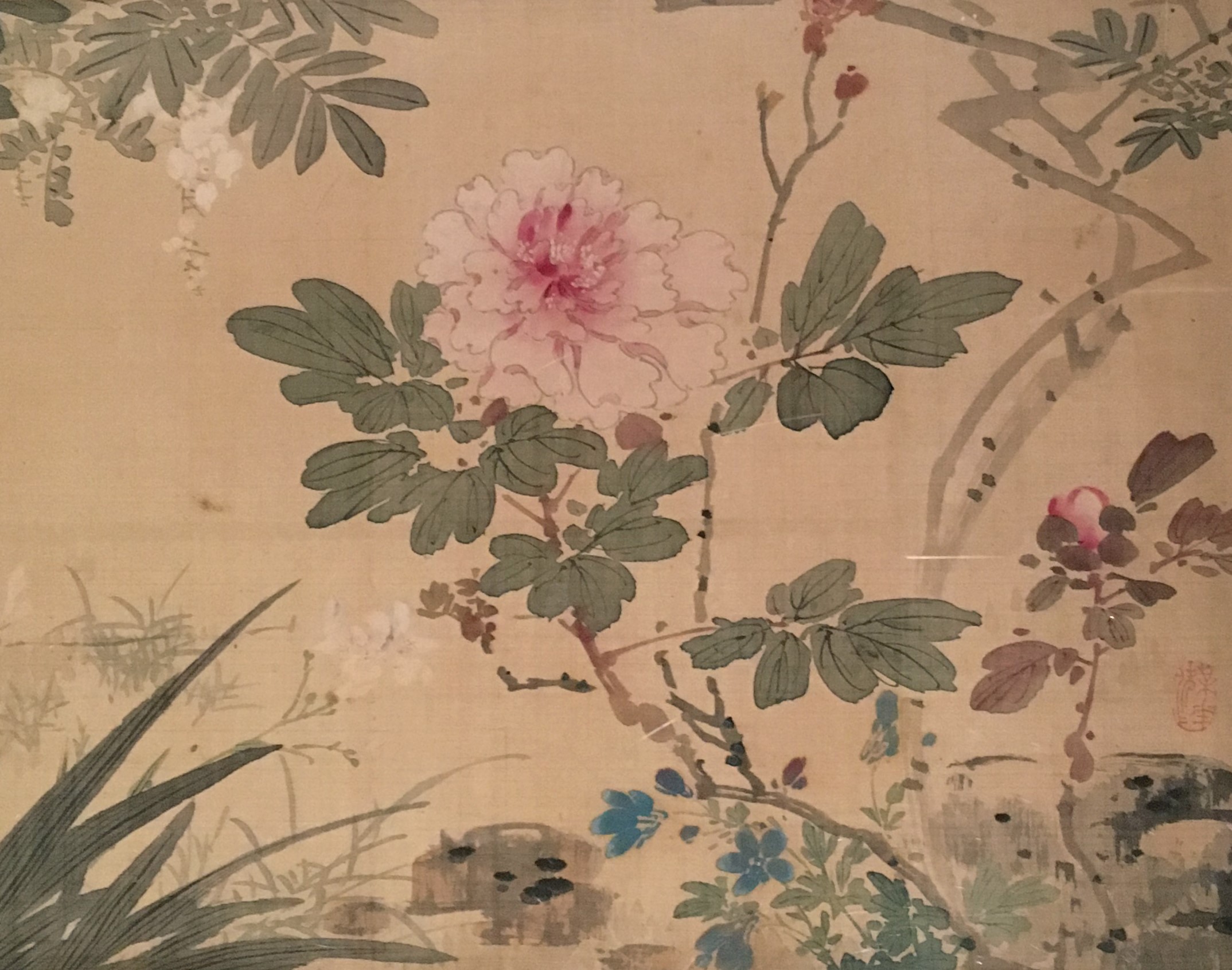 Yamamoto Baiitsu, Flowers and Birds by a Pond (detail), 1853, handscroll; ink and color on silk, Gitter-Yelen Collection.
Delicate Scrolls
Also from the Edo period, paintings on loan from the renowned Gitter-Yelen Collection—one of the most comprehensive private holdings of Japanese art in the United States—display the effusion of flora that would have decorated refined Japanese homes. A handscroll, Flowers and Birds by a Pond by Yamamoto Baiitsu, especially exemplifies the delicacy of Edo ink paintings. The artist's eye for detail is obvious, from the veins of the leaves to the scales of the turtles. You can study this scroll for a long time and continue to find new details, like a small frog barely visible against a lily pad.

Ueno Masao, Inside Out, 2000
Contemporary Bamboo
Another display contains contemporary art, such as Ueno Masao's Inside Out, which puts a twist on traditional bamboo basket weaving. Bamboo weaving is historically tied to ikebana, or flower arranging, which had an important role in a traditional tea ceremony during the Edo period. These contemporary bamboo works are more sculpture than craft, bringing a famously unwieldy medium into new territory.

A Place of Comfort
Although the Arts of Japan Gallery houses several impressive works of art, their ties to domesticity create a space that is surprisingly intimate. The gallery offers something familiar for everyone: a sense of peace, comfort, and home. Most objects can stay on view for longer lengths of time, but the works on paper and textiles are rotated every four to six months. The next rotation is scheduled for November.