The Art of Kusama Returns to Houston July 3, 2016
---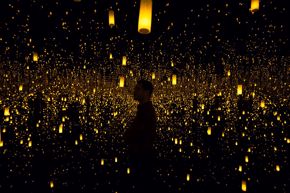 Japanese artist Yayoi Kusama (born 1929) moved to New York in 1957, quickly emerging as one of the foremost artists of her generation. She developed an artistic practice that uniquely spanned painting, drawing, sculpture, performance, installation, poetry, and fashion. An important member of the male-dominated New York avant-garde of the 1960s, Kusama influenced many of her well-known Pop Art and Minimalist contemporaries, including Donald Judd, Claes Oldenburg, Frank Stella, and Andy Warhol. You can see some of their works in the MFAH exhibitions Selections from the Museum's Collection: Post-War Painting and Sculpture and The Age of Kusama: Pop Art and Minimalism.
Kusama, who turned 87 in March, maintains an active studio practice in Tokyo and continues to enjoy an extraordinary career, attracting international attention and critical acclaim—she was the only artist to be named one of TIME magazine's "100 Most Influential People" for 2016. Her work is being celebrated in cities worldwide: a retrospective exhibition touring Scandinavia, a solo show this summer at her London gallery Victoria Miro, and a retrospective next year at the Hirshhorn Museum in Washington, DC.
Some Houstonians may remember that Kusama's work graced Rice Art Gallery's space in 1997, transforming it into a hypnotic space full of monumental, soft sculptures in yellow, covered with hundreds of her trademark black polka dots. Almost 20 years later, the MFAH presents Kusama: At the End of the Universe, marking the first time that the artist's signature infinity rooms have been shown in this city.

These two immersive mirror environments, which Kusama has been working on since 1965, spring out of her lifelong hallucinations and reflect her personal obsessions with repetition and pattern. The rooms confront us as surreal, seemingly infinite spaces that challenge our perceptions and make us question our place in the universe.

The MFAH is delighted to have the rare opportunity to present this seminal aspect of Kusama's work to Houston audiences this summer, and even prouder to announce that Aftermath of Obliteration of Eternity is newly acquired for the Museum's permanent collection.
Don't miss your chance to see this popular exhibition! Share your experience on social media with #KusamaUniverse when you visit. Kusama: At the End of the Universe is on view in the Law Building through September 18. You can buy same-day tickets right here at the Museum, or advance tickets online.
Recent Posts