A Taste of the Scottish North Highlands in Houston October 5, 2018
---
Houstonians won't have to travel across the pond to find a taste of British royal fare to pair with experiencing the Museum's exhibition Tudors to Windsors: British Royal Portraits from Holbein to Warhol. Authentic and exclusive are qualities that come to mind when describing the Mey Selections, a range of artisanal foods created by farmers in northwest Scotland through a farming and trade initiative of Prince Charles and now available at Central Market locations around Texas.
The Queen Mother Inspires a Unique Initiative
Elizabeth Bowes-Lyon—wife of King George VI and mother of Queen Elizabeth II, and remembered as the Queen Mother—was a loving supporter of a region of the United Kingdom known as the Scottish North Highlands. As fans of The Crown may remember, she purchased the Castle of Mey in 1952 and visited frequently. The Castle of Mey is the northernmost-inhabited castle on the British mainland, and for almost half a century the Queen Mother spent many happy summers there. Her grandson, Prince Charles, began the North Highlands Initiative in her honor, in 2005. Visitors to Tudors to Windors will spot many portraits of the royal family, including a charming 1971 family photograph that spans the generations, including grandmother and grandson.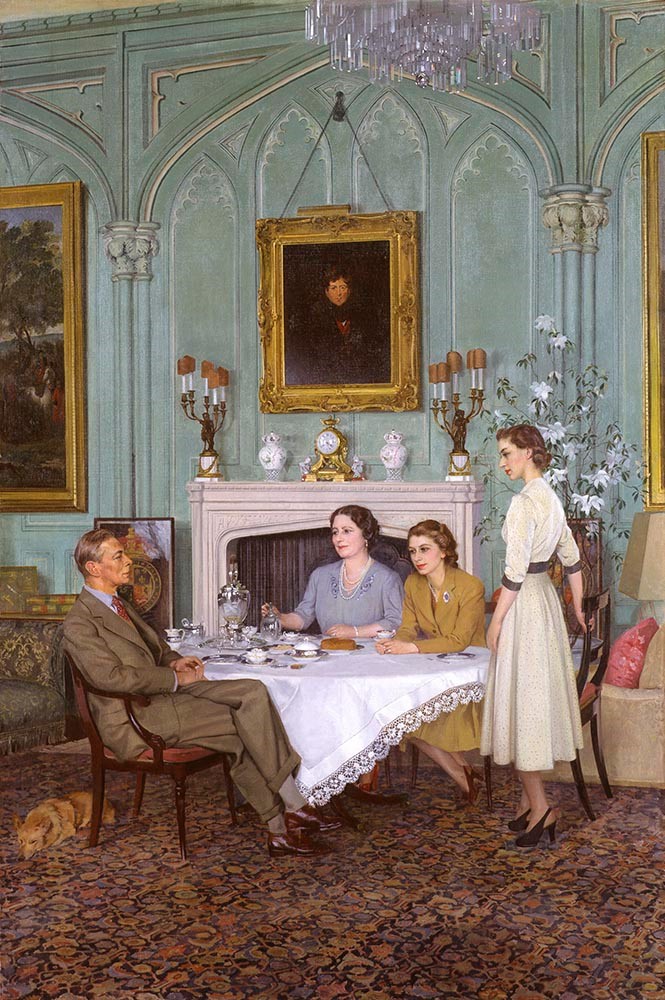 This 1950 portrait in Tudors to Windsors shows, from left to right, King George VI and his wife, Queen Consort Elizabeth Bowes-Lyon, with their daughters Elizabeth and Margaret. The Queen Consort, who would be called Queen Mother when Elizabeth became queen after George VI's death, purchased the Castle of Mey in 1952 and visited regularly all her life. / Sir James Gunn, Conversation Piece at the Royal Lodge, Windsor, 1950, oil on canvas, National Portrait Gallery, London. © National Portrait Gallery, London

The Mey Selections Create New Opportunities
The North Highlands Initiative strives to provide farming businesses in the North Highlands—a beautiful, sparsely populated area roughly the size of Connecticut—with valuable connections to trade and export professionals. Marketers have worked with family businesses, all located within a 150-mile radius of the Castle of Mey, to create a product line called the Mey Selections. Available at Central Market, Mey Selections products—such as shortbread cookies, cheeses, and honey—are distinctively Scottish. The hope is that opportunities like the Mey Selections will lead to a sustainable and balanced way of life for generations to continue to thrive in the Highlands.
Recent Posts