A Royally Inspired Q&A with Tilda Swinton October 23, 2018
---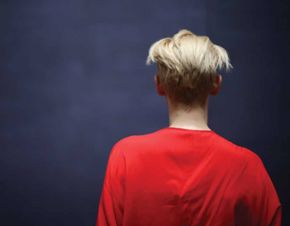 Academy Award–winning actress Tilda Swinton has tackled a wide variety of roles on the silver screen—including that of Queen Isabella of France in the 1991 film Edward II. In this interview inspired by the exhibition "Tudors to Windsors: British Royal Portraits from Holbein to Warhol," Swinton shares her thoughts on royal subjects with Museum director Gary Tinterow.
Shakespeare said "All the world's a stage, and all the men and women merely players." As a player yourself, how do you view the demanding role of monarch? Must a successful monarch be an actor, first?
I'm not sure that a monarch, or an heir to a throne, considers themselves much as an individual at all: That is pretty much the job description, to be a representative first and foremost, to inherit a title from a line of succession, to husband an authority, to perpetuate a line. I think, in many ways, there cannot be a more different path for a monarch than that of an actor, where it is essential that the individual interprets and makes real, in their own image, some narrative set down outside of their own life. A monarch, by definition, has no life more important than the path of representing her/his people; it is a selfless and, to a certain extent, sacrificial vocation. In a certain sense, monarchy is—literally—the definition of the surreal.
Have you learned anything about your profession from watching monarchs in their representational role?
I'm not sure I've learnt anything in particular that pertains to my profession as such, but from Queen Elizabeth II, above all, I am one of countless millions who have had as an example an extraordinarily dedicated and resilient dignity, wit, perspective, and wisdom. Her maxim "never complain, never explain" alone is one we would all do well to ingest and reflect.
You have brilliantly assumed the identity of various historic personages in your acting career. Has historic portraiture helped you craft those assumed identities?
When we made Orlando in 1990, a film I love dearly, Sally Potter and I studied formal portraiture assiduously. The whole phenomenon of the public posed image was central to our definition of the changing stages of the life of this nobleman turned noblewoman, from the 16th to the 20th century.
Which royal figure fascinates you most?
None as much as the Indian prince Siddhartha, who left it all behind to sit under a bodhi tree and become the Buddha.
This interview is excerpted from the fall 2018 issue of "h Magazine," a semi-annual MFAH publication sent to members at the Patron level and above.
Recent Posts